Highlights from some previous rides and events:

2009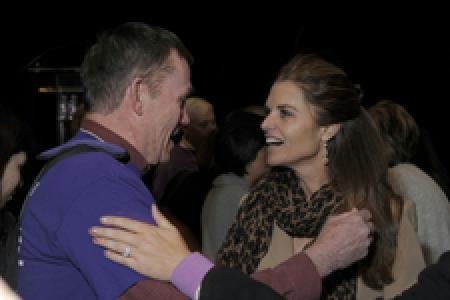 The Ride For Alzheimer's joined the Alzheimer's Association CT Chapter to attend the Public Policy Forum in Washington, DC on March 23-25. This was an excellent opportunity to speak directly with our elected officials, and show them why Alzheimer's support needs to be considered a national healthcare priority.
In the photo above, I'm meeting with none other than Maria Shriver, who is just terrific with her dedication to this cause.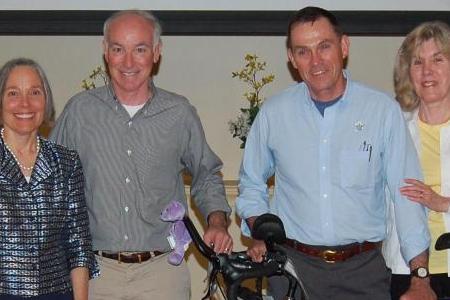 I was honored to speak at the Stone Ridge Senior Living Community in Mystic, CT on May 9th. The presentation included highlights of the longest Ride For Alzheimer's ever, my 2100+ mile ride from San Francisco, CA to St. Joseph, MO. Former Pfizer researcher, Bob Nelson spoke about commonly available, yet oft-overlooked ways to help prevent Alzheimer's Disease.
U.S. Rep. Joe Courtney was kind enough to attend this event. Also pictured: Trish Clark (L) Executive Director CT Alzheimer's Association, and my wife, Donna (R).
---
2008
A worldwide quest is under way to find new treatments to stop, slow or even prevent Alzheimer's. The Alzheimer's Association has been involved in every major advancement in Alzheimer's research since the 1980's and is a leader in the global fight for a world without Alzheimer's. Hopefully, with high expectations from new research, a cure for this terrible disease will be there for your family or someone you know and care about.
---
---
Previous Rides

2021-23 - 27 or 33 mile Southeastern Connecticut Tour

---

2019 - 33 mile Southeastern Connecticut Tour. (2020 canceled due to Covid-19.)

---

2018 - Southeastern Connecticut Tour. Two rides, 27 or 40 miles, 3rd Saturday in August

---

2015, 2016, 2017 - Southeastern Connecticut Tour. 41 miles, 3rd Saturday in August

---

2014 - Southeastern Connecticut Tour. 250 miles, August 17 - 23


---

2013 - Eastern Connecticut Tour. 400 miles, August 13 - 20


---

2012 - Southeastern Connecticut Foliage Tour. 170 miles, October 11 - 15


---

2011 - I did not do a ride this year due to prostate cancer surgery. However, $18,500 was raised.


---

2010 - 960 mile East Coast ride from Washington D.C. to Jacksonville, FL. (Aug 24 - Sept 8)


---

2009 - 700 mile Blue Ridge Parkway Tour, Charlottesville, Virginia - Shenandoah Valley Ride.


---

2008 - A shorter, yet very challenging 670 mile East Coast Ride from Portsmouth, NH to Washington, DC


---

2007 - An AMAZING 1450 Mile West Coast Ride from Portland, OR to Los Angeles, CA


---

2006 - 560 Miles, east from Niagara Falls to the Atlantic Ocean


---

2005 - Longest Ride Ever! 2116 miles from San Francisco, CA to St. Joseph, MO


---

2004 - A wild 1750 mile ride down the Mississippi River to New Orleans, LA


---

2003 - Northern States Ride, 2000 miles from the Astoria, Oregon to Sioux Falls, South Dakota


---

2002 - Sioux Falls, SD to Niagara Falls,NY - 1050 miles in all (second tour)


---

2001 - Sioux Falls, SD to Niagara Falls,NY - 1050 miles (first attempt)


---

2000 - 1023 mile ride from St. Joseph, MO to Erie, PA


---

1999 - First RFA! 620 mile ride from Erie, PA to Portsmouth, NH


Links &
Contact Info

---

How Alzheimer's Association funds are used:


Thanks go to:

Airbrush Works
in the Crystal Mall,
Waterford, CT
Call Tamer
860-514-0635

---

Johnson's Hardware in Groton, CT

---

Valentino's Restaurant, Ledyard, CT
ValentinosRestaurants.com

Vetrano's Restaurant, Westerly, RI
VetranosRestaurant.com

---