Day 20, Friday,September 10. Clarksburg, MI. to Greenville, MI.
(79 miles, 16.3 mph, 4h 49m 52s)

Up at 5:15, 6:00 continental breakfast at hotel (poor) - it was in a small area, probably never had 40 people converge all at once for 25 min and suddenly we are all gone, just had small danish, bagels, cold cereal, and juice. 6:30 load luggage, 6:35 on the road.

I got a very early start today, just in case I encounter lots of photo opps. that tend to slow me down and cause me to arrive at hotel mid to late afternoon.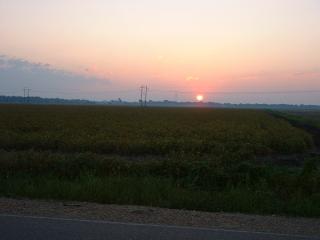 It was a chilly start but a nice sunrise. I soon was reminded of what a long, straight road is like. You ride for 2 - 3 miles and in the distance it looks like an end, but when you get "there", there is a cluster of trees and the long straight road continues for another 3 - 6 miles, and this scenerio continues over and over again.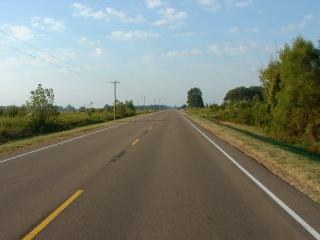 Two SAGS today - 35 miles and 60 miles. They occurred at times when we really needed them - to replenish our water and consume energy snack food. This was good because we rode for miles and there were no stores at all. Our support vehicles also travel back and forth along the route and if we signal them, they stop - they also carry water.
You can tell from my pics today that there just weren't very many photo opps at all today. I had to try real hard to find some. Other than Nancy being chased by a huge combine and the armadillo (I've never seen one except in pictures) this was a dull day.
[Editor's note: I think John DID see an armadillo in previous years! Can you find it? Let us know if you do!]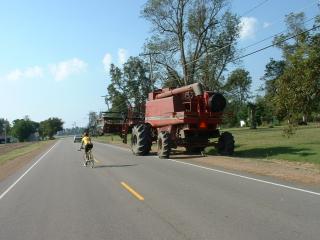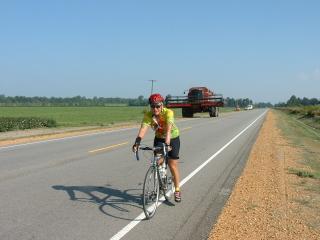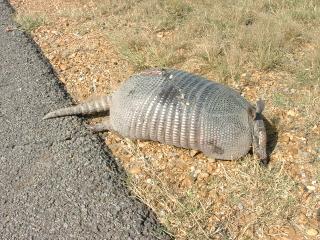 I also thought readers might be interested to see what I see all day long - my handle bars. The "cups" are fold down elbow rests for my arms when I am "down" on my aero bars. Getting down low reduces my wind resistance. Also, I have a heart rate monitor (on top) and a computer (on bottom). The computer tells me: time of day, trip distance, cumulative distance, current speed, average speed, and trip time. The white paper is a computer keyed route sheet. It tells me distance between turns and cumulative distance.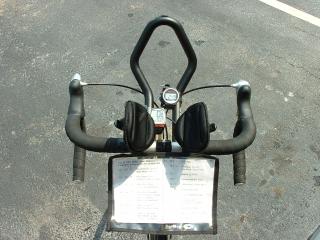 FIELD OF DREAMS - Saga #6
Around mid morning I was passing several corn fields, riding slowly and listening. As I was passing field #4, I heard a loud voice. I stopped, got off my bike, five minutes went by and as I started to leave I heard "the voice" mumbling and again made out 3 words ( ... hey... you... you... ) and then silence! I turned quickly, ran to my bike, got on it and rode out of the field and down the road. WOW! Now I know 3 more words and that makes 12 of the 15 words in the message. If you are reading this journal, maybe you can help me! - What is the message? (See yesterday's journal for the previous 9 words)
| | |
| --- | --- |
| I rode in... | It mumbled - but I heard three words |
| Ran back to my bike | Rode out and down the road |
--- To Be Continued ---
I arrived at our hotel, the Best Western, at 12 noon, and went for lunch at the Huddle House Restaurant. Then I worked on my journals, route rap, dinner at Shoney's, chatted with some folks, back to room, called Chere, an Alzheimer's contact from the Mississippi Alzheimer's chapter - looks like there may be some media TV coverage when I get to Vicksburg tomorrow. I hope to arrive by 3 PM after a 101 mile ride.