Welcome to RideForAlzheimers.com!
John was interviewed in the local CT news
"80-Year-Old Gales Ferry Man Prepares for 24th Annual Ride to End Alzheimer's," NBC 30, Aug 7, 2022
This website is threefold in purpose
Informational: links to Alzheimer's sites that provide Alzheimer's disease information to people regarding: caregiver tips, financial, current research, the "10 Warning Signs," disease progression facts, CT Alzheimer's disease facts, etc.
Entertaining: daily blogs, pictures, and short movies highlighting over 15,000 cycling miles across our beautiful country.
An opportunity for cyclists to plan and do a funraising ride of their choice... 2 options:
Option 1, cyclists are invited to join John on Sunday, August 21, 2022, for the annual Ride For Alzheimer's, aka the "John Clark Ride."
Ride start is 9:00 a.m. at the Park & Ride commuter parking lot, at the intersection of Route 1 and North Main Street in Stonington, CT. The distance is 33 miles. No registration is necessary -- just show up and ride! If questions, contact John at Ride4Alzheimers@aol.com
Option 2, create your own ride. Click on the purple icon below to connect to the home page of the Alzheimer's Association CT Chapter to register to do your own CT fundraising ride of 25 miles or more, at any time and location of you choose during the cycling season. The Association will contact me and I will contact you if you want me to. Together we can arrange a meeting time and place where I can share some training and fundraising strategies and maybe some training rides.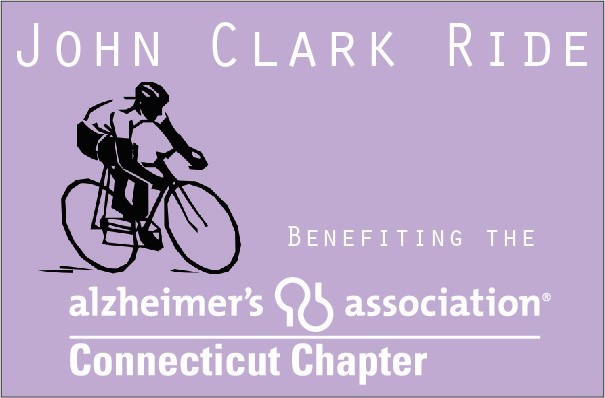 Click on the image above to donate.
Ride for Alzheimer's, an Historical Overview
Back in the 1990's I was a recreational cyclist, member of the Pequot Cyclist Club in Southeastern CT, did Sunday club rides, my own local rides and even some time trials in Rhode Island. In the Fall of 1998 I attended an end of year club Pizza party. The cyclist sitting across from me was talking about a 50 day ride he had recently done from Washington state to Washington DC. To me, he didn't fit the image of a "Tour de France" cyclist and I thought to myself, if he could do that, maybe I could. He had shipped his bike to the west coast, flew out there and then rode his bike back to DC. This "thought" was imprinted in my brain and became stronger as the winter settled in. Fifty days was a long time and would require serious training. A cycling friend told me about America by Bicycle, a cross country cycling organization that led many ride all across the United States. A cyclist could even do parts of their rides and that sounded like a good idea. The last leg of one of their cross country rides was a 620 mile ride (in July) from Erie P.A. to Portsmouth N.H. This fit into my schedule as I was employed by the Ledyard Board of Ed., teaching math at our middle school and I had summer break, July and August. I would have to ship my bike and fly out to Erie. It sounded great! But, I had (and still do) a fear of flying and don't like being away from home. Maybe this sounds silly, but, that was... ME. Something, big and powerful, had to occur, to give me a reason to overcome my "silly" fear and just do it.
At that time, my mother had been diagnosed with Alzheimer's disease (3rd stage) and was living with my 24/7 caregiver sister Jeanne, in No. Sullivan, Maine. Jeanne also was holding down a full time job. I was feeling a lot of guilt because she was doing so much and . . . . what was I doing? Well, I suddenly had found my "reason". I decided to do the Erie to Portsmouth ride and raise money for the CT. Alzheimer's Association. This wouldn't directly help our mother, but it would help research funding and other care giving families that had a loved one who was afflicted with this terrible, degenerative disease.
I started fundraising, talking to people and writing letters. This was intended to be a one year effort, but ended up being so successful, raising $6,600, that I felt that... I had to continue and the "Ride for Alzheimer's" was born, resulting in nineteen more years of cross country cycling. In 2015, my multi day cycling effort transitioned into a single day ride here in Southeastern CT. The effort has raised over $417,000 in the last 23 years.
Donate online,
or send your donation
check - made out to
"Alzheimer's Association".
Mail to:
Ride For Alzheimer's
P.O. Box 574
Gales Ferry, CT 06335

| | |
| --- | --- |
| | The Ride For Alzheimer's effort began in 1999, and this will be the 24th consecutive year. My mother, Ruth Vivian Clark who died from the Alzheimer's disease, is the reason I continue to do my long distance cycling effort. This 24 year effort has raised over $417,000. |
---

---
Click to access all the past Ride For Alzheimer's cross-country ride stories and photos. Thousands of miles all over the country.