Day 17, Tuesday, September 7 - REST DAY
(Memphis, Tennessee)
Up at 7:30, slept in, breakfast here at a hotel Denny's. I decided to go to Graceland tomorrow when on route, only 37 miles so there will be plenty of time. I decided to join 10 other cyclists on a Memphis City Tour (3 hrs). It included visits to many special places: downtown Memphis, Beale Street, Cotton Roe, Victorian Village, Lorraine Hotel (where Dr. Martin Luther King was staying in 1968 when he was assassinated), St. Jude Hospital and Danny Thomas Pavilion and Memorial Garden, Graceland (driveby), Hernando DeSoto Bridge (also called Dolly Parton Bridge) I wonder why?, Elvis' original recording studio (tours in daytime / open at night for entertainers to record). It contains the original equipment that Elvis used. I didn't think I'd enjoy the tour but I really did - very interesting.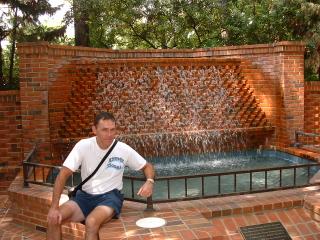 After the tour I worked on my journals for a while and in mid afternoon went for a walk down Beale Street - took some photos, chatted with some other tourists, shopped a bit and came back to the Peabody Hotel for the 5 PM "Duck Walk". Everyday the 5 ducks come down the elevator at 11 AM and across a red carpet and jump into a fountain pool in the main lobby. At 5 PM they walk out of the pool, back across the red carpet, into the elevator and back up to their penthouse on the top floor. They are the world famous "Peabody Ducks".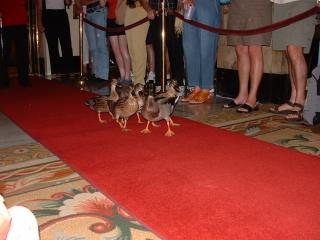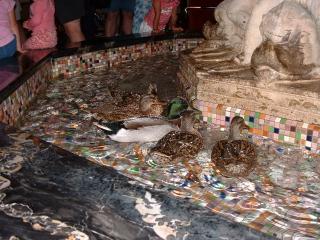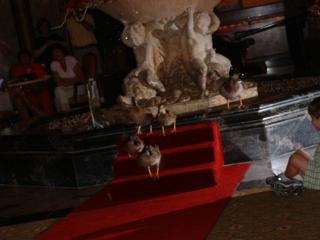 Then I came back to the hotel and met Frank Chavez and Phil Taulbee, two new riders both from Las Cruces, New Mexico and they are doing the Southern River Ride. Phil has a remarkable resemblance to Hugh Hefner.
[Editor's note: No offense intended to either Phil or Hugh.]
We went out to dinner to the Blues City Cafe - I had babyback spare ribs - (very tender - just great).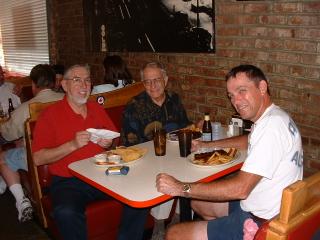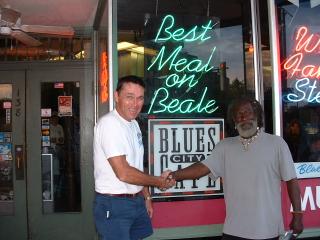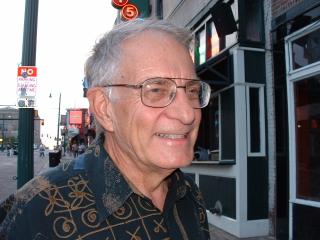 We then walked Beale Street, took some pics, talked to some folks, listened to a Blues group playing and then back to hotel.
I'm having computer trouble tonight - I'm connecting to AOL but can't "send". Tomorrow is a short 37 mile ride to Hernando, Mississippi. I'm going off route to Graceland in AM. Gotta find Elvis!
Field Of Dreams - SAGA 4
I did ride a little bit, and passed a corn field today and again heard whispering. I stopped (naturally) and rode in to investigate - again it stopped, but I did hear 3 words: "a" "wife" "home". Confused (that's easy for me) I then rode out and continued on my way thinking - what is the message??
| | |
| --- | --- |
| Going in... | Coming out... |
--- To Be Continued... ---