Day 13, Friday, September 3. Ste. Genevieve, MO to Cape Girardeau, MO
(69.2 miles, 14 mph, 4h 55m 40s)

Up at 5:45, 6:30 breakfast buffet at local restaurant, 7:00 load luggage, 7:15 on the road.

Excellent forecast and it was a great cycling day, the best so far. Rt 61 has been the worst, most dangerous road I've ever been on, but fortunately today we were only on it for about 5 miles. The terrain today was mostly gentle - rolling hills, out in the country, quiet, peaceful, not much traffic - a cyclists dream of a day. The "half way to New Orleans" checkpoint was a good photo opp.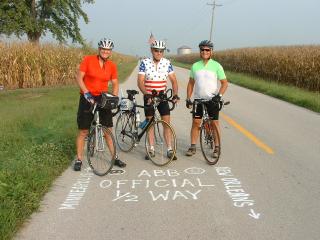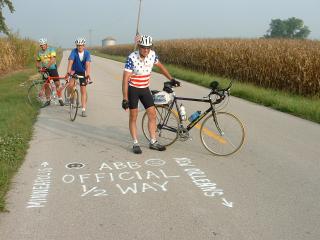 The sunflower field was quite large, probably about 8 acres and reminded me of my garden back home. I have a nice medium size vegetable garden including a small planting of sunflowers (that should be in full bloom now) with a backdrop of red morning glories.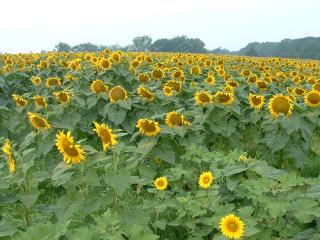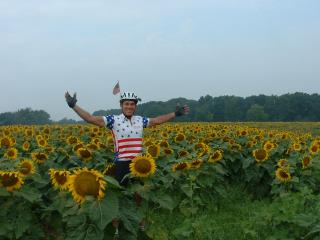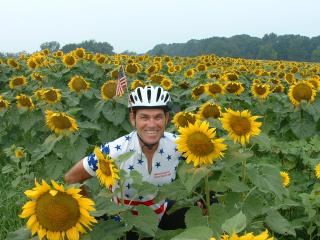 FIELD OF DREAMS - Saga 2
I was riding down the road today and heard some sounds coming out of the corn field I was passing. Naturally I stopped to investigate. I got off my bike and approached the edge of the road. As I got closer to the corn I heard some fairly loud whispering, so I got back on my bike and road into the corn field to investigate.
| | |
| --- | --- |
| Shhhh! I think I hear something! | I'll ride in there to check it out... |
--- To be continued soon... ---
About 25 of us stopped for lunch at a Cafe in the town of "Fruitland"! We also rode through the town of "Pocahontas". Then it was 15 more miles of country cycling that ended with a nice 2 mile ride on a well manicured bike path. At the end of the path was a Bicycle Shop - I tried out a new bike but had great difficulty getting on it, so I decided not to buy it.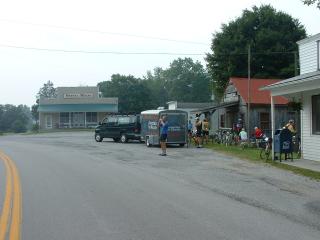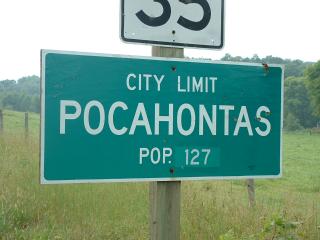 I arrived at our hotel Pear Tree Inn at 2 PM. Dinner tonight was a buffet at Ryans Restaurant. Along with a large garden salad, chicken, spare ribs, fried potatoes, string beans, steak and pizza, I had two large cokes, apple pie and two dishes of frozen custard. Tomorrow is a 92 mile ride to Union City, TN. I'll be looking for Elvis starting tomorrow but I probably won't find him until I get to Memphis.