Day 12, Thursday, September 2. Festus, MO to Ste. Genevieve, MO
(50 miles, 13 mph, 3h 50m 2s)

Up at 6:30, 7:00 breakfast at Waffle House - waffle, scrambled eggs, sausage, juice, 8AM load luggage, 8:15 on the road.

Excellent forecast: sunny, pleasant, temps in the mid 80's. It was a nice 24 mile ride to the SAG and there was a great scenic view looking down into a valley.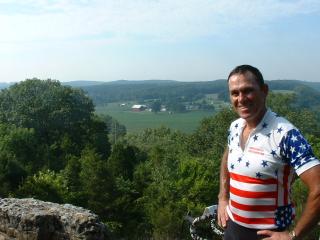 The next 6 miles was busy, narrow highway 61 that had no rideable shoulder. Vehicles coming up behind us were quite frustrated as they often had to slow down almost to a stop when we were climbing a hill. It was very dangerous - but we had no choice, the shoulder wasn't paved, it was loose rock and gravel.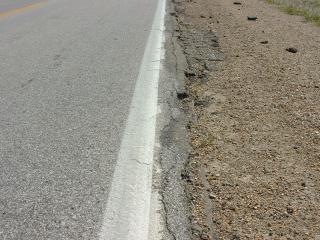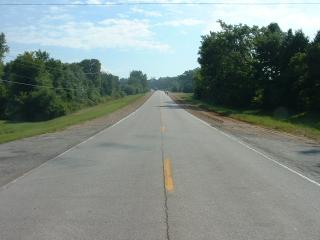 Ste. Genevieve is a small quaint town with a lot of Spanish and French history. It was the first town established on the western shores of the Mississippi. I had lunch with Craig, Keith, and Steve at the Old Town Cafe. I had a chicken salad sandwich, chips and a Coke. I rode downtown and found a "flood history" marker. It is hard to read the info in this pic but my feet are 36 ft above the normal river level. The top of my head is about 40 ft - there have been 8 significant floods since 1943 of 38 ft to 40 ft. There have been 2 floods above my head, one in 1973 at 43 ft and the one at the top of the marker of 50 ft (10 ft above my head). Stated another way, my head would have been 10 ft underwater.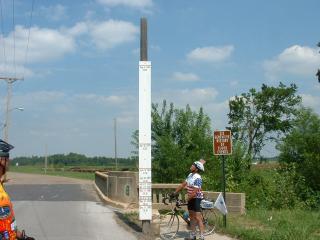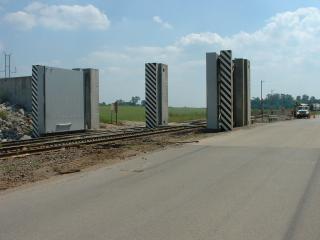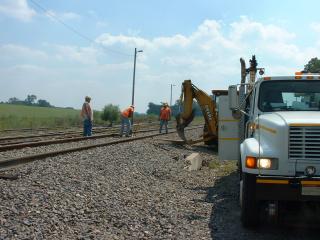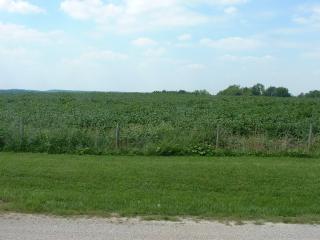 I continued riding down the same road and found a section of the levee where trains pass through and there were 3 huge flood gates that could be closed when a flood was imminent. The gates are about 15 ft tall. I also observed a crew replacing railroad ties.
I got to Family Budget Inn at 3 PM -- they told me that all six of their lines are busy and that's why I can't dial "out". Looks like no journal to Ed tonight. I'll keep trying. Couldn't dial out, so I went to bed early at 10 PM. 69 mile ride tomorrow to Cape Girardeau.