Day 11, Wednesday, September 1. St. Charles,MO to Festus, MO
(80.4 miles, 12.5 mph, 6h 24m 14s)

Up at 5:15, 6:00 Travelodge continental breakfast, 6:45 load luggage, 7:15 on the road.

Forecast today is for a pleasant, sunny day with temps in the mid 80's. We had to ride urban St. Louis streets for 23 miles and then entered an MRT bike path along the Mississippi River for 8 miles, which ended at the St. Louis Arch - the "Gateway to the West". It was beautiful, majestic and so clean and shiny.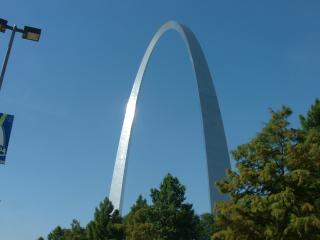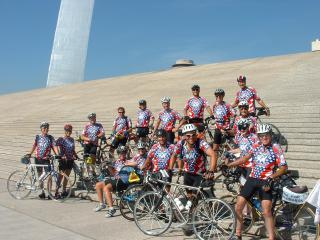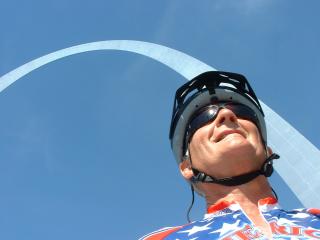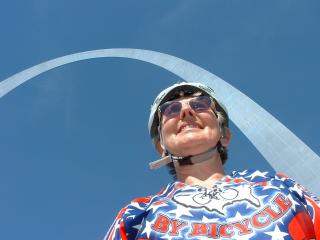 Then we got out into the country for a long, hilly ride to Festus, MO. Along the way I stopped at O'Paddys, in Oakville (a suburb of St. Louis). Owner Ken Ryan serves light lunches and incredible shakes in 32 flavors. The shake is called a "concrete", sweetened by a liquified bee hive and is 13% butterfat! WOW! I got a vanilla shake and it was delicious. It was so thick it wouldn't fall out of the cup when I turned it upside down.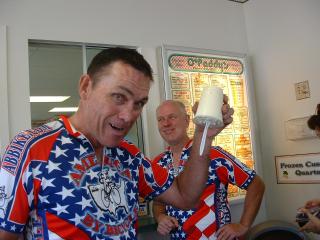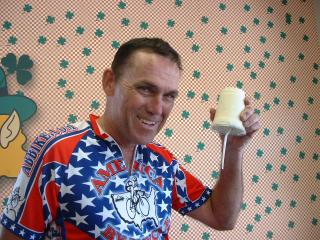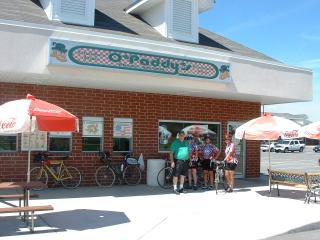 The remaining 46 miles were mostly in the country and hill after hill after hill. I arrived at our hotel, the Baymont Inn and Suites, at 4 PM. I cleaned up, went to route rap, then to dinner and finally finished the evening in my room doing my journals and emails. My new roommate is Dick Harta from Cambridge, MA. He is an advisor in a law firm called Bingham McCutchen. He's a friendly guy and I know we'll get along just fine.
I called Frank at the hospital tonight and he is feeling much better and will be leaving for home this Friday with his wife and son.