Day 9, Monday, August 30. Hannibal, MO to St. Charles, MO
(100 miles, 14.2 mph, 7h 59m 40s)

* sad news today, read on *

Up at 5:45, 6:00 at Hannibal Inn for breakfast: scrambled eggs, sausage, toast, hash browns, juice. 6:45 load luggage, 7:00 on the road.

Forecast today is for fair weather but a chilly start. We had 10 very steep hills over the first 50 miles, several of them 10% - 12% grade climbs but for only .2 - .3 miles. However, they all were tough!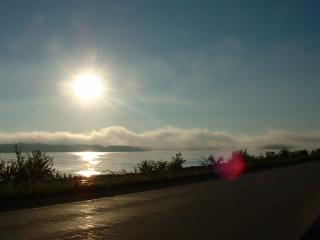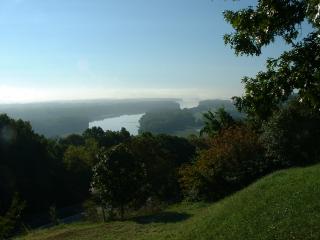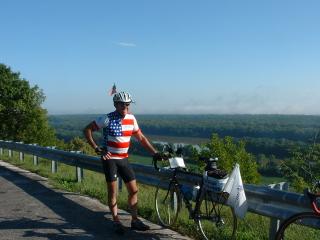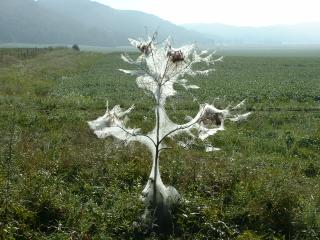 SAG 1 was a welcome sight and chance to rest. It was a "misty" morning until about 10 AM when it became mostly sunny. I cycled with several different cyclists today. Once we got out of Hannibal we were on Rt 79 for 90 miles. There happened to be a police officer at SAG 2 and I asked him about this rusty barrel that was there. He told me it is where the "road kill" is incinerated. Yuck. I looked inside and did see a lot of ashes.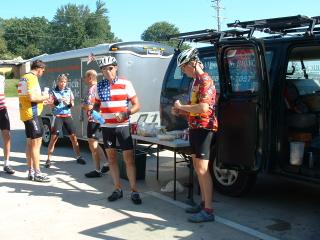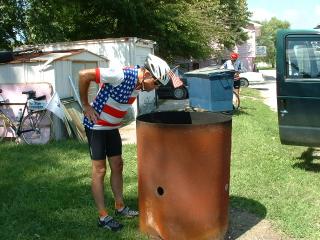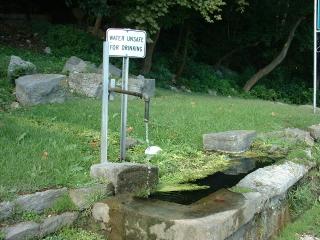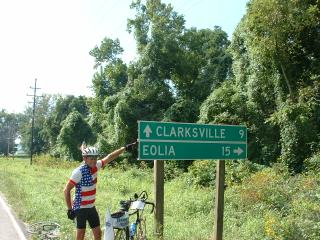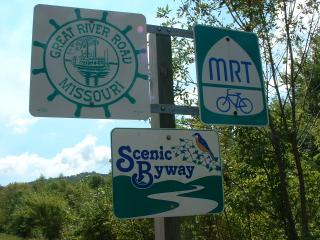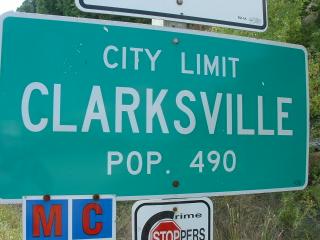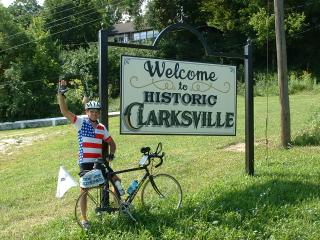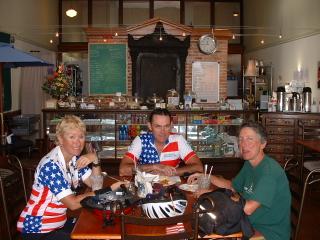 The road did have a good bike path along side as far as Clarksville and then it ended. Clarksville was a nice quiet little town apparently famous for its pottery shops. Karen and Nancy came along and we decided to have lunch at an "off the route" bistro. From there (46 mile point) to Winfield (75 miles) - about 30 miles - there was no shoulder. Cars and 18 wheelers were traveling 60 - 70 mph, cars were usually polite but many of the trucks showed little or no concern at all for cyclists - a very dangerous section of road for 30 miles! Then when there was a shoulder for a short section, it was littered with stones, sticks, broken glass and debris - and we had no choice but to ride through it. When that paved shoulder narrowed and disappeared, there were cracks/grooves between the road and shoulder, uneven pavement, we had to move back into the road.
It was a place like this where my roommate, Frank, riding alone at the time --- crashed.
He has significant injuries but ones that will heal. He was taken by ambulance to a hospital here in St. Louis (St. Charles is a suburb of St. Louis) where he will be for 3 or 4 days. He has chest injuries, is in a lot of discomfort and is receiving pain medication. Sadly, he is unable to continue the ride and will be going home later this week. I went to the hospital this morning to visit him with our friends Craig Fulmer, Keith Hamsher, and ride leaders Mike and Barbara Monk. I especially will miss Frank's humor and wit. Considering what has happened, it was good see him in such good spirits. He is such a strong willed, intelligent man and warmly touches all who meet him. We met in 2002 and became roommates when I did a partial cross country ride (Sioux Fall, SD to Niagara Falls, NY). We enjoy each other's company and get along great. He will be missed on the ride and we all wish him a full and speedy recovery.
From SAG 2 (70 miles out) there really wasn't much of interest to take pictures of, especially the last 10 miles - 3 lane divided highway, two way access road on each side, lots of stop lights, horrible congestion and noise, debris-littered shoulders, - - - - get the picture? Very unnerving.
I arrived at the Travelodge hotel at about 4 PM, that's when Barbara saw me and told me about Frank. I was just stunned! Knowing Frank as I do and the emotional strength that he has, I am confident that he will recover just fine.