Day 7, Saturday, August 28. Galesburg, Illinois to Keokuk, IA
(177 miles)
Up at 5:30, 6:00 hotel continental breakfast - cold cereal, muffins, juice. 6:15 load luggage, 6:30 on the road.
Showers last night, weather forecast today is 90% chance of showers, skies look theatening off in the distance, the roads are wet and puddled, it is a nice morning. Frank had to make an early phone call so I set out on my own. This was a picture perfect day - more corn and soy beans but nothing particularly different or interesting - just flat roads and not much wind. I rode with several different cyclists which was nice and the weather got better even though it was obvious that there were storms around us and off in the distance. I rode quite fast and to my surprise I was the first cyclist to arrive at SAG 2 at 63 miles. In all my ABB rides since 1999 that has never happened. It's really no big deal but out here on these rides it's kinda like a cyclist's goal to be the first to get to a SAG. It kinda pumped me up and reinforced my male ego.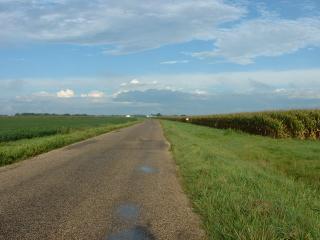 A great day to ride!
It was about 11:30 AM so I decided to have lunch at "Grama's", a local restaurant in Dallas City. I had a cheese burger, fries and 3 large Pepsi. Several of us cyclists: Rob - a New Jersey investment manager, and John - a Nottingham, England police inspector ate lunch with 3 local guys: Bill - a heating and AC contractor, Charley - a commercial fisherman, and Frank - a retired railroad employee. It was fun and interesting to chat with some local people. (see pic)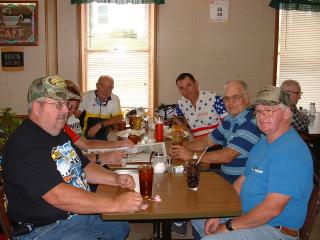 So I was having a great day! Until --- I got up to leave and it was raining - here's where my day absolutely fell apart! I wrapped my camera in a plastic bag, I covered my bike bag with another plastic bag and proceeded to go down the wrong road. It was pouring, I could hardly see, riding through puddles, cars splashing me. I rode for 7 miles the wrong way before I realized it and turned around and rode back to the the SAG in Dallas City. Everyone had left so I went to the restaurant and the owners helped me figure out where I was and what route I needed to take to join my group. I called Barbara to tell her my plan. It stopped raining, I rode on, caught up with the group, the sky cleared up a bit, and I took off my raincoat. Storm clouds were still off in the distance, 8 miles from the hotel it started to pour, raincoat went back on, 3 miles from the hotel I got a flat tire (back)
ugh!!
I was ready to pack it in and SAG the rest of the way in. Just then Cynthia and her mother Marilyn came by, stopped and made a call to our mechanic Brantley, he was just down the road so he arrived in 2 minutes. He changed my tire in 5 minutes in the pouring rain, I got back on my bike and rode 3 miles the rest of the way, arrived at 5 PM. My bike was a mess, I was tired and soaking wet.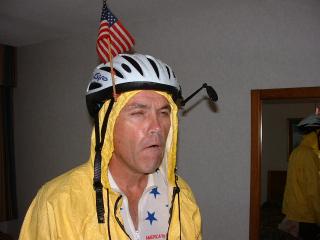 Today was 117 miles for me, thanks to my "unscheduled detour"! We're at a Holiday Inn Express - I wonder if I'll be and feel smarter when I leave tomorrow? Had a buffalo burger tonight for dinner. I tried to wash clothes at a laundramat at 8:45 PM but I was too late as it was closing at 9 PM. Came back to the room and worked on catching up with my journals. Tomorrow is a 64 mile ride to Hannibal, MO. Lights out at midnight.