Day 4, Wed., August, 25. Prairie du Chien, WI to Dubuque, IA
(71.6 miles, 12.4 mph, 5h 46m 21s)
Up at 6AM, 7AM breakfast at Huckelberrys Restaurant - buffet scrambled eggs, potato puffs, sausage, assorted juices, coffee. On the road 7:45. Forecast for today again is for scattered showers, rain and thunderstorms. Very foggy and overcast. Total climbing today is 4,580 ft., with several long and very steep hills - along with "rolling hills" all day. Most of the day we are on county roads.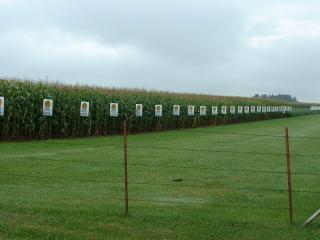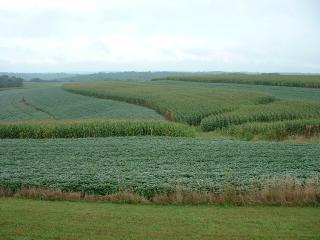 Quite a few people have heard Mike say he would never ride a recumbent bike but here he is doing it! It belongs to Cynthia Schmitz, it was making funny noises so Mike got on and rode it to check it out. He did something and I think it is OK now.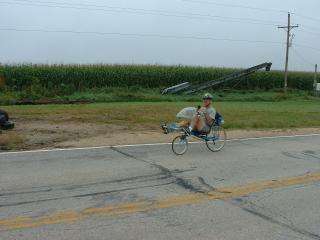 Mike Monk on a recumbent - WOW!
Only one SAG today at 32 miles, it was so good to take a break and consume various snacks and energy food. Got a nice pic of Barbara Monk, her husband is Mike the ride leader.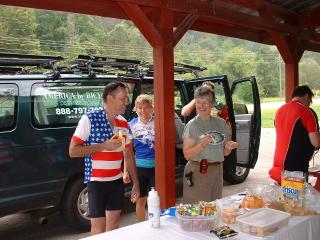 Me, Barbara, and Karen
When we cycled through the town of Dickeyville we stopped at the "Grotto" a religious shrine erected on the grounds of Holy Ghost Parish. The creator was Father Matthew Werner, a Catholic Priest, Pastor of the Parish from 1918 to 1931. His handiwork in stone, built from 1925 - 1930, is dedicated to the unity of two great American ideals - love of God and love of country. It is a creation in stone, mortar, and bright colored objects - collected from all over the world. These include colored glass, gems, antique heirlooms of pottery and porcelain, stalagmites and stalactities, sea shells of all kinds, star fish, petrified sea urchins and fossils, and a variety of corals plus amber glass, agate, quartz, ores such as iron, copper and lead, fool's gold, rock crystals, onyx, amethyst and coal. One has to see it to really appreciate it. Here are a few pictures.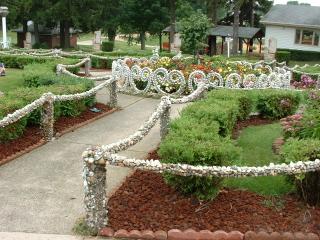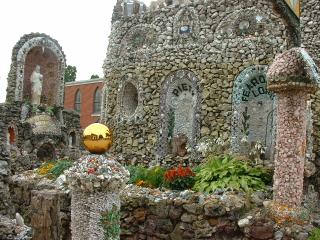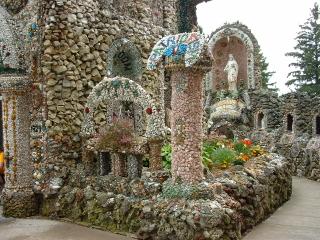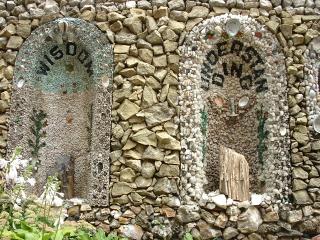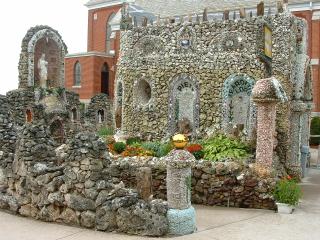 This pic of me crossing into Illinois - I didn't realize it at the time but I was standing on an ant hill. I managed to get off before they started to climb up my legs.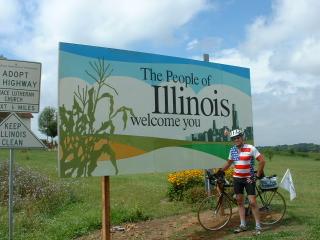 Nice pic, but I'm standing in an ANT HILL!!!
Fortunately the rain held off today. I had lunch with Buzz Feldman at George and Dale's Food & Brew in East Dubuque (excellent food, Christy was our waitress) one mile from our hotel - The Days Inn. Interesting that we cycled through three states today - Wisconsin, Illinois and Iowa.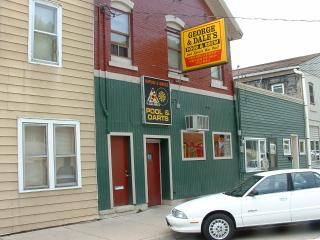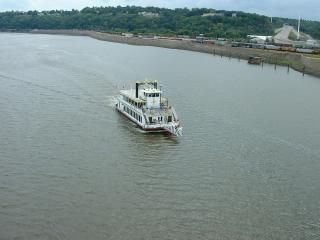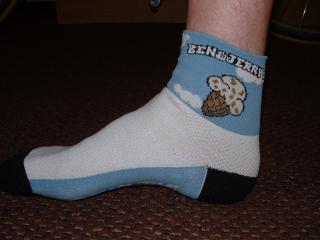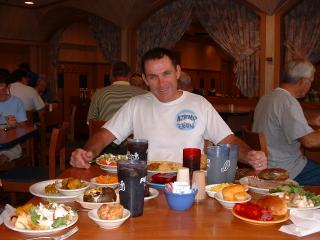 Forecast for tomorrow is still for unsettled weather - showers and severe thunderstorms possible.