Day 3, Tuesday, August 24. LaCrosse, WI to Prairie du Chien, WI
64.6 miles, 14.4 mph, 4h 32m 20s
Up at 5:15, load luggage 6:00, rode bikes to Perkins for breakfast - scrambled eggs, pancakes, sausage, juice. On the road at 7:15.
Today's forecast called for scattered showers. It was very overcast all morning and it looked like it would rain at any moment, so opportunities for taking pics were quite slim, but I did get a few. Just before the only SAG today Frank and I came to an unofficial historical marker (we often stop to read them). There are official bronze ones that are the government's interpretation, and unofficial white ones that are the "other side's" interpretation of an historical event.This marker happened to be "white" - an indian intepretation of the battle of "Bad Axe" between a small band of Winnebago indians and a group of white men.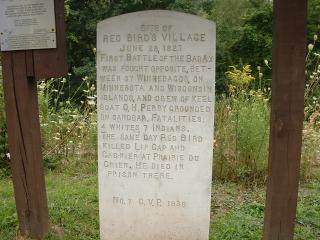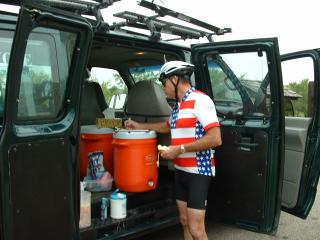 The SAG was at 31 miles and this pic is of me signing in. All cyclists must sign in at all SAG stops so ABB knows where we are and can keep track of us. Ten minutes after we left the SAG it started to rain so we stopped to put on our rain gear. I also needed to put a plastic cover over my bike bag. It continued to rain for another hour as we rode through puddles and got splashed by cars and 18-wheelers - not a pleasant experience.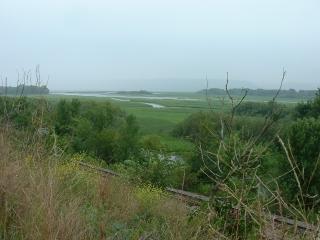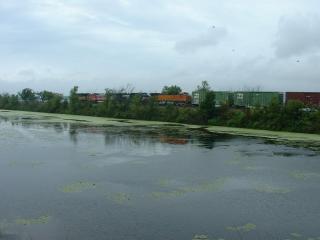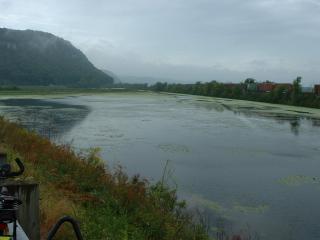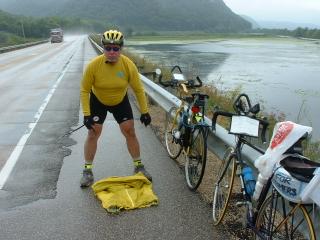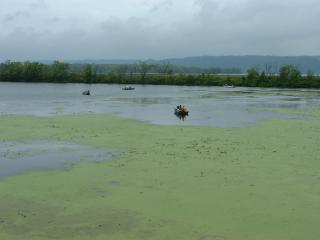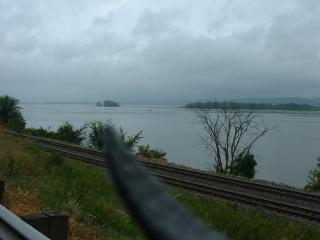 I stopped to take a pic and Frank continued - he usually waits for me somewhere down the road. This time Frank had stopped at a small store and we went inside. We met and chatted with owner Larry Duprey, a very friendly, interesting man. He is a collector of Roy Rogers memorbilia. This is a pic of Larry holding Roy's coffee cup and a handmade wastebasket made from left over wood from Roy's house. I also made friends with Larry's pet buffalo.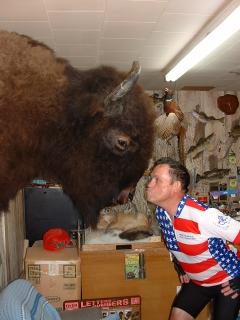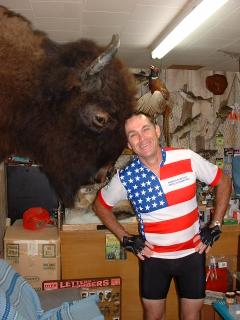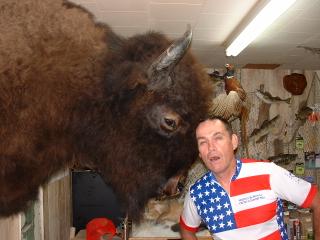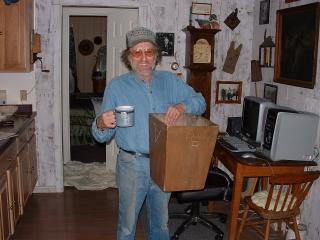 It stopped raining at about 50 miles and we took off our rain gear. We passed some guys fishing for bluegills, a very popular fish here in the side tributaries of the Mississippi. There are also many of these fishing docks along the river. This is what the dam part of a lock looks like. The lock is behind the trees in the bottom right of the pic.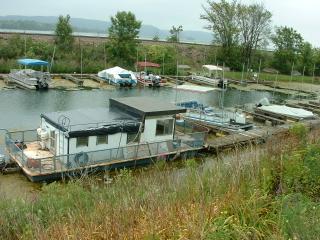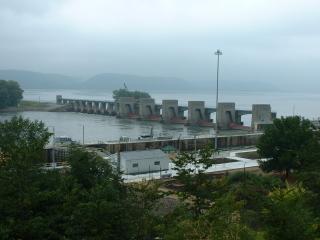 When we were just 2 miles from our hotel it really started to pour and it continued all the way in. We really got soaked! The shower lasted for 2 hours. And eight of us had to go to a different hotel cause some guests decided to stay a little longer! I cleaned our bikes, Frank persuaded a lady to do our laundry, I went to see Brantley our mechanic and he adjusted my brakes. Frank took a nap, we had route rap at 5:45, dinner at Huckelberry's (a local restaurant), back to room, I write my journals, Frank reads. Lights out at 10:45. Tomorrow's a 69 mile ride to Dubuque, Iowa. BTW - John Kerry will also be in Dubuque tomorrow, too.