Day 2, Monday, August 23
Red Wing, MN to LaCrosse, WI. 102.3 miles, 13.4 mph, 7 hr 34 min 54 sec
Up at 5:00 AM, load luggage 5:45, on the road to Perkins Restaurant for breakfast: scrambled eggs, pancakes, sausage, juice. On the road at 7 AM.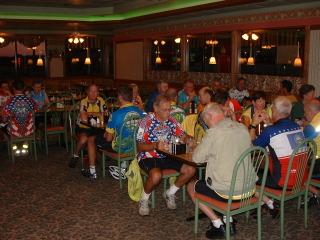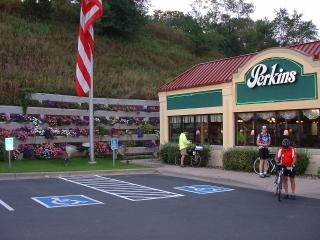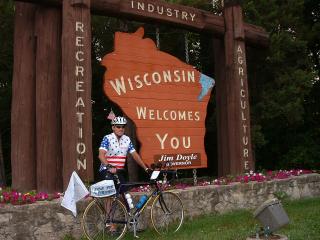 Todays ride was very long, chilly and headwinds all day. We got to ride right down the Mississippi River's east side in Wisconsin for several hours this morning - actually Lake Pepin which is 28 miles long and 2 1/2 miles wide in several places, Very scenic.
At SAG 1 I took pics of a weather front that formed on the west side of the river in MN. It threatened rain most of the day but I did not get rained on, although others did.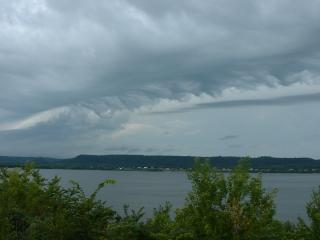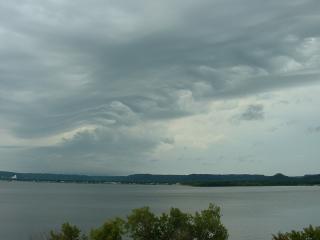 I stopped at lock #4 in Alma WI to view some coal barges enter the lock. All the river locks were built and are now maintained by the Army Corps of Engineers. There are NO pumps, water enters and exits from the bottom by gravity. Also at the lock was a coal processing facility. The coal is crushed and pulverized and then loaded into barges and shipped down river or it enters the lock and goes up the river.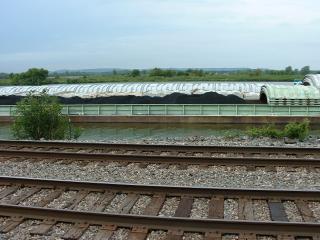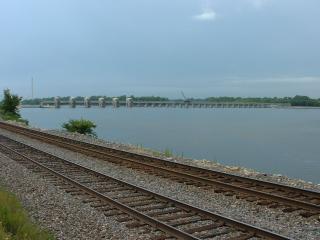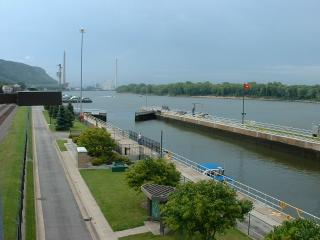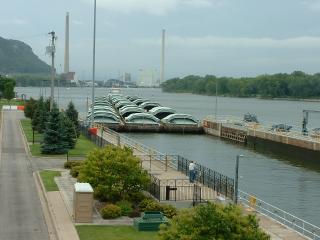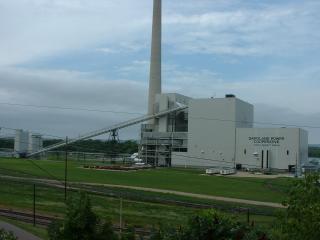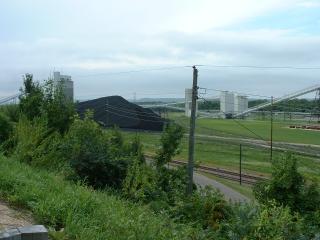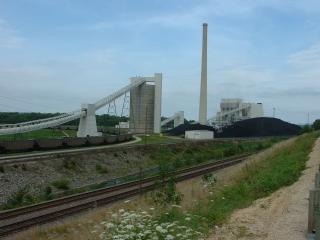 My roommate Frank and I rode together today and we both got flat tires on the way into Fountain City - tiny slivers of brown glass. A fellow cyclist Buzz Feldman came along, pitched in and changed both tires. I found out after that he owns a bike shop in Longmont, Colorado. Thanks, Buzz!

We then went to lunch at "The Monarch", a tavern in Fountain City. That's Frank in front of the Monarch and my bike is over to the right. We then continued on against even stronger head winds to LaCrosse - very stressful day.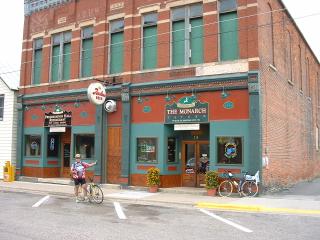 I arrived at the Hotel - the Road Star Inn - at 5:30 PM, one of the longest ABB rides I have ever done. I checked in, cleaned up, went to dinner with Frank at Steak Buffet, then to 7:30 route rap. Finally back to the room at 8:15 to call Donna and write this journal. Lots of trouble connecting to AOL tonight - the phone numbers for this area don't work very well! Tomorrow's ride will be 65 miles to Prairie du Chien, WI. Scattered showers and thunderstorms are forecast for the morning.