Day 1, Sunday, August 22
Minneapolis, MN to Red Wing, MN. 61 miles
Up at 6:15, 7:00 hotel breakfast buffet - waffles, bagels, muffins, cold cereal, milk, juices. 8 AM group picture, 8:30 load luggage, 9 AM on the road.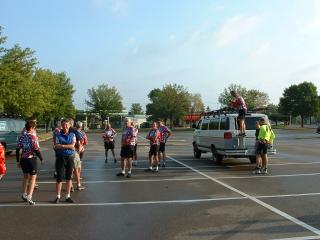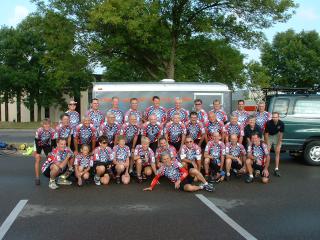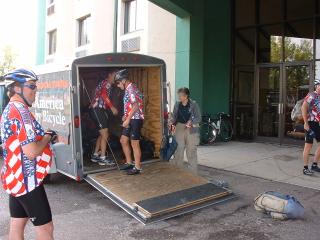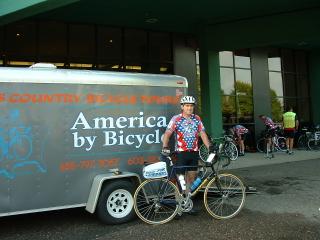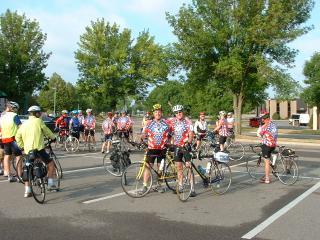 I was awakened at 3 AM last night by the first of several thunderstorms that rolled through from 3 to 5 AM. I had a series of many short naps until I got up at 6:15, so didn't get the continuous sleep I needed.
The first 18 miles of today's ride was modified so that we could ride some of the nice bike trails that have been constructed in and around the St. Paul area. A lot of effort has been put into these trails and it is worth it. The St. Paul skyline is quite striking. I took some pics of some interesting bridges, a grain mill, grain barges and the Mississippi River. Grain barges line both sides of the river and are still very much in operation today. Farmers bring their grain to the mills and it eventually gets loaded onto a barge and is hauled down the river and unloaded at various locations.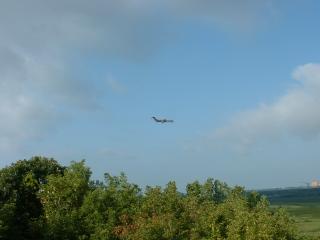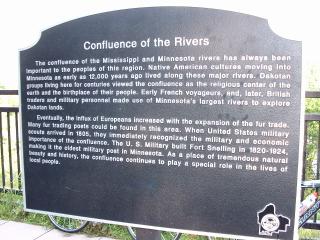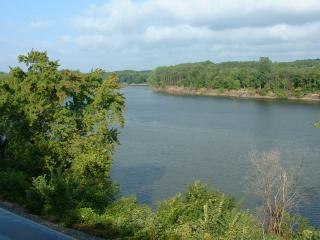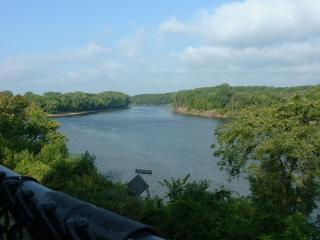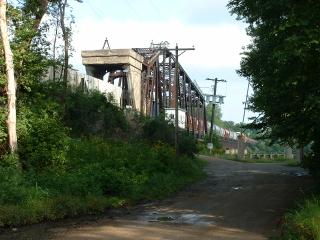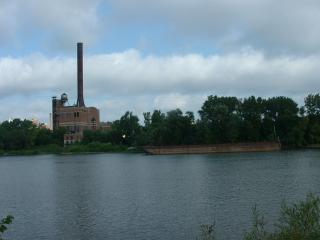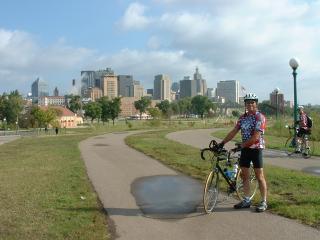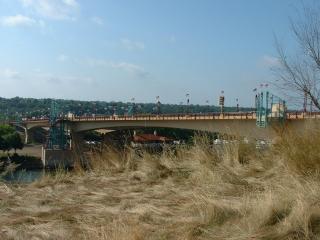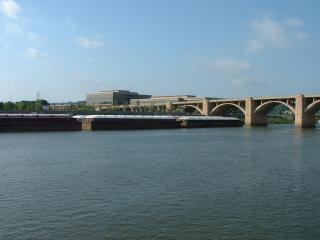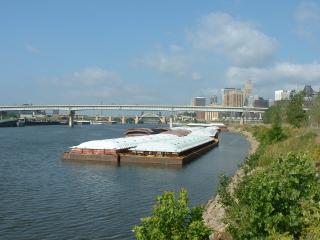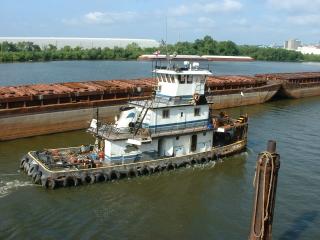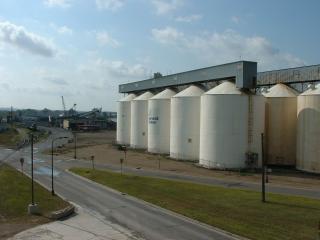 After leaving scenic St. Paul, our route went into the country. We passed many fields of corn and soy beans and will see many more in the next few days. There were some long steep hills to climb, glad I have a third small chain ring as I needed it. Only one SAG today, at 36.5 miles, at Point Douglas County Park which is at the junction of the St. Croix and Mississippi Rivers. As you can see it was very scenic. By the way - the weather today was very nice - sunny and pleasant.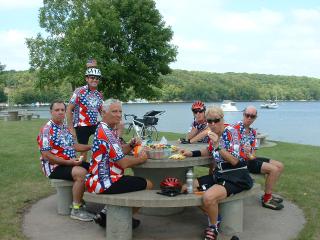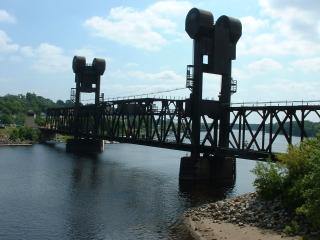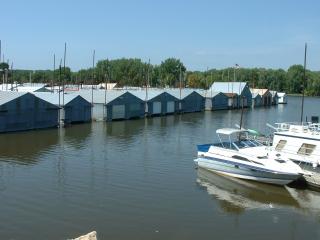 I arrived at the Super 8 Hotel in Red Wing, MN at 2 PM. I checked in, showered, jumped into the pool and jacuzzi, then back to the room to relax and write this journal. At 5:30 PM we shuttled to dinner at Liberty Restaurant and I had a nice sirloin steak. At route rap tonight I gave cyclists the Clif Bars that I received from the company as a sponsor for my ride. Clif Bars are a favorite energy bar for cyclists and they gave me a nice assortment.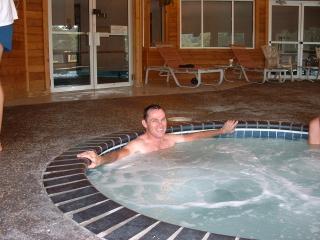 I had a visit tonight from Jackie and Loren. They live in Kasson, MN and Jackie is employed part time in the Rochester office of the So. Minnesota Alzheimer's Association. Jackie will be reaching out to MN cyclists to encourage them to do a ride similar to what I do. She will also be visiting CT to participate in the New Haven Memory Walk on Oct 3 and will be visiting her mother who has Alzheimer's disease.

Lights out tonight at 11:00 PM. 100 mile ride tomorrow to LaCrosse, WI.