Day 0, August 21
Day 0, Saturday, Aug. 21, Eagan, MN, (fly to Minneapolis, MN and check in)
Up at 3:30 AM, muffin and coffee, did last minute packing. Donna has been putting items in our spare bedroom for the last several weeks, but we didn't actually start packing my bags until 8:00 last night and didn't finish until about 11:00 PM so only got about 4 1/2 hours sleep.
5:30 AM on the road to Green Airport, Providence RI, I don't fly a lot so have a great deal of anxiety built up inside me. 6:30 arrived at Green Airport, checked in at Northwest, had to pay $80 extra to bring my bicycle. Rick at Mystic Cycle in Mystic, CT packed up my bike yesterday in my hard shell case. It barely fit through the xray machine - had to be pushed, shoved and pulled to get it through - good thing because it is not easy to open and reclose my tightly packed case! Plus there were about 100 Cliff Bars packed in there that may have fallen out. These were sent to me from the Cliff Bar company for fellow cyclists as the company's way to support my Alzheimer's cycling effort.
Then I got into a very long line for passengers with their carry-on stuff. It had about 500 people in it and snaked up, down and around the terminal area. Lots of police around and guys with signs telling us where to go. I chatted with several people who were curious about my big box (my bike), and shared with them what I do and why. It took about an hour to get through the line.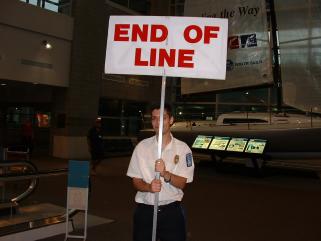 Airport Crowd Control
I finally got to my departure gate and 15 minutes later boarded my plane and we took off on time at 8:10 AM. We hit lots of turbulence during the first hour, then it calmed down for a while, then more turbulence. - YUCK - The pilot shared with us that we are flying at 35,000 ft and that it is 48F in Minneapolis. Maybe I should have brought my winter coat and gloves!
Smooth ride then into Minneapolis. We arrived at 10:06 AM, had a 1/2 mile walk to baggage claim, and called the Best Western hotel shuttle for pick up (cell phones are such a marveleous invention). Arrived at the hotel at 11:30, and immediately met up with Frank Reidy, my roommate. Frank and I were roommates in 2002 when I rode from Sioux Falls, South Dakota to Niagara Falls, NY. I checked in and met several ABB cyclists from previous rides. It was special to meet up again with ride leaders Mike and Barbara Monk. Mike assembled my bike and then Frank and I went to lunch at a Boston Market. A hotel shuttle took us to a UPS store and I made arrangements to ship my hard shell bike case to New Orleans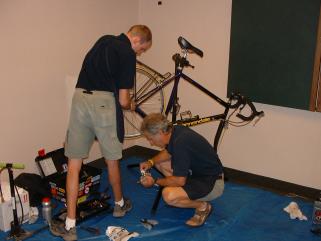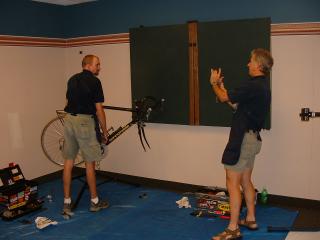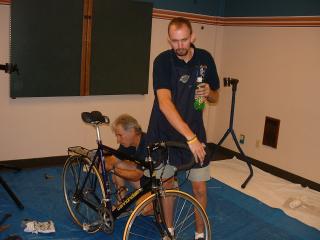 Mike and Brantley Smith assembling my bike
Ride orientation meeting at 3:30, route rap at 5:00, dinner at 6:00 at a Chinese Buffet and then back to our room to finish this journal. Frank and I talked a lot and I called Donna at 8:00. This has been a busy but pleasant and calm day.
Tomorrow is our first ride day - 61 miles to Red Wing. The original ride has been modified to include a scenic tour of St. Paul. There are 31 cyclists going all the way to New Orleans and 9 doing part of the ride.