Day 23, Monday, September 13. Natchez, MI to St. Francisville, Louisiana
(66 miles)

Up at 5:15, 6:00 continental breakfast at hotel (very poor) cold cereal, small muffins, no juice! 6:30 load luggage, 6:45 on the road.

Another excellent cycling day. Only 1 SAG today and some nice country riding - until we had to make a detour 'cause a bridge was out. I felt an urge to "hammer" today and was the second rider to arrive (11:45 AM ) at our hotel, the Best Western. I took a pic of another recumbent rider - I thought some of you readers would be interested to see some of the different styles there are.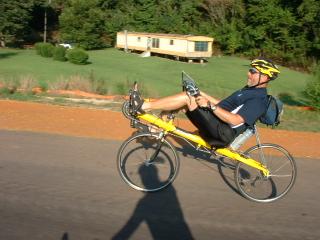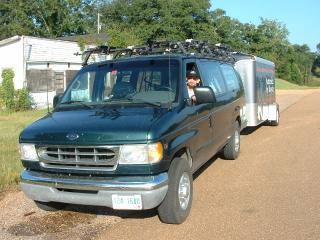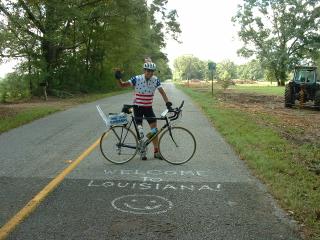 * * * THE RIDE HAS BEEN ABORTED * * *

(Read on...)
Due to the impending arrival of hurricane Ivan, the ride will stop here at St. Francisville. I know many of you back home have been a bit nervous - I have hinted several times in recent journals that we may not complete it. Riders and ABB have been anxious and nervous also about Ivan's impact on our safety. We are here in St. Francisville and today was our last day of cycling. Riders have been busy altering plans and changing flights. I originally had planned to stay an extra day in New Orleans and Donna's college roommate was going to take a day off on Thursday to be my personal tour guide of New Orleans (she lives about 100 miles north in Independence). My flight is on Southwest at 2:10 PM tomorrow, stops in Philly 25 min. and then on to Green Airport in RI, arriving at 7:30 PM.
I've had a great trip and enjoyed this group of cyclists (34) more than any ride I've done. Some of you may wonder "how does he do it?" Well, I wonder that same thing myself sometimes. I am tired and will be glad to get home. Today when I arrived at our hotel, I went into the luncheonete room to watch the weather channel and fell asleep sitting up in a chair. We were supposed to have a formal banquet tomorrow night in Gonzales. Tonight we had pizza at the hotel and it turned into an informal sharing session by all - we expressed our feelings about the ride and there was a lot of "ribbing" and story telling. This is one of the things that we would do at the banquet - it was fun. I have had a lot of contacts with local people everywhere I've been and shared whenever I could - Alzheimer awareness and the information resource of my website. I feel fulfilled with this year's effort and that the donations people have made will help the Alzheimer's Association provide funds for research and support for services and programs for those on the front lines - the caregivers.
We went to lunch at the Magnolia Cafe and after lunch I called my AAA travel agent and that's where I made my flight plans over my cell phone, thank goodness for cell phone technology. [Editor's note: I swear I didn't make that up - John actually said this!] Later in the afternoon, Mike loaded many of our bikes onto the top of a support van and delivered them to a bike shop in Baton Rouge. The shop will pack them up and ship them back home via UPS ground. I expect that it will take about 2 weeks. This has been a physically and mentally exhausting day.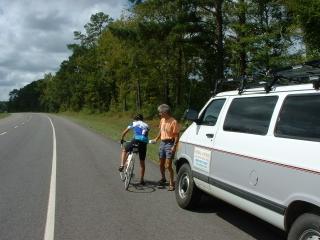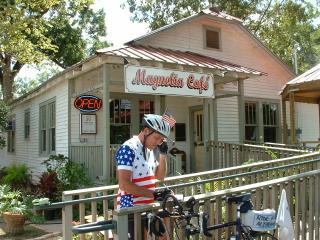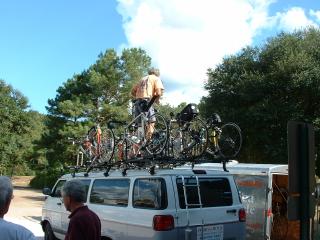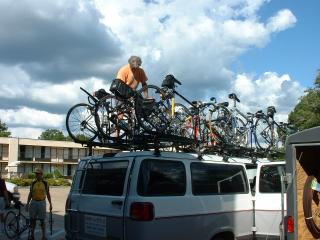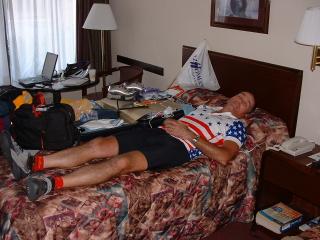 FIELD OF DREAMS - Saga 8
I only saw 1 cornfield today just prior to arriving at St. Francisville. I had heard that we were going to end the ride today so was glad to come to a field. I got off my bike and cautiously approached the edge of the field on foot, pointed and yelled my challange - "Hey voice, you need to tell me the rest of the words!" And then I got back on my bike and started to ride through the field and soon I clearly heard: "on..." "take..." "vacation..." and then I rode out.
| | | |
| --- | --- | --- |
| Hey voice! Tell me three more words! | | This is my last chance... |
| I got the words - I must solve the message! | | 'Hey voice - I think I know...' |
| Yeah! I figured it out!!! | | OK everybody - clap your hands! |
I had small pieces of paper with all 15 words written on them and began to arrange them, trying to make some sense out of this jumble and then - I GOT IT! I solved it, I figured out the Message! Here it is --- " HEY JOHN, YOU NEED TO TAKE YOUR WIFE ON A VACATION WHEN YOU GET HOME" --- I didn't need to build anything. I didn't need a baseball bat. I wonder if Donna or anyone else figured out the message? I have been checking email every night and if anyone did figure it out they didn't tell me. Now the task is to break the news to Donna - I wonder if she would like to get away for a few days? Knowing her as I do, she probably is all packed already (if she has read this journal) and if not, it will probably take her about 5 minutes.