Day 7, June 29: Baker City, OR to Ontario, OR
84.5 miles, 14.1 mph, 5 hours, 59 min.
Up at 5:45, 6:15 load luggage, 6:30 breakfast at hotel - eggs, hash browns, sausage, juice and coffee.
On the road at 7:00. At route rap last night Mike told us that today would be an easy day with no major climbs. He was right about no climbs but it was not an easy day. Full sun and very hot - by early afternoon it was 105F. Most of the ride was rolling prairie hills. We rode on interstate 84 (4 lane divided highway) for 10 miles against a very strong headwind. It is legal out here to ride a bicycle on interstate highways.
SAG 1 was at 34 miles and I picked a one inch long wire out of my rear tire. I didn't get a flat tire due the kevlar insert belt I put between my tube and tire.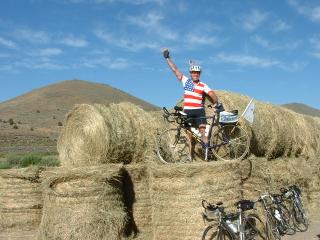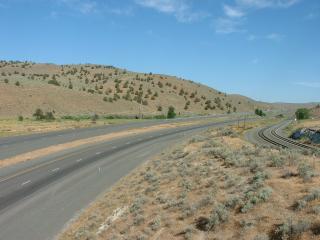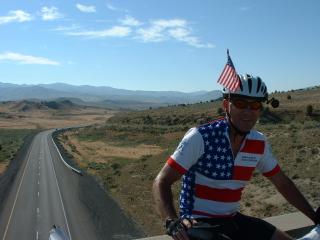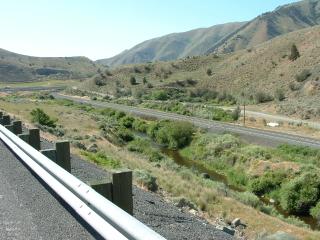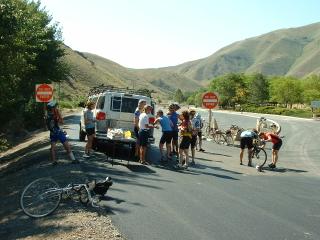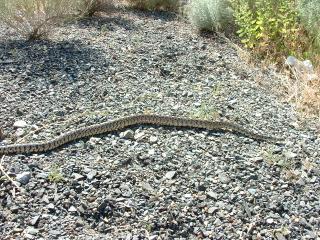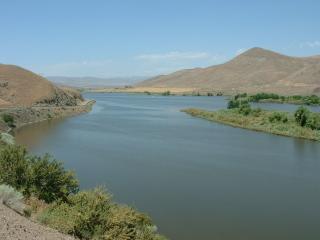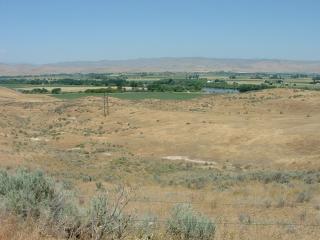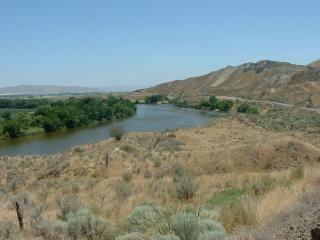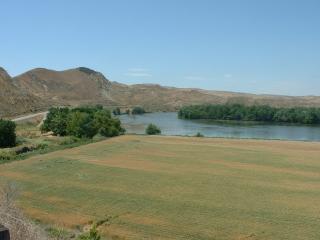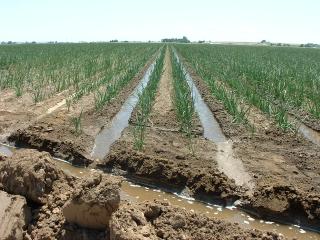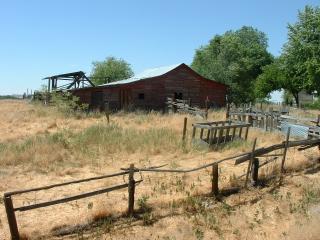 I couldn't resist getting up on that huge pile of alfalfa bales.

We meandered back and forth along the Snake River and across the rolling prairie. I applied lots of sun screen several times during the day. Without it, you would absolutely fry! There were hundreds of acres of onion fields over the last 20 miles. The irrigation process appeared to be quite effective. (pics to arrive soon) I planted my onions this year in a similar way but without the irrigation setup.

I arrived at the Holiday Motel at about 3 PM, and checked into a room with a broken AC - we changed rooms and it is now OK. We ate at the "Sizzler Restaurant" and I had the all-you-can-eat salad bar - 2 huge plates, 2 - 16 oz Pepsis and a bowl of clam chowder.

As I am writing this journal, the Weather Channel says it is 94F right now at 10:10 PM. The forecast for this area over the next 7 days is full sun every day and daytime temps to be between 85F and 94F. Tomorrow is a 62 mile ride to Boise ID, a moderately steady climb.