Day 1, June 23, MY BIRTHDAY , Astoria OR to St. Helens OR
70.6 mi, 15.7 mph, 4h 29m 52 s

(Click photos to enlarge)

Up at 5:30 AM, pack, 6:00 Breakfast at Red Lion (on the shore of the Columbia River ) - pancakes, sweet rolls, juice and coffee. Load luggage 7:15, on road at 7:45. 3250 ft of climbing today.

Yes, it's my birthday. I've never spent it on a bicycle before. Maybe some interesting things will happen.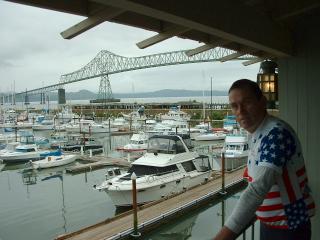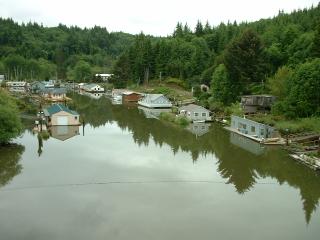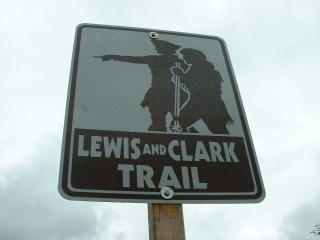 51F, damp roads, slight breeze, it rained hard last nigtht, 30% chance of rain today, most riders are warmly dressed and have or are wearing rain gear, it is rather cold especially when moving. We will be on RT 30 all the way to St. Helens.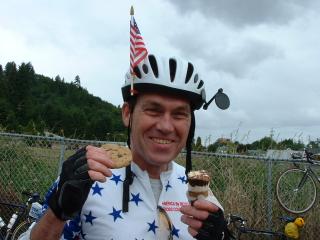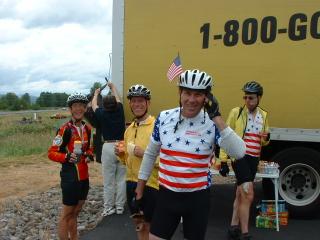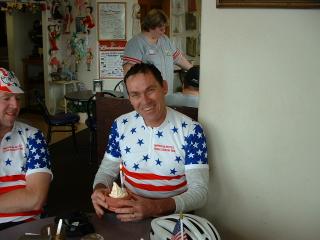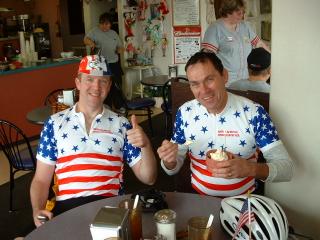 Birthday celebration 1 at Westmart Grocery Deli and Post Office - I bought a ice cream cone and a chocolate cookie, at SAG 1. Called Donna at SAG 2, nothing around but had a very strong cell phone signal, modern technology - go figure. Celebrated again at Kathy's Kitchen with Dan from Boston, Mary from New Jersey and Larry from Dartmouth, Mass. Dan bought me some ice cream and Kathy stuck a singing candle in it. It didn't really sing, it played "Happy Birthday", my friends sang to me. Ha, Ha, cute!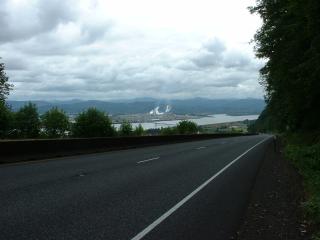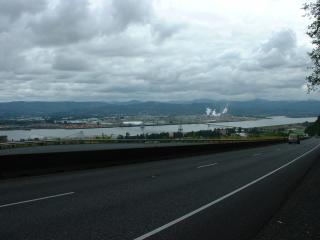 I took some scenic pics of the Columbia River as I was coming down a very steep downgrade. Out here there are a lot of very big logging trucks, semis and construction trucks. Rt 30 is quite narrow in places so it is necessary to be very careful. They sometimes pass going 70 - 80 mph quite close. I'm constantly looking in my helmet mirror.
Got to Best Western in St. Helens at 2 PM, cleaned up and went to Subway for a 3 meat combo. I heard that Chris did get his bike in Astoria about 1 PM, a bike shop assembled it, he set out for St. Helens and had a blowout (flat tire) 10 miles out of Astoria and another one 5 miles from St. Helens fixed them and finally arrived at 7:00.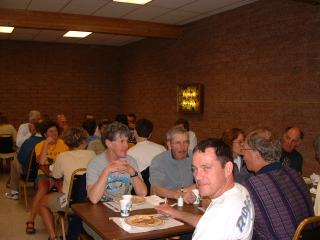 Dinner tonight was a buffet at the Village Restaurant. Lee Evans (ABB staff) stood up at dinner to announce my birthday and I kinda discussed the singing candle story and they seemed to enjoy it. After dinner Lee and her husband, Bob, invited me to go out for ice cream - it was fun. Lee and Bob have both won several senior olympic events since 1997. Lee's most recent success was winning the 20K time trial and 40K world cup road race in 2001 World Championships in Austria.

My daughter Kris also called me on my cell phone to sing to me and wish me a safe cycling journey.

Today was a really good first day ride - not too long, only 70 miles, but consistant climbing grades. Lights out tonight at 10 PM, a good improvement.