Day 0, June 22
Day 0, June 22, Astoria OR, (check in day)
Up at 2 AM, didn't get to bed last night until 10:30. FYI for those who know me, I spent the last two days doing last minute planting of vegs, flowers, and weeding. Is this me or what??? Actually didn't start packing till 8 PM last night. It took some time but was quite easy and fast because Donna had been laying stuff out for several days. She is so organized and efficient. There is no way I could possibly do my Alzheimer long distance cycling without her help. Donna - for all that you do "thank you, I love you".
We got to Green Airport RI at 4:15 AM but Northwest wasn't open till 4:30. This is the first time I have taken my bike with me on the plane. In past rides I shipped it UPS land. I recently bought a hard shell shipping case which does a great job protecting the bike but is a pain to lug around. They had to open it when I checked in for moles and turkeys. I completed my check in by 5 AM, plane departs at 6:15. Everyone had to take off their shoes and some were frisked. It looked like a co-ed locker room changing area, quite strange, security people everywhere.
Flying and being away from home is hard for me. I just spoke to a ticket agent and she told me that NW just built a new terminal in Detroit with a 2 mile concourse, complete with a walking treadway and elevated electric cable car - WOW this should be something to see. She also said my connecting flight gate to Portland, OR was very close by. I hope so! Boarded plane at 5:50AM, Airbus center aisle, 3 seats on each side, capacity 124, 80% full. Lift off 6:17, up above clouds quickly, sweaty palms, smooth ride so far.
1 hr 22 min flight to Detroit, flying at 29,000ft, occasional turbulance. Orange juice and gronola bar. Polish family sitting around me, the aunt reminds me of my mother, they are connecting to San Deigo. We had a nice chat about Alzheimer's, public schools and adolesence.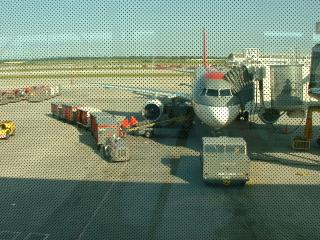 Landed Detroit 7:37 AM, sunny and 80F. Very smooth landing and connecting gate is one away. Boarded another Airbus at 8:45. My first picture is of my bike actually being loaded onto the plane I am actually on ! YES ! :)

4 hr 17 min flight to Portland OR, lift off 9:18 AM. Breakfast Cheerios, banana, bagel, OJ. Got significant turbulance at all altitudes, climbed to 31,000 ft, smoother now.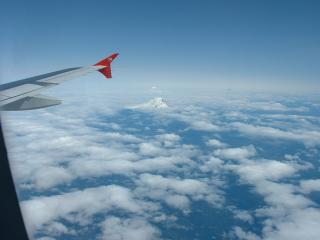 Mt. Adams (front) and Mt Rainier (back).

Touchdown 10:34 AM. Took airport shuttle to Astoria - joined by 3 other ABB cyclists: John from Chicago cycling to Portsmouth, NH; Christopher from NY cycling to Boise, ID; and Tore from Philly cycling to Sioux Falls, SD.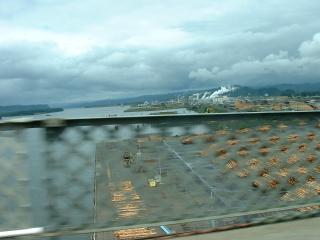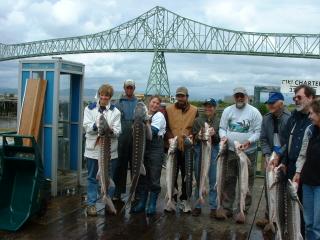 This is a lumber yard that ships logs to Taiwan for processing, and local fishermen showing off their sturgeon catch.

Arrived in Astoria 1 PM. Head mechanic and ride leader Mike Monk assembled my bike, I connected with my friend Chris Boehmer from FL. We roomed together in 2000 and again now. Also unexpectedly met up with Kate Giordano, who I met on a Niantic CT ride two months ago. We had orientation, dinner, route rap and a get acquainted social time. Beautiful view from the balcony of our room. Unfortunately Chris' bike hasn't arrived yet - hopefully tomorrow AM.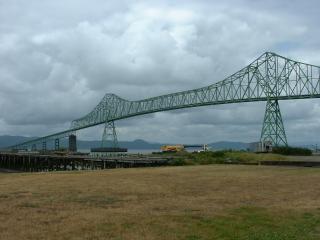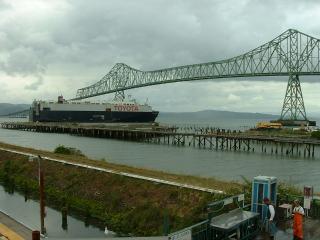 This is the bridge from Oregon to Washington state.
Ride tomorrow to St. Helens, 69 miles, 3250 feet of climbing.