Day 28, July 20, ---- fly home ----
Up at 5:50, pack, continental breakfast at Brimark Inn, 6:45 hotel shuttle to Sioux Falls airport,. Take off at 8:30, short 57 minute flight to Minneapolis, MN. There was a storm front in the area so we experienced moderate turbulance and the pilot flew around it. Flew at 26,000 feet & landed at Minneapolis at 9:27. Connecting flight to Providence RI was at gate C12. I sat down to relax and write my daily journal. Soon an announcement came over the "PA" that the plane that was connecting to Spokane from gate C12 was "broken"! That was not a very comforting thing to hear! This caused a chain of changes to take place - my new connecting gate to Providence was changed to gate C7, so I walked a short way down the concourse to C7 and checked in. I was informed that my connecting gate had now been changed to F3. This required me to walk to the other side of the terminal. It seemed like it took a half hour. I successfully navigated through thousands of people and arrived at my new gate tired and worn out. I had a few snacks, wrote in my journal and boarded at 12:40.
Take off was at 1:27 PM, smooth ride, arrived at Providence at 4:05 PM. Donna met me, it was so good to be home and have my feet on the ground.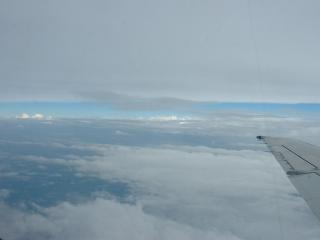 I have so many memorable experiences, saw such beautiful countryside, something different every day: snow-capped mountains, desert, prairie, canyons, large and small irrigation techniques, huge plantings of onions, sugar beets, soybeans, alfalfa, winter wheat - in Idaho, Wyoming and part of Oregon so many raised beds that because of the climate require forced irrigation.
I met and rode with friendly cyclists, talked with many people along the way, spread Alzheimer's awareness everywhere I went, experienced daytime hot/dry temperatures of 110F and cool morning 38F temperatures, 30 mph headwinds, 10% grade 3 - 4 mile mountain climbs, rode in a 4th of July parade, went to Mt. Rushmore, went to the Crazy Horse Memorial, saw an outdoor re-enactment of the western Legend Of Rawhide, visited the famous Wall Drug Store and sampled their "free ice water", saw close up a herd of 80 wild buffalo next to the road 40 feet away, saw thousands of prairie dogs, visited the world's largest birdhouse in Mitchell SD, saw many beautiful wild flowers, had 2 flat tires (a fellow cyclist had 16 flat tires), rode fast - 30 mph, rode slow - 6 mph, had mountain descents at speeds of 45 - 50 mph, swam in swimming pools, soaked in jacuzzis, got up early at 4:45 AM, went to bed often at 11:30 PM, rode 34 miles in a day, rode 120 miles in a day, missed my wife Donna, missed my dog Foxy Lady, responded to about 200 e-mails thru my website, celebrated my birthday in a Deli/Post Office, drank Chinese tea, cycled part way up snow capped Mt. Hood, wanted to cross a field and jump in a snow bank but couldn't find anyone to go with me, saw thousands of Ponderossa Pine trees (took a nap under one), rode through several Indian reservations, had lunch with James Halliday, a member of the Warm Springs Indian Tribe in Kah-Nee-Tah, talked to sage brush (a date has been set for the "cruise" - thank you SAGE for advice, pressure and encouragement), got "carded" for requesting a senior citizen discount at a restaurant, fell into a "cattle guard", visited Register Rock in Blackfoot ID (early settlers used to carve their names and the date they were there in this rock), saw an outhouse mailbox, visited the beautiful Idaho Falls, had a race with a 138 car coal train and won!, saw a brontosaurus crossing the road, ate lots of pancakes, scrambled eggs and spaghetti, and finally - I didn't have any physically limiting pain or discomforts that would have prevented me from completing every ride every day - I rode every inch of the 2000 miles!!! It was definitely stressful at times, but I properly prepared for the ride and have a great personal satisfaction that I completed it. I had a severely sprained left ankle last year and the therapy that I recieved from Rick at the Center for Physical Therapy and Sports Rehabilitation in Groton, CT strengthened my ankle and I had no discomfort or pain on my ride. Thank you Rick!
Also, the Argus Leader did run a very nice article for me. It featured a photo of me, plus a great deal of information about this ride, my previous rides, and general Alzheimers's awareness.
This ride was a wonderful experience, one that I will always remember. I am already planning my ride for next year -"The Great Mississippi River Ride" 1755 miles from Minneapolis, MN to New Orleans, LA!
THANK YOU EVERYONE FOR YOUR SUPPORT AND PRAYERS!