Day 27, July 19: Mitchell, SD to Sioux Falls, SD
74.9 miles; 15 mph; 4hr 58min 45sec.
Up at 6:00, 6:45 load luggage, 7:00 buffet breakfast at Bonanza, 7:30 on the road. Today I am very anxious and filled with mixed emotions. I got an e-mail last night from Carol Rosenthal telling me a reporter from the Argus Leader, a Sioux Falls newspaper will be meeting me at the Brimark Inn at about 3 PM for an interview. I'm told it is the largest newspaper in South Dakota. I'm very much looking forward to an opportunity to promote Alzheimer awareness.
Today's ride was probably the flattest (only 750 feet of climbing) and a short 72 miles.
Here's some interesting information:
1) Over the entire 2,000 miles of my ride, I climbed about 52,000 feet! If you do the math (I LOVE MATH), that would be about 9.8 miles. Anybody want to come next time?
2) I have used the term "SAG" many times in my journals. A SAG stop is an opportunity for cyclists to stop and fill their water bottles and eat various types of energy/snack foods. It also serves as a "sign in" for cyclists so that ABB staff can keep track of where everybody is. The part that few people know is what the initials actually stand for. Support And Gear. The support part is obvious. The gear part relates to replacement or repair of various parts of our bicycles, as necessary.
3) I may not have mentioned it but each day an ABB staff person is the last rider to ride the route, to help anyone who may have fallen behind for any reason. This rider is called the "sweep". I often met the sweep 'cause I stopped often to take pictures and talk to local folks.
4) Another point of information is that all ABB staff have access to or carry cell phones.
At 60 miles I stopped at a grocery store for a quick lunch. When I arrive at Sioux Falls I will be busy with my interview, disassembling and repacking my bike and other unexpected things, so I needed to eat before I got there. I rode the last 12 miles knowing that this ride was almost over and I'd be flying home tomorrow.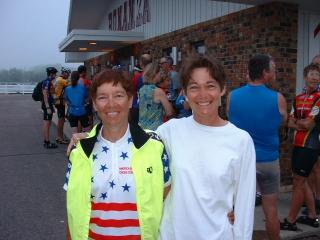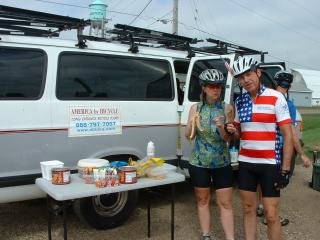 I arrived at the Brimark Inn at 1:45, checked in, and soon was involved in my interview with Carol Rosenthal and Peter Harriman, a staff reporter for the Argus Leader, a Tri State newspaper serving South Dakota, Minnesota, and Iowa. I felt very good about the questions he asked and the issues we discussed.
I then cleaned up, Gerard packed up my bike and I went to dinner. We had route rap and I said my goodbyes to the group. I then went back to my room and repacked my stuff. Time to wrap this journey up....