Day 25, July 17: Pierre, SD to Chamberlain, SD
25.5 miles; 11.9 mph, 7 hr 9 min 15 sec.
Up at 4:45, 5:30 continental breakfast at hotel, 6:15 load luggage, 6:30 on the road.
Yesterday was a strenuous and difficult day with strong head winds from the east. Today was worse! For the first 48 miles - rough roads, rough shoulders, head winds sometimes 20 - 30 mph. I was in my smallest chain ring (I have 3) and in my lowest gear and could just barely maintain 6 - 8 mph up and down rolling hills. Boy did I get tired and sore!
When we got to Macs Corner in Stephen we headed south for a 12 mile ride to Ft. Thompson. The head wind turned into a cross wind/tail wind and I was able to jack up my speed to 20 - 22 mph.
There was a SAG stop at Ft. Thompson and I made a call (roommates phone - mine has had NO signal anywhere) to respond to Carol Rosenthal, Vice Chairman of the Alzheimer's Association Leadership Council in Sioux Falls. She provided the contact information for me and I had a 5 PM live phone interview with radio station KSOO in Sioux Falls. I don't get there till Sat. 1 - 2 PM and may have more press coverage and Alzheimer awareness there.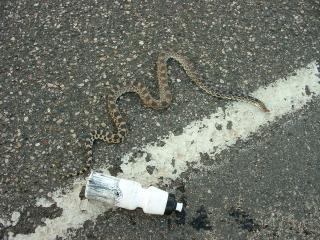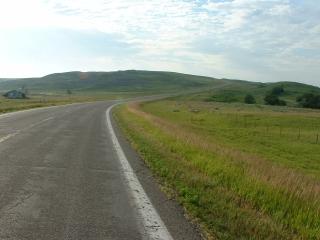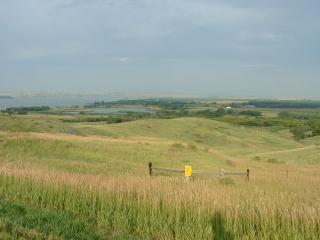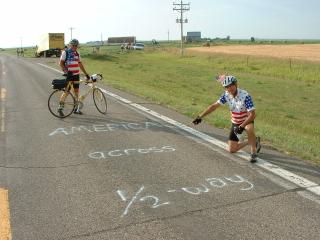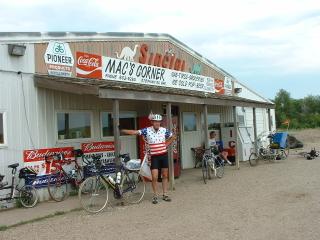 The rest of the ride today (23 miles) had mixed strong cross and head winds. The end of the ride included 2 very tough 6 - 7% climbs of 400 feet in less than 1 mile each. The second climb finished with a steep downhill ride into Chamberlain. I was very glad today's ride was over!
Dinner was an all you can eat pizza and salad at a local Pizza Restaurant. I am hopeful to get to bed tonight by 10 PM. Tomorrow's ride starts with a 400 foot climb out of town in about 2 miles, then relatively flat and gentle downhill. Also, head winds are predicted again.