Day 24, July 16: Wall, SD to Pierre, SD
119 miles; 14.5 mph; 8 hr 13 min 15 sec
Up at 4:30, 5:15 load luggage, 5:30 breakfast at Elkton House Restaurant - buffet, 6:00 on the road.
Todays ride prediction is hot 97F and head winds of 10 - 15 mph, with possible thunder storms. We did encounter a thunder storm about 39 miles out in the town of Phillip. We waited at a convenience store till it passed. There wasn't much today for photo opps. The first 55 miles we did have strong cross winds and head winds. I rode today with Aine (pronounced "on - yah") and we took turns as pacing leader. It is very stressful to ride against a head wind for a long period of time. We were in no hurry and wanted to save some energy for tomorrows ride to Chamberlain.
ABB staff arranged 4 SAG stops today for water replenishment and snacks. When it is so hot your body needs to hydrate often, so we drink a lot of water on the road. The only problem is that the water in our water bottles gets quite hot - but you drink it anyway.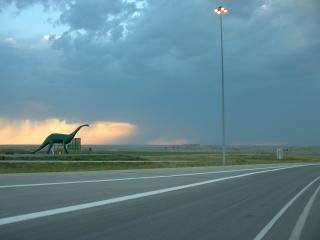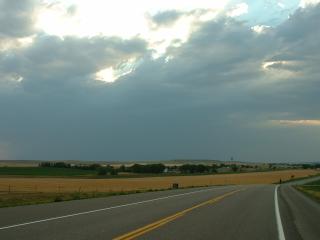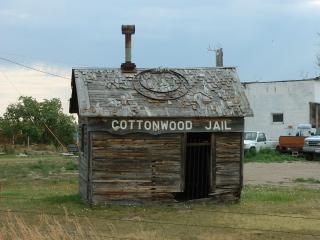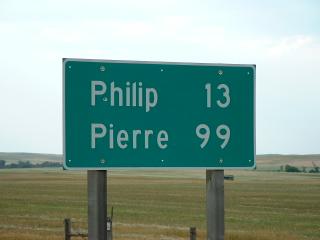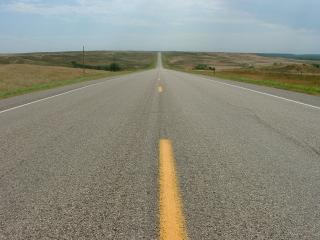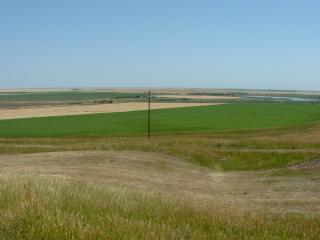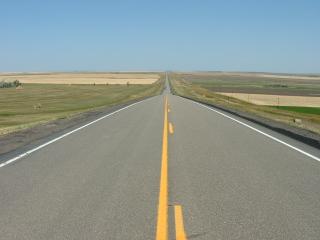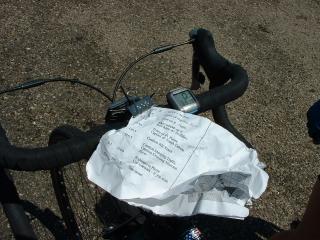 We turned north at Midland and rode to Hayes with a tail wind. Then headed east against a strong 15 - 20 mph head wind for the last 45 miles to Pierre. In the early afternoon the temperature had climbed to 109F, very stressful just being out in it - let alone riding a bicycle in it.
I arrived at the Governor's Inn in Pierre at 4 PM (5 PM central time). By this time the temperature had gone down to 102F. You may have noticed at the top of today's journal - I was cycling today for just over 8 hours! Ugh!
I cleaned up and went to Chickadilly's Restaurant for a buffet - spaghetti, fried chicken, peas, corn, mashed potato, stuffing, salad bar, cake, jello and 4 pepsi. We are told to hydrate a lot in the evening and I do consume a lot of water in my room when writing my journals. WE already turned our clocks ahead 1 hour (now in central time zone) and also got in late - so the day is almost over.
Tomorrow's 84 mile ride to Chamberlain includes a 600 foot climb from 23 to 40 miles, and two 400 foot climbs in the last 12 miles.
Hard to believe that I have only 3 days left to ride - to Chamberlain, Mitchell, and then Sioux Falls on Saturday. This Sunday, July 20 I fly home. I'm getting anxious...