Day 20, July 12: Casper, WY to Lusk, WY
110.7 miles, 16 mph, 6 hr 55 min 50 sec
Up at 5:00, 5:45 load luggage, 6:00 breakfast at JB's Restaurant - Buffet, lots of stuff, scrambled eggs, sausage, bacon, home fries, assorted fruit, juice and coffee, 6:30 on the road.
Today started out a bit warmer than recent days and the roads were quite smooth most of the time. The first pic I took was of a wild Black Eyed Susan. I hoped at the time that it would signal the beginning of a great day - and it was a great day. At 15 miles out I began to see what turned out to be hundreds of Prairie Dogs running about, in and out of their holes, and I was fortunate enough to get a zoom pic of a classic pose beside a hole. I saw and took more great prairie photos and wild flowers. We passed by the Wyoming State Fair grounds and pioneer museum in Douglas WY.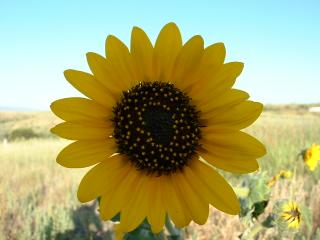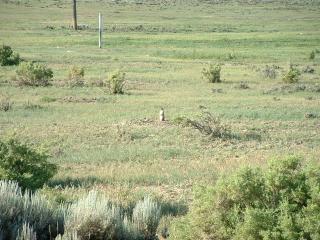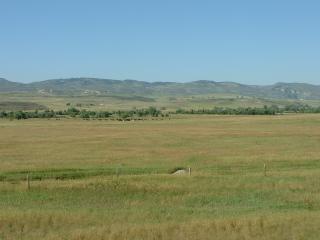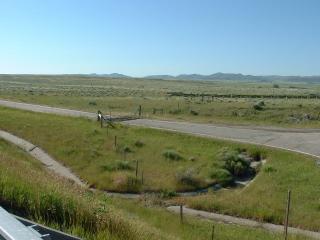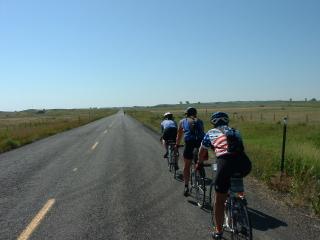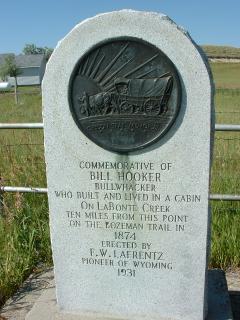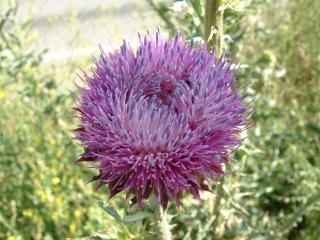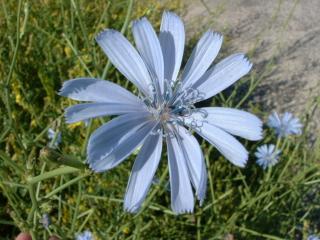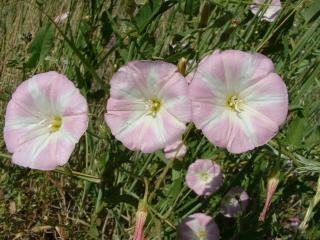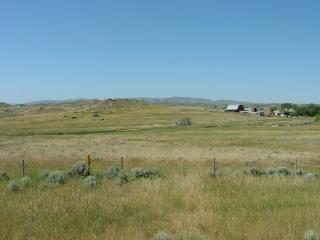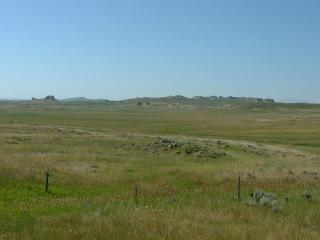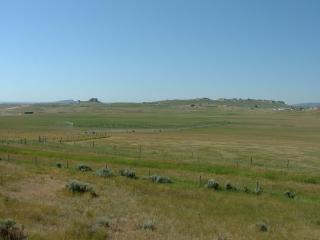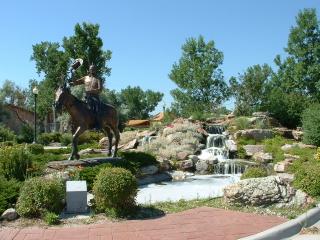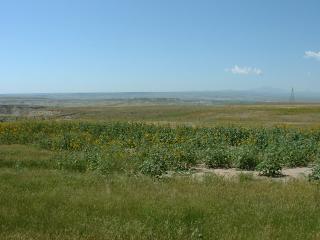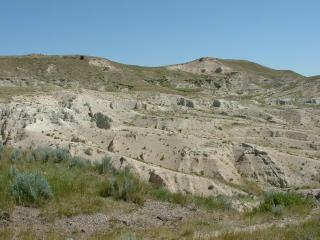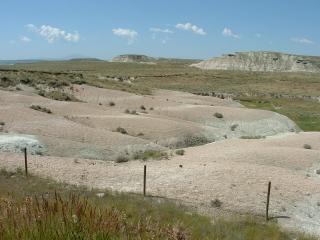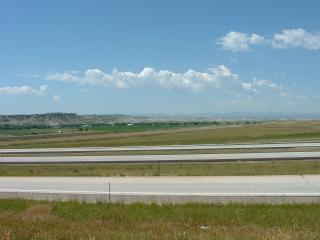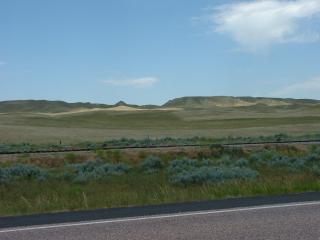 Stopped at a Subway for lunch and soon after began to parallel train tracks and many trains. We passed through Lost Springs (population 4). I stopped to chat with a Field boss for the Union Pacific Railroad and he confirmed that population of 4. The "town" has a Post Office, bar, trailer park, antique shop and small variety store.
I took several movies of some very long trains. I kinda played tag with a slow train climbing a 2% grade. It had 2 engines in front and one engine in the rear and was hauling 138 cars (I counted them) all full of coal. As it passed by, I waved, it blew it's horn as I was taking a movie. I then got on my bike and raced to catch up to it (I did) and proceeded to take another movie and the train again chugged past me laying on his horn. It was fun - I never thought I would ever race a train and beat it!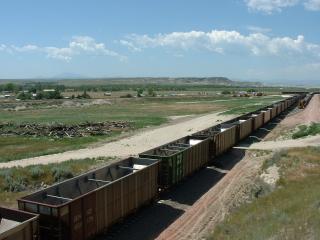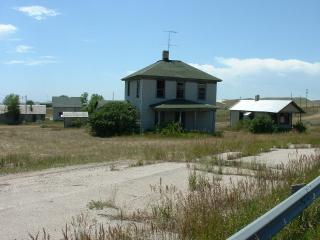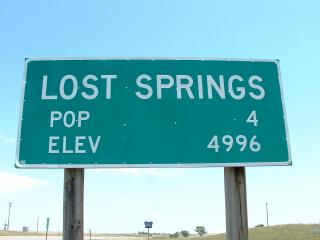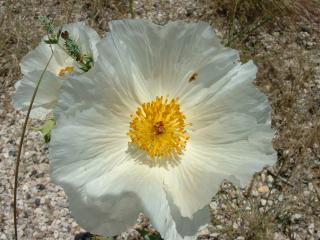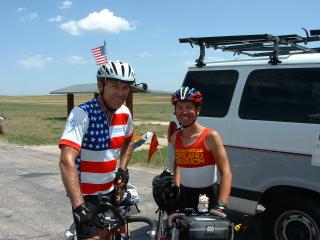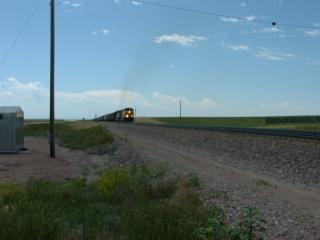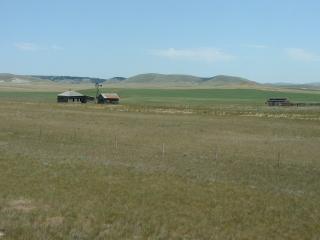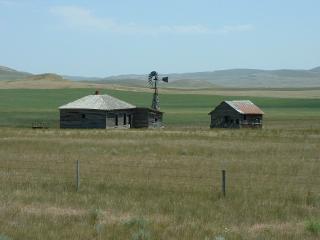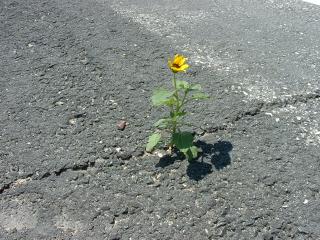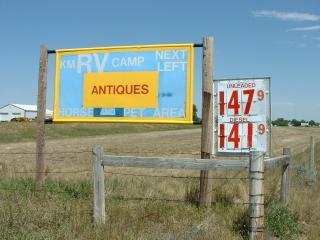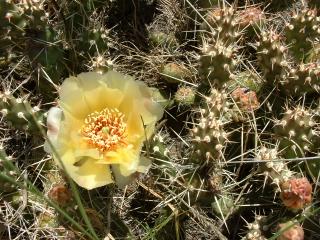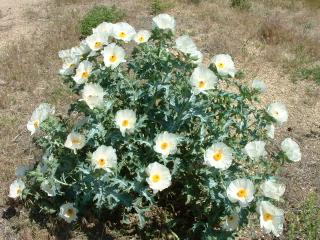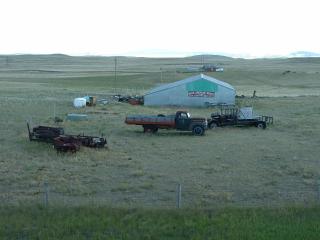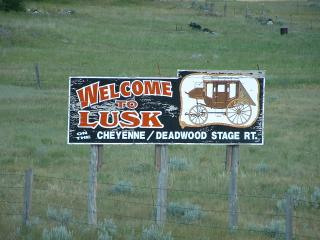 Train movies (VERY large - they'll take sometime to download over a phone line):
Movie - Train #1 (4MB)
Movie - Train #2 (5MB)
Movie - Train #3 (6MB)
Movie - Train #3 again (2MB)


Around 12:30 PM it got very hot 90F and a bit humid. I continued to take photos of the prairie and flowers. I really didn't mind it at all as I got such a "kick" out of the "train chase".

I arrived at the Covered Wagon Motel and checked in at 3 PM. They had ice water, ice tea and lemonade waiting for us - nice. I went to my room, showered and then to the Jacuzzi and pool. (note: I had left my bathing suit at the Courtyard Marriot in Boise and had called them and they sent it to me here in Lusk)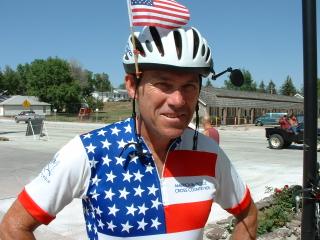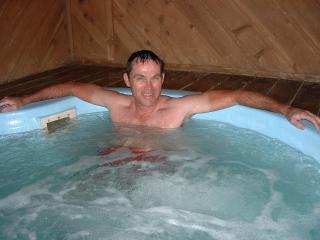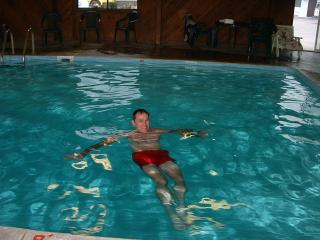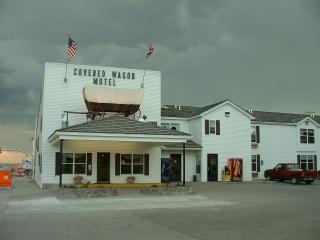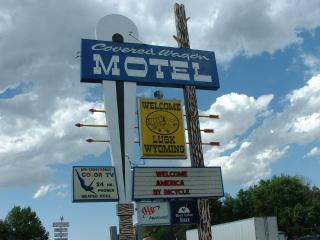 It was now 4:30 pm and a parade was supposed to pass by at 5:00. At 4:45 a thunder storm struck complete with eighth-inch hail. The parade went on anyway and the storm was over in 15 minutes. The parade was part of an annual celebration of the "Legend Of Rawhide". It consisted of settlers, cavalry, indians, covered wagons pulled by oxen and horses, fire trucks and emergency vehicles. Everything but the fire trucks and emergency vehicles were going to be in a reinactment of the "Legend" at 8 PM tonight. I went to see it as did many other cyclists. Here is an overview as it appeared on the program:
"The Legend of Rawhide is a gigantic show of western history based on the Legend which took place in the 1800's. A young man from a wagon train en route to the gold fields of California shot and killed an Indian Princess. Indians encircled the wagon train; guns began to blare and the screams of the wounded mix with the wild yells of the Indians. The young man is skinned alive in revenge. A cast and crew of 500 residents, 10 to 12 covered wagons, a team of oxen, cavalry in uniform and equipment of the period and a band of Indians just as they lived on the plains over 100 years ago, make up this production."
The production was great! I took a few pics. Oh, prior to the production we had dinner at the Fireside Inn - a nice buffet of spaghetti, meat loaf, potatoes au grautin, string beans, ice tea, milk, tossed salad and yogurt.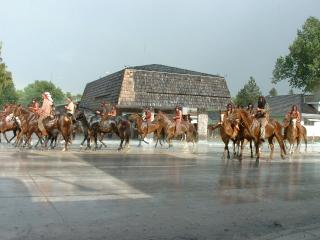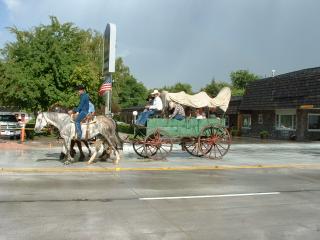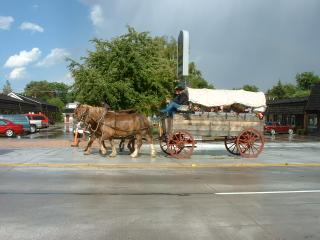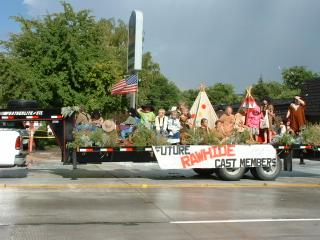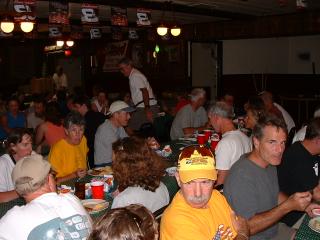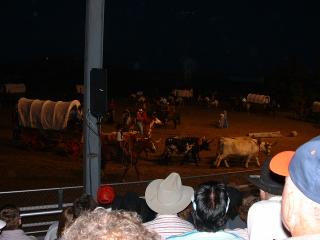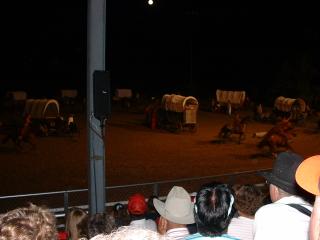 I got back to the room at 10:00 PM and wrote this journal. It is now 10:30 and I am going to bed. Tomorrow is a 92 mile ride to Hot Springs, so will word-process this when I get there. I hope everyone enjoys viewing my movies as much as I enjoyed taking them. This has been the "funnest" (is that a word?) day of my ride so far.