Day 14, July 6: Blackfoot, ID to Idaho Falls, ID
36.3 miles; 2 hr 26 min 28 sec
Up at 6:30, 7:00 breakfast - buffet on the patio of Best Western Blackfoot Inn - pancakes, oatmeal, scrambled eggs, yogurt, juice and coffee, 8:00 load luggage, 8:30 on the road.
Today was very short for route mileage. The route was typical of recent Idaho prairie scenery. The back roads were very rough - small crushed stone embedded in blacktop. It wears out your tires very fast. Actually, I need to replace my rear tire as the tread is worn almost flat. Hope it makes it through tomorrow's climbs.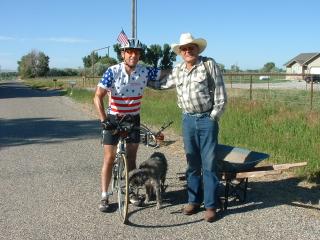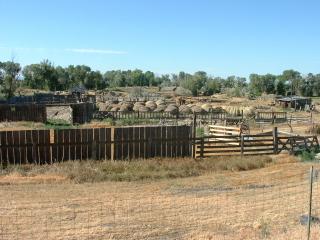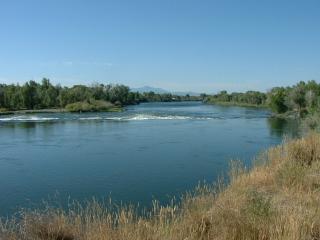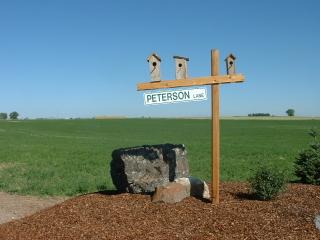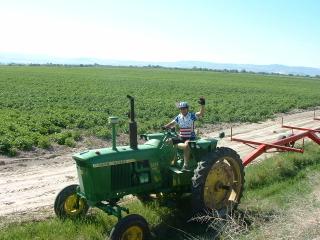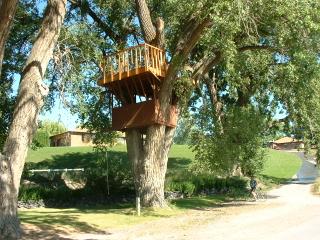 I met a nice gentleman on the road today, Glen Christensen and his dog Tanna. He is a local farmer, we had a nice chat.
We continued to weave back and forth across the Snake River, which is growing in size as we approach it's origin.
More interesting photos today - cute mailboxes, a real tree house, a white llama, a well manicured potato farm and some real nice shots of the Idaho Falls. These falls generate 50% of the city's electric power. It is a "flow of the river hydro electric system". UPDATE: Our head mechanic Garard, changed my rear tire, just to be safe, as I was quite nervous about how it had worn. After dinner at route rap Mike discussed tomorrows ride and it is going to be the toughest yet - difficult climbing, 10% in some places. We will start at 4,750 feet and do 2 major climbs. The first one to 5,820 feet and the second to 8,431 feet. Very steep descents also - mountain on one side and a vertical cliff on the other. If we didn't use our brakes, it is possible to reach 50, 55 or even 60 mph!!!!

Guess what - I plan to use my brakes!
I feel very comforted now that I have a new rear tire. 3 SAG's tomorrow - 25 miles, 58 miles and 77 miles at the second summit Teton Pass. I'll share more details on tomorrow's journal. Also, I have made plans to get a massage tomorrow night at 7:30. Never had one before. I'm anticipating that I'll probably need it.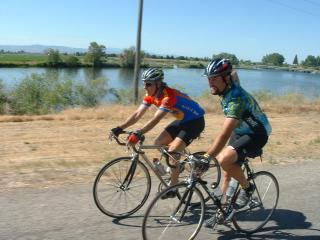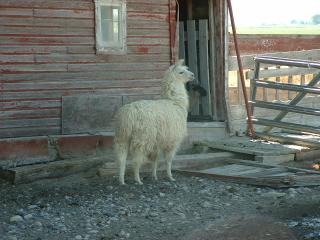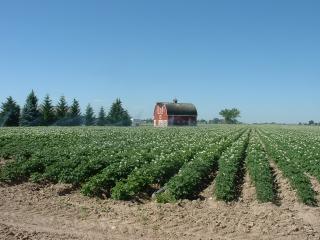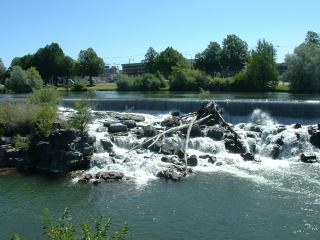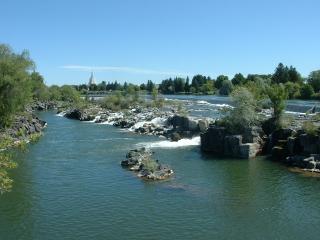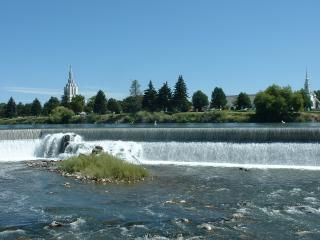 Click here for a movie of the Idaho Falls