Day 13, July 5: Burley, ID to Blackfoot, ID
113.8 miles, 17.7 mph, 6hr 26 min 3sec
Up at 4:45, 5:30 breakfast - buffet at the hotel, 5:45 load luggage, OOPS! Flat tire ( front ) overnight, so I had to change it in the room, 6:15 on the road.
Knowing that today was going to be a long hot 111 mile ride, I organized my stuff last night, went to bet at 9:30, got 8 hours sleep, was very efficient this morning and then --- a flat tire. Darn! However it was the front tire, easier to change and not as messy as a rear tire. Still managed to get an early start 6:15.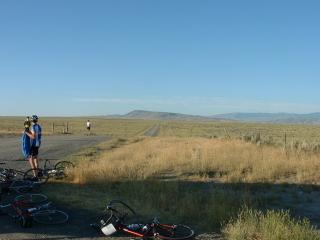 It was quite chilly and very desolate for the first 25 miles. We encountered 6 cattle guards today. It is a metal grate across the road and about 6 feet long. Metal bars run parallel to each other and perpendicular to the road. It's purpose is to prevent stray cattle from getting on the road. If a cow tries, a front leg would slip on a bar, the cow wouldn't like that very much, would be discouraged and go back to the pasture. Cows really don't think very much but apparently this cattle guard thing works.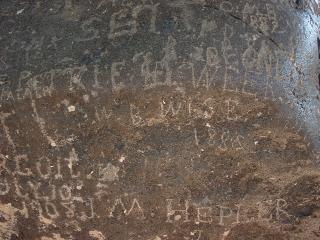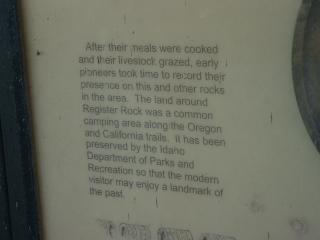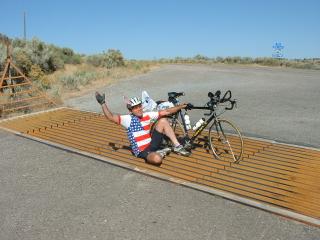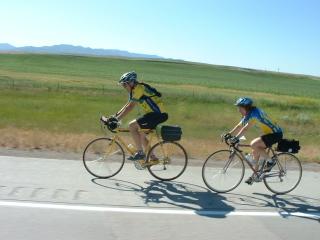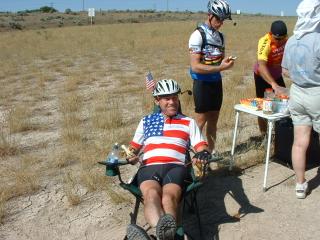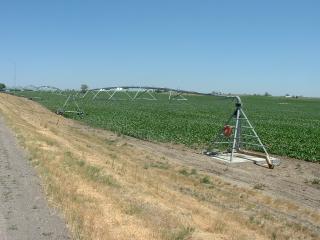 At mile 45 we came to "Register Rock". This is a rock (now a historic monument) where settlers going to California and Oregon used to carve their names and the date they were there - many dates are in the 1800's.
The irrigation pic shows the huge size of this particular system. We see so many of these systems. They use tremendous amounts of water. Pipes run underground from farm to farm. The system creeps across the fields of corn, potatoes, sugar beets, alfalfa, winter wheat, etc...
From 60 miles to the end of the ride there were no turns and most of the time we had a tail wind. I joined a pacing chain and really moved along at 22 - 25 mph without to much effort, except when I was in front pulling. There wasn't too much for photo opps. so I hammered along. I don't usually do pacing chains. I did stop just before Blackfoot to take a photo of an interesting mailbox.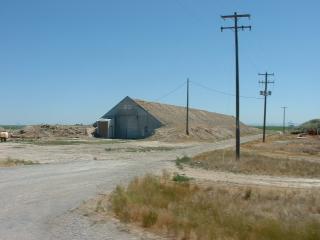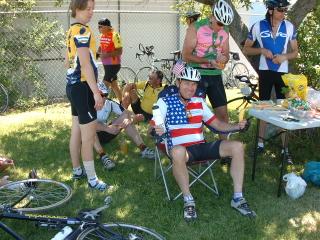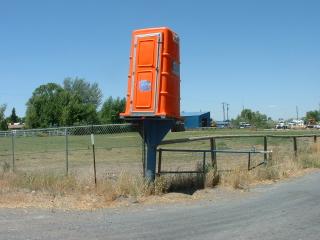 Arrived at Best Western Blackfoot Inn at 2:15 PM, helped unload the luggage truck, did a wash, worked on my journal, went to dinner here at the hotel. It was a catered buffet outside on the patio - salad, lasagne (meat and veg.), fried chicken, ice tea, lemonade, ice cream, cookies, peach cobbler - very nice.