Day 12, July 4: Twin Falls, ID to Burley, ID
50.8 miles; 15.6 mph; 3hr 15 min 54 sec
Up at 7:00, 7:45 breakfast - buffet at hotel, route rap for today at 8:15, load luggage 8:30, on the road at 9:10.
Today is a very short day for route mileage. The scenic detours and parade added 12 miles to the ride. We left Twin Falls and very quickly were out on the prairie. We stopped to view the Shoshone Falls and Twin Falls, but both areas had "dried up" due to lack of rain and snow melt so there were no falls. What water was available was being diverted for irrigation and power. All rivers in Idaho flow into the Snake River and eventually the Snake flows into the Columbia River. The Snake originates in Yellowstone National Park and has several dams. The river and dams provide power and irrigation for all crops and recreation for people.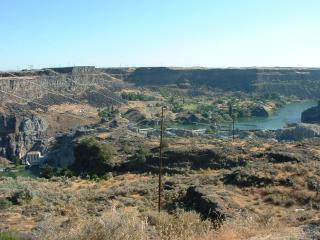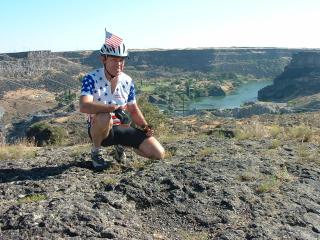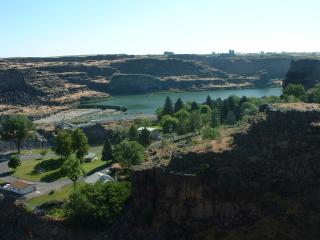 After viewing the "non" falls we rode into the town of Hansen where they were preparing for their annual 4th of July parade. There were about 20 of us and we were invited to join the parade - so we did! So there I was riding my bicycle in a July 4th parade. I think the last time I did that I was 8 years old. In case anyone doesn't believe me, I took some pics. As you can see we had our patriotic flag shirts on, so we fit right in. We were quite the hit. The parade was made up of a police escort, a husband and wife grand marshall pair, fire trucks, emergency vehicles, one float, horses, little children riding their decorated bikes, one child riding a decorated scooter and us. The tradition was to throw wrapped candy and gum to the parade watchers, so we bought some and threw it. It was a fun experience.
After the parade we got into a pacing line and raced along at 24 - 25 mph to get to the town of Burley. We were riding on an access road parallel to I-84. Many trucks and cars honked their horns at us as we kinda looked like a big American flag moving down the road on the 4th of July.
I arrived at 2 PM, checked in at Budget Inn, showered, started my journal, took a walk to buy some 45 sunscreen at WalMart, took a 10 min. nap, and then went to dinner at Perkins Restaurant next door. Then came back to the room to finish my journal and send it to Ed.
Tomorrow is a 111 mile ride to Blackfoot, ID.