---
The Ride for Alzheimer's is On!
---
July 23, 2001, Mon.
Day 9, Mon July 23. Ludington, MI to Mt. Pleasant, MI. 110.6 miles, 16.3mph, 6 hr 48 min 5 sec.
Wake up call 5:30, continental breakfast at hotel 6:00. on road 7:00. Today's ride was quite uneventful. It was 50 miles before we even saw a farm and then very few. The road surface at the edge and in the breakdown lane was very poor most of the day. Cracks, ruts, pot holes, and truckers unwilling to move slightly to their left for safety sake.
The one thing that I saw that was cute/interesting was a dog that appeared to be the driver of a farm vehicle, a woman was picking and transporting hot house tomatoes using a farm jeep looking thing.
I would liked to have stopped for a bit but rain was threatening so I kept going. I did travel through a light sprinkle for about 5 miles. I arrived at Baymont Inn, in Mt. Pleasant at 3 PM. I just got to my room and received a phone call from Barb Hall, Regional Director for the Mid-Michigan Alz. Chapter. I will be in her area (Birch Run) tomorrow. She is going to try to arrange for a local TV station to meet me at the next hotel, Comfort Inn.
I did laundry this afternoon but did not get a chance to clean my bike. I need to write and send my journal first. I'll do the bike tomorrow.
Went out to dinner to the Golden Corral - another buffet. I did it again, boy did I eat!
8:30 now, doing journal. Tomorrow is a 73 mile ride to Birch Run. I didn't get to bed last night until 1:30, I can't do that again!
pics: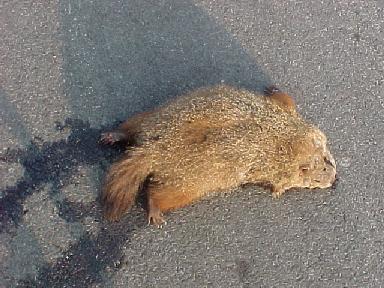 I think this is [was?] a woodchuck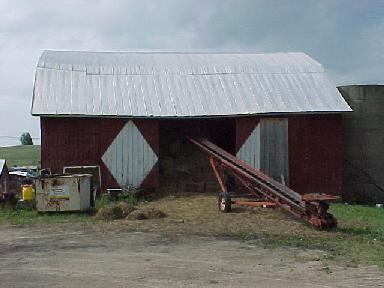 This is a barn that is a storage for the old type of rectangular type of bales. Most forms we are seeing now are cylinders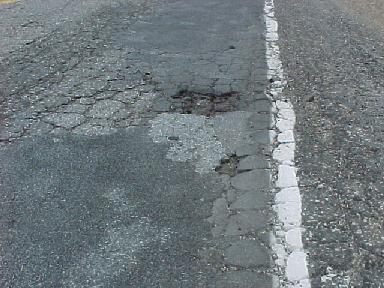 Many of the roads today looked like this and worse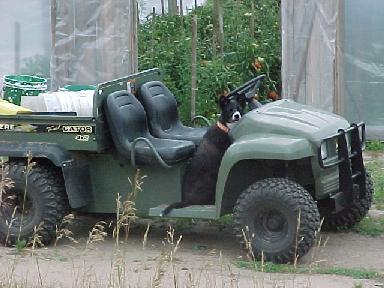 Farm vehicle being driven by a dog
---
---

This page written and maintained by
Web Services