---
The Ride for Alzheimer's is On!
---
July 22, 2001, Sun.
Day 8, Sun July 22, rest day.
No alarm today. Woke up at 6:45, went back to sleep. Sooo nice! Woke up again at 8:00, now I have to hurry. Continental breakfast at hotel, pack and load truck at 9:30, I just made it! I have the AM free to do tourist stuff. I went to Culvers, a popular fast food and frozen custard restaurant. I wanted to use the $5 gift certificate that was part of the gift snack basket from Rose Little, Outreach Coordinator of the S.E. WI Alzheimer's chapter. I got a frozen custard. I rode the 3 miles to the ferry, took some pictures and hung out, boarded the ferry at 12 noon, and we were underway at 1:00.
4 hour trip across Lake Michigan. The ferry had 2 lunch shops, a museum, bingo parlor, gift shop, movie room and kids arcade. We docked at 6:00 (time zone change). Greeted by Sue and Greg Wilson and their daughter Meghan. Sue is the Program Coordinator for the West Shore Alzheimer chapter in Muskegan MI. Greg is the adminstrator of Ocean Medical Care Facility and is in the process of planning a new 18-bed unit for Alz. and Dementia Patients. They took me out to dinner to a popular local family restaurant. We shared a nice but short evening talking about my efforts, their ettorts and related Alzheimer awareness and care concerns.
Got back to the hotel around 9:30, writing my journal now.
pics: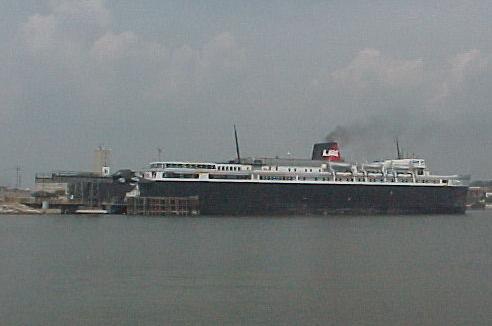 Ferry S.S. Badger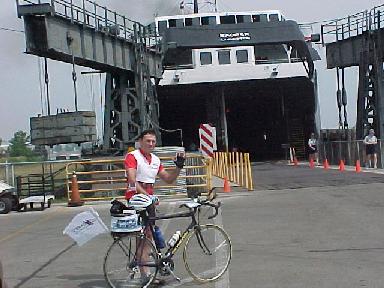 Note my new flag: 'Alzheimer's Association, Someone to stand by you'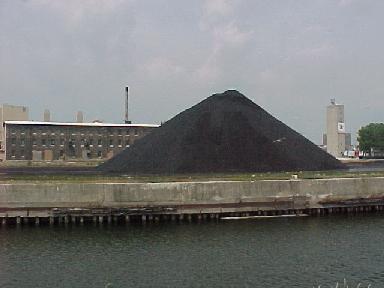 What is the this pile? What is it used for?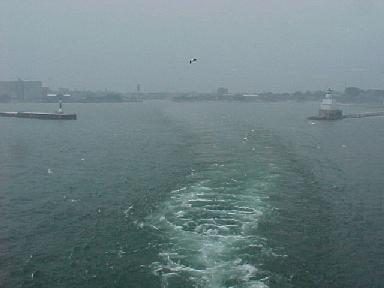 Looking back at Manitowoc, totally foggy day on lake, couldn't see anything.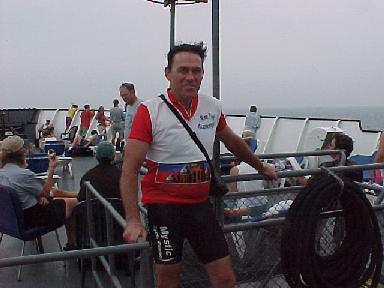 Who is that guy with the messy hair?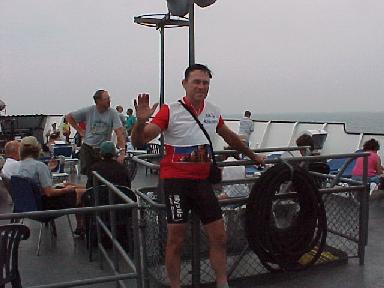 ------------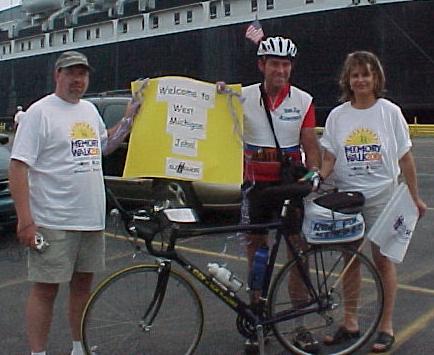 Alzheimer greeters Greg and Sue Willson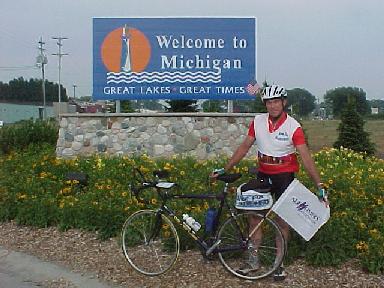 Welcome to Michigan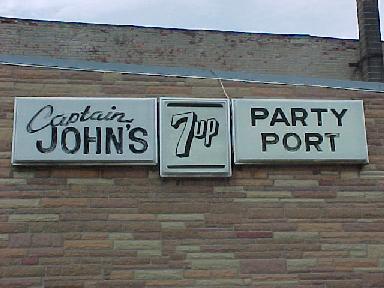 ? ? ? ? ? ? ? ? ?
---
---

This page written and maintained by
Web Services