July 21, 2001, Sat.
Day 7 Sat, July 21, Fond Du Lac, WI to Manitowoc, WI. 59 miles, 3 hr 45 min 35 sec, 15.7 mph.
Wake up 6:00, breakfast 7:00. Nice buffet in hotel, scrambled eggs, pancakes, cold cereal, juice. Forecast is H H H.
Todays ride once we got out of the city and it was another excellent day. Every day something different, exciting, interesting or funny happens. Today I absolutely thoroughly enjoyed my visit with Kelly and Joe Mertens at their dairy farm. They are very hard working people; sensitive people. Also, I had a very nice chat with Gerald Salm at his dairy farm just down the road. This is really a lot of fun, sometimes the cycling is quite taxing but it is so special to have the time, freedom, and inclination to do what I am doing, I feel so fortunate, and I thank you all for your kind words and support.
I didn't stop for lunch as I expected to be in before 1 PM. I arrived at exactly 1 PM at the Super 8 Motel in Manitowoc, checked in, hung out for a bit and went next door for lunch at the Four Seasons Family Restaurant. Then I cleaned and lubed my bike. I have a different roommate for tonight, Steve Haylett, from Notingham England. He has been a member of the police department for 21 years, he is currently a police inspector for the dept. SWAT team. He has cycled various parts of Europe and been in the U.S. several times, but he is here now to do this cross country ride. I like to hear him talk, his accent is so British.
Guess where we went out to dinner!!! Ponderoooosah!!!! Another buffet! Yes, my food intake was LARGE!! Then we had route rap for tomorrow and Mon. I will have about 3 or 4 hours in the AM to tour around Manitowoc, but I need to be at the ferry at 12 noon and the ferry departs at 1PM. The ferry is called the Badger and is 400 ft long.
It is 9:10 now and I think I can get this completed at sent home and answer my e-mail by 10:30, bye-bye! pics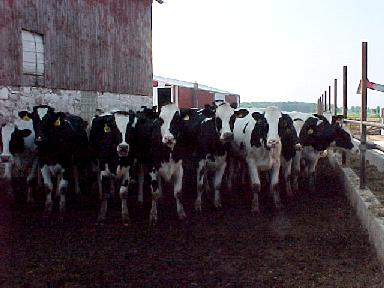 What! more cows? They look angry, ready to charge me, I think I better get out of their playpen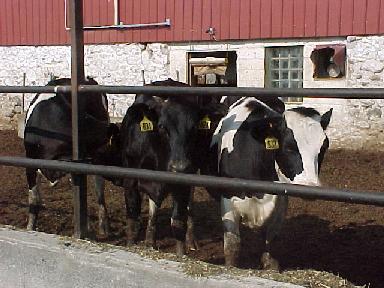 Cows are everywhere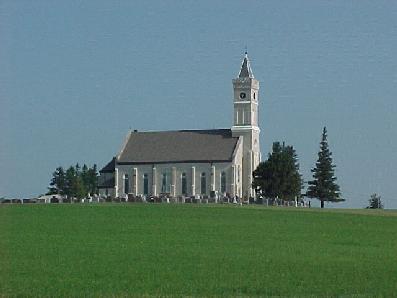 What a beautiful church. Father Jim, who prefers to be called Jim, thinks it is 100 years old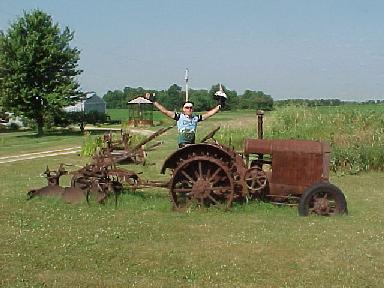 Maybe if I buy this I can use it in my vegetable garden. It is a McCormic Dearing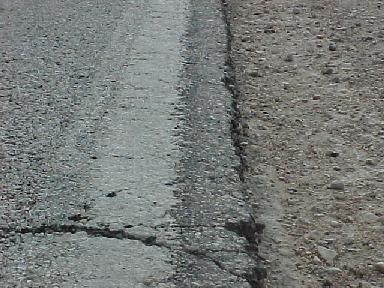 This is an example of the edge of the road. The roads back in MN were worse. See the white line on the left, 6 in surface, wide crack, and dirt and gravel on the right. This is typical of many of the roads out here. You have to be so careful, 18 wheelers often pass us at 70 - 80 mph. It is scary sometimes. We have riders who's tires get caught in the crack and they went down/crashed hard.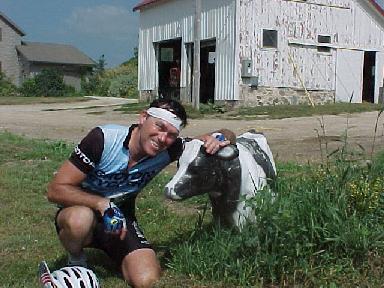 I found a friend, what a cute little cow.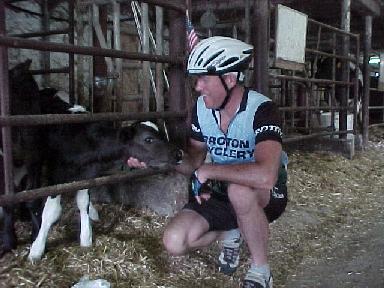 Baby cows in the barn of Joe and Kelly Merten's Park Farm in Keil WI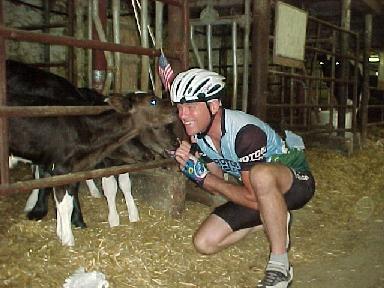 I hope Foxy (my dog) won't be jealous, I am getting a tongue lap and a kiss from a baby cow. My son Jonathan told me once about a giraffe kiss, their tongues are a foot long. This cow tongue isn't a foot long but it sure is sloppy.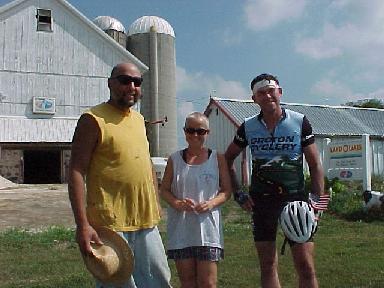 Joe and Kelly Mertens, owners of the Park Farm. Kelly does marathon runs/races to raise money for Leukemia research.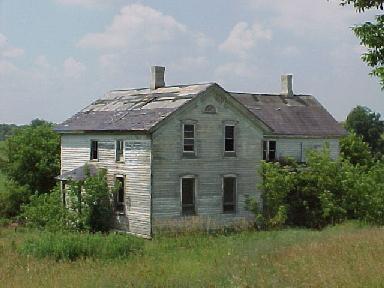 I wonder if anyone lives here? Maybe Rob Discuillo will mow the lawn.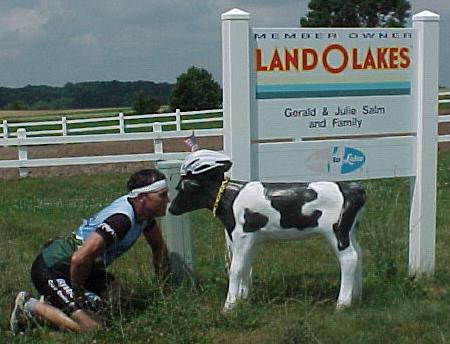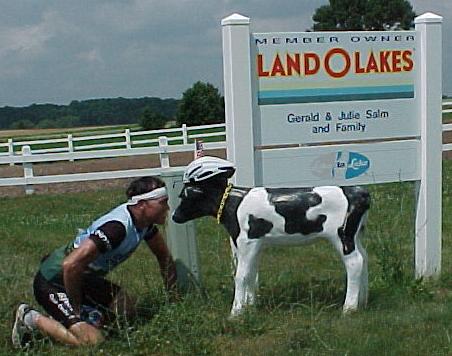 This cow is wearing my helmet. Do you think it looks better on him than on me? This farm is owned by Gerald and Julie Salm in Meeme WI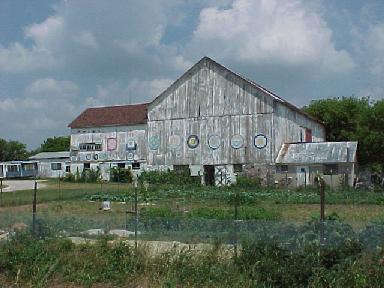 Interesting looking barn!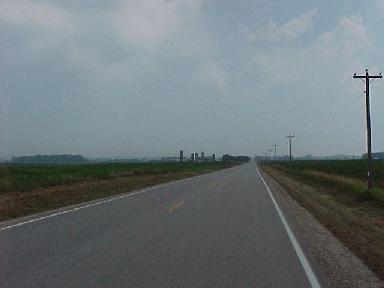 This is the road CR 'X' that approaches Lake Michigan from the west. Looks like the road goes on to infinity.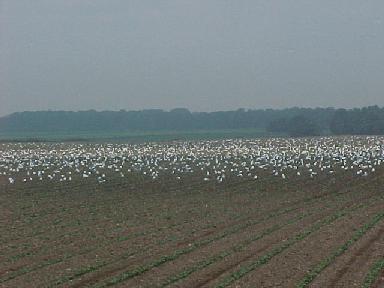 Is this SNOW?? Actually it is hundreds of seagulls resting in a newly planted field of soybeans.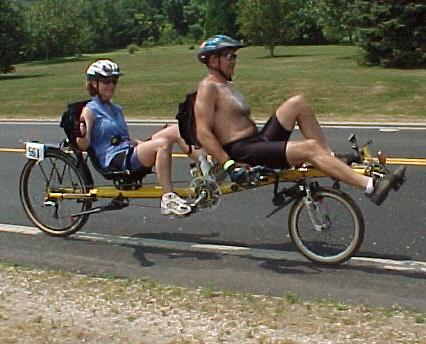 These riders are not part of the ABB ride that I am doing, they were on a 2 DAY, 150 mile ride to Upper Wisconsin to raise money for Leukemia research. This is what a tandem recumbent looks like.
---
---

This page written and maintained by
Web Services