July 17, 2001, Tues.
Day 3 Tue, July 17, Mankato MN to Rochester MN, 102.8 miles, 7 hr 14 min 49 sec,14.2MPH
Wake up call 5:00, pack, breakfast 6:00. Scrambled eggs, french toast, coffee, juice. Loaded luggage, but discovered that I had a flat rear tire. Had difficulty changing it, I took 45 minutes and everyone else had left by the time I finished so I had to start out alone, which I don't like to do. But I soon hooked up with 3 other riders.
Weather prediction is partly cloudy, with temps in the mid 90's, very humid, and a 20% chance of thunderstorms. It was right except no storms.
Today was a very scenic day, crop farms one after the other all day long. A crop farm out here grows corn and soybeans and then sells their stuff to local markets. Rolling hills, not many grain elevators.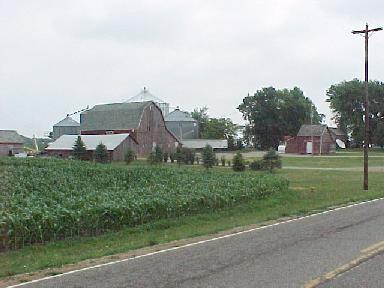 Typical scenic crop farm setting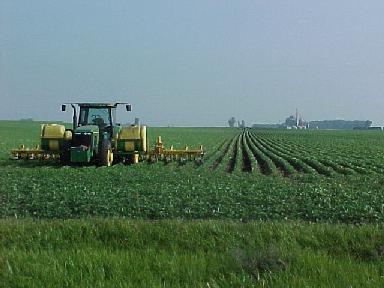 Tractor lined up to harrow (weed) soybeans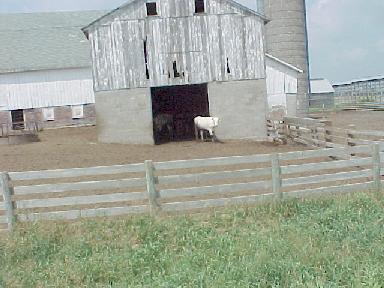 Cow barn on farm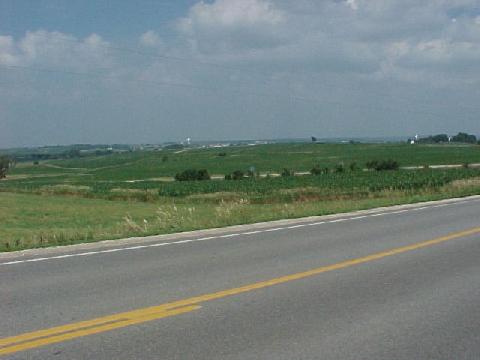 Typical view from the road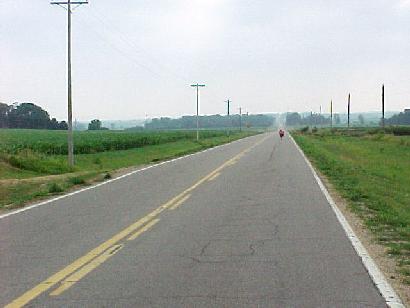 An example of the seemingly endless roads of Minnesota
I rode part of the day with Mark and Martin who ride recumbents. These bikes have a large wheel in the back and a small wheel in the front. It is supposed to be good for people that have trouble with their backs.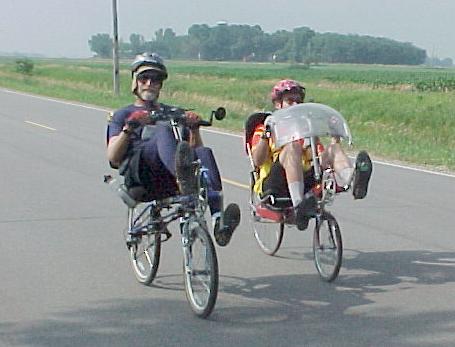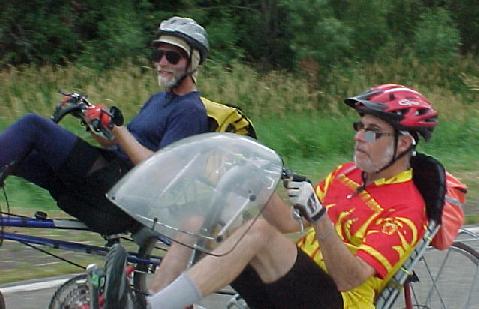 Mark & Marty on their recumbents
I was going by a crop farm and noticed machinery activity out back, so I rode down the driveway to investigate. I met Mike and Doug Matti. Doug (Mike's dad) is a retired HS english teacher and taught at Hayfield HS, Doug owns the Crop Farm which is located in West Concord, MN and Mike helps him out during the summer. Mike is a 5th grade teacher at Byron Middle School.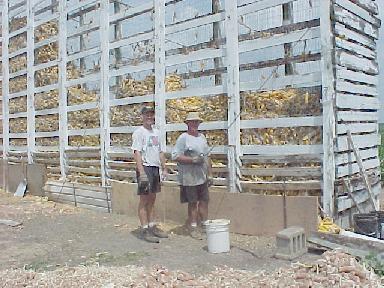 Mike and Doug Matti on their crop farm
They were husking corn the 'old fashioned way'. I don't know the names of the equipment but basically the corn travels from the corn crib (the large cage in the back, see below) to a machine that removes the corn and shreds everything else, see todays pictures. They were very friendly and I enjoyed my visit. I had just seen 4 'combines' on the road, huge modern machinery that does the same thing, see below.

The 'old-fashioned' way to husk corn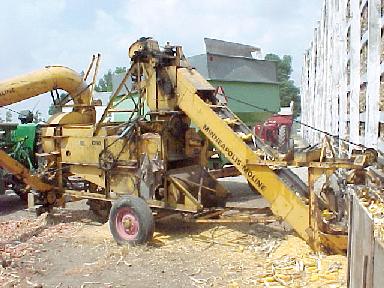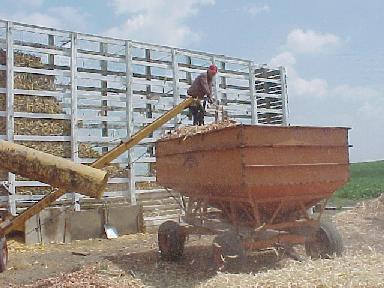 Corn-husking in process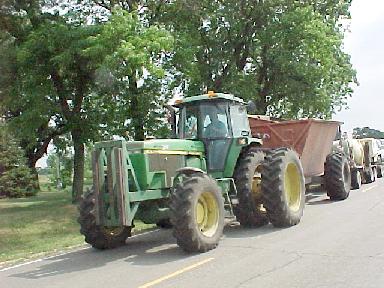 Very large farm tractor hauling a hopper of corn and other items behind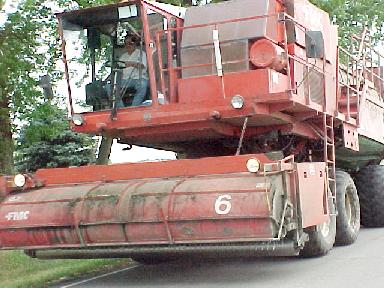 This is a combine. It is HUGE! See the operator up high on the left
An interesting thing happened about 20 miles from Rochester. I had just climbed a rather steep hill and close to the top, a car coming from the opposite direction attempted a U-turn, but didn't quite make it and ended up perpendicular to the road with the front end hanging down in a ditch. The driver tried to back out and couldn't. I rode past and stopped to take a picture of this ridiculous situation. The driver of the car tried several times but was unsuccessful. As I was about to take a picture he changed his mind and actually started to drive down the ditch in my direction! As he started to drive up the side, I turned around and ran with my bike to get out of his way, but he kept coming right behind me with his engine racing loudly!
&nbsp Should I wait until tomorrow to tell you the rest of the story?
&nbsp No?! OK!
He chased me down the road about 40 ft, and I just managed to avoid being run over. I guess he REALLY didn't want to be photographed! Mark and Marty arrived to see me being chased down the road by this rogue car. The car then took off down the road. Actually the whole thing was pretty funny when I think about it.
I finally arrived at the Holiday Inn South in Rochester, MN at 4:30. I cleaned and lubed my bike, and then called Laura Moriarty, Director of the LaCrosse, WI Alzheimer's Association, to make plans for tomorrow. I ate dinner here at the Holiday Inn, a nice buffet: tossed salad, rolls, baked chicken, mashed potato, gravy and spaghetti. Next was route rap.
Now it is 8:00, I'm in my room writing my journal, and I hope to e-mail it to Ed by 10:30. This was a very tough day today...
John
---
---

This page written and maintained by
Web Services