Flight Day, Friday, September 7, 2007
Connecticut to Portland, OR. 3085 miles. Avg. speed: 342.78 mph
Up at 6:00 AM, had breakfast with Donna, finished packing, Rob arrived at 8 AM and drove me to TF Green Airport in Providence, RI. I completed the usual check in procedure - take off shoes, empty pockets, no metal, fluids, gels, remove computer from carry on bag... I had a bottle of water in my carry-on and had to throw it away. What a pain!
Here's a summary of the last several days. Friday, August 31, I shipped my bike in my hard shell case via UPS ground to the La Quinta Inn in Portland, OR. Saturday through Wednesday I planned, organized, packed, did stuff around the house and yard. Late Wed. afternoon I called the La Quinta to see if my bike had arrived. No, not there! This made me a bit nervous, so we went on line to UPS tracking. We discovered that it was 'en route' and was not scheduled to arrive there until Monday, Sept. 10. BIG PROBLEM! My ride starts on Sunday Sept. 9. I further found out that UPS doesn't deliver on Sat. or Sun. So, the ride starts and I don't have my bike to ride. At this point I am experiencing anger, frustration and significant depression.
So here's my plan. I called America By Bicycle (ABB) and was told that I would be able to ride their spare bike if mine didn't arrive on time. That's OK, but the Sunday ride is from Portland to Seaside (83 miles), and the Mon. ride is from Seaside to Tillamook (47 miles). From there I need to rent a car and drive all the way back to La Quinta in Portland to pick up my bike and drive back to Tillamook to rejoin the ride. If this doesn't work I will need to ride on to Lincoln City (61 miles) on Tuesday and then call back again to La Quinta and rent the car... This is not the way that I expected things would happen. But wait, there's more. Last night I got an automated call from United Airlines telling me that my original flight was cancelled and rescheduled for a later departure at 11:28 AM from TF Green and ultimately will arrive in Portland at 5:18 PM. Actually this was a good thing 'cause now we didn't have to get up as early to get to the airport. When I get to Portland, I will need to take a cab to The La Quinta.
We boarded the plane at 11:20 and take off was at 11:40. It was a smooth flight at 36,000 ft. We arrived at O'Hare at 1:00 PM central time after about a half hour of moderate turbulence. My departure gate was a short distance down the same concourse. I got a McDonald's Big Mac meal for lunch. It didn't taste very good and was a bit greasy, so now I have a tummy ache. The only picture I took today was looking west from my departure gate. It looked like we were going to have to go through a big cloud build-up when we left. However, our 2:40 PM take off was fairly smooth, so I think we headed south for a while and then west to avoid the turbulence. It was a 4 hour boring but smooth flight to Portland. We arrived at 5:45 PM Portland time. I picked up my luggage and got a shuttle ($35.00) to La Quinta, which was 16 miles away.
I checked in, went out for dinner (subway), worked on my journal and went to bed, very tired. I didn't meet up with any other cyclists or ABB staff yet. And of course, no sign of my bike yet.
*Sigh*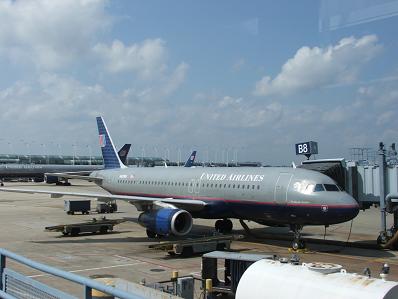 Our plane to head west...