Day 18, July 10: Riverton, WY to Casper, WY
120 miles; 17.5 mph; 6 hr 5 min 54 sec
Up at 4:15, 5:00 breakfast, 5:30 load luggage, 5:45 on the road.
Today's ride is a long, hot 120 miles complete with 7 miles of road construction. The Wyoming DOT would not let us cycle through it, so Mike instituted a ABB shuttle through it using 2 ABB vans. Also, we were encouraged to "hitch a ride" with a friendly pickup truck and about 20 of us did just that.
Note: some pickup truck drivers are not friendly and will purposely try to harass cyclists by honking, and seeing how close they can come to a cyclist without actually hitting them. This would not be a "friendly" situation.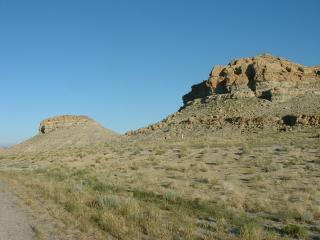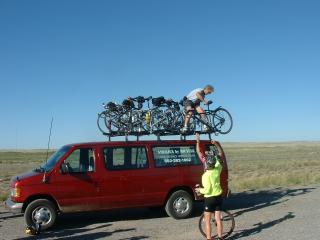 When I arrived at the construction site there were 6 vehicles waiting for the ok to continue "one way". I asked for a hitch from a truck but the lady seemed reluctant so I politely said thank you and asked another and she (unintentially I happened to ask 2 women) said ok. I loaded my bike into the truck bed and then climbed in and let my bike rest against me as a cushion. After a 20 min. wait we started on a 7 mile ride - sometimes smooth, sometimes bumpy. It was a strange experience. We arrived safely on the other side, chatted briefly with my driver (a first grade teacher) and I continued on my way.
We then rode for about 50 miles and saw just about nothing, just seemingly endless prairie. I did see some deer and took a pic of one grazing close to the road. Also stopped at Hell's Half Acre (also SAG 3) for lunch. I ordered a cheese burger, it turned out to be a half pound of 90% sirloin and one inch thick. It was huge! Also had tater tots and 2 16 oz pepsi. There was about 30 of us. The restaurant was fairly close to the road and surrounded on 3 sides by a gorgeous canyon, very deep, colorful and eroded by years of water and wind. I have no idea why it has the name Hell's Half Acre.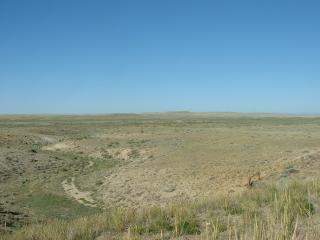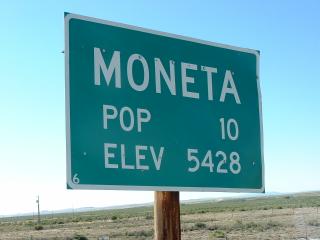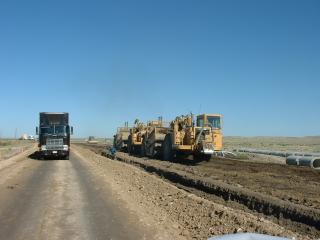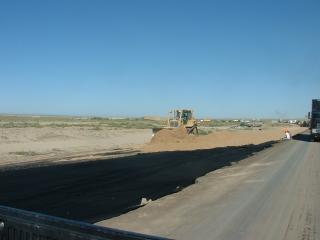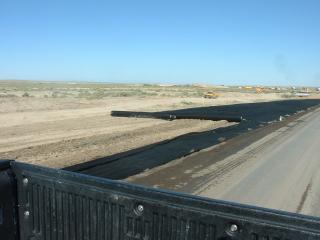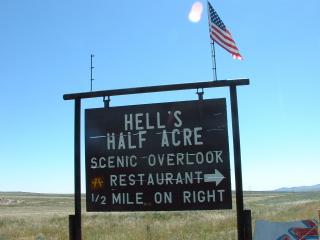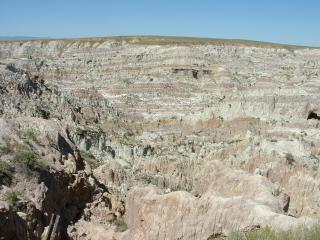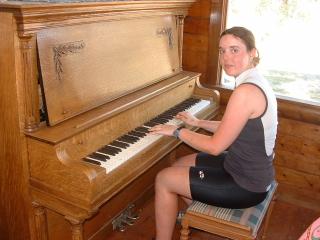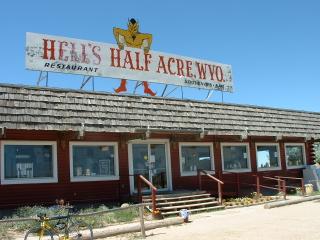 Click here to watch a movie of Aine playing the piano.
The rest of the ride to Casper was mostly flat and downhill on a newly paved surface and we had a tail wind. I cruised along at 20 - 22 mph without too much effort.
I arrived at Holiday Inn about 3 PM, quite hot and tired. I went to a small goodbye social for my roommate Steve Beck, hung out, went to a hotel reception welcoming ABB cyclists. Dinner was at 5PM and route rap 7PM and worked on journal. Went to bed about 10 PM. REST DAY TOMORROW !