Day 16, July 8: Jackson, WY to Dubois, WY
89.6 miles; 5 hr 56 min 51 sec.
Up at 5:15, 6:00 breakfast - continental at hotel, muffins, toast, bagels, cold cereal. 6:30 load luggage, 6:45 on the road.
It wasn't a planned event but about 30 of us just happened to leave at the same time this AM. So we formed a huge pacing line going out of town at a slow / moderate pace. At 6 miles out quite suddenly the road took a curve to the left and WOW! There they were in all their majesty - the Teton Mountains capped with snow. It was like they just rose out of the prairie. The pacing line broke up and everyone began to take their photos. I lingered quite a bit more than most as it was hazy and overcast. The direction of the few clouds indicated to me that soon the sun would burn off the haze and that is what happened. After each photo I would ride a mile or so and then a more beautiful scene would present itself. This continued for about 20 miles. At this point I became aware that everyone was in front of me and only the "sweep" ( Vern, one of our mechanics ) was behind me. NOTE: a sweep is a staff person on long distance rides whose job it is to "bring up the rear" and make sure no one is lost or left behind.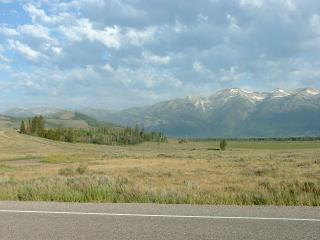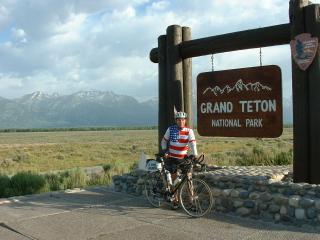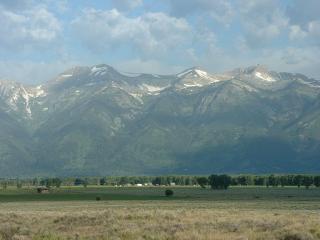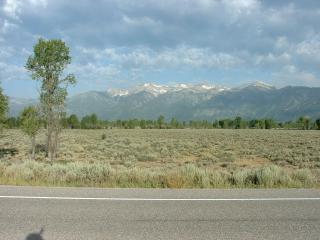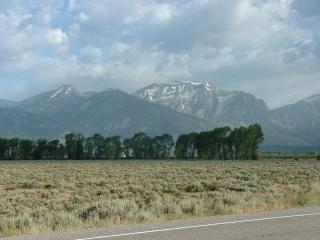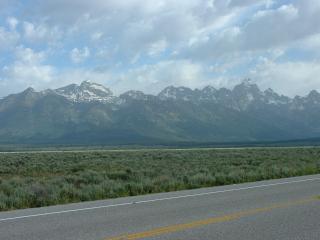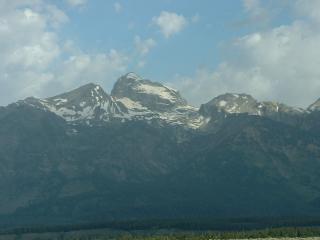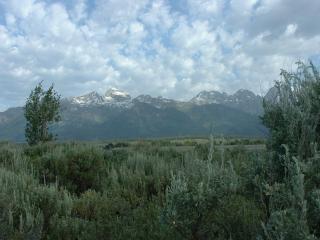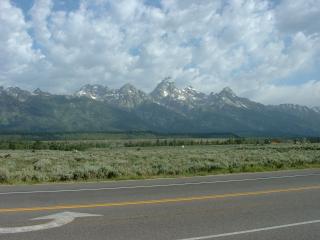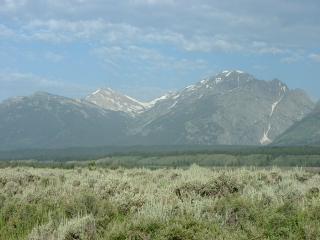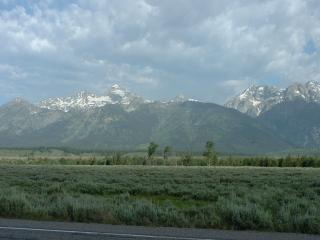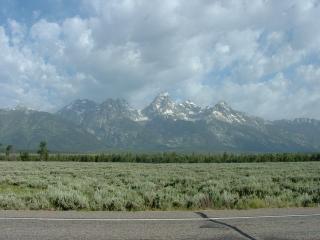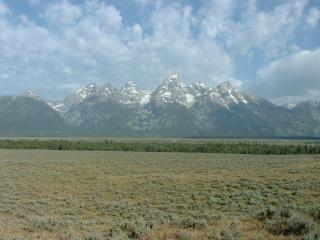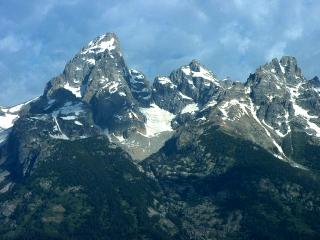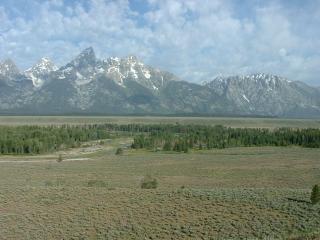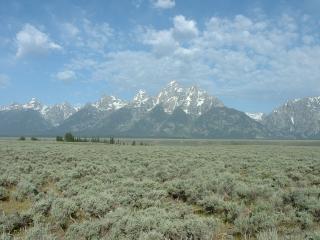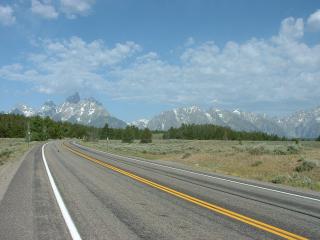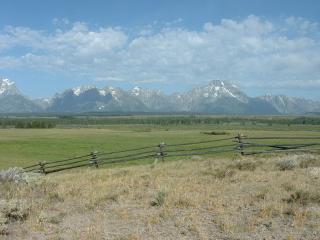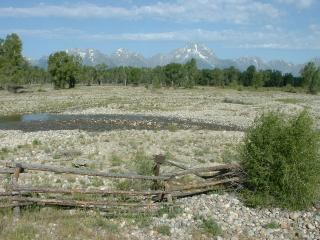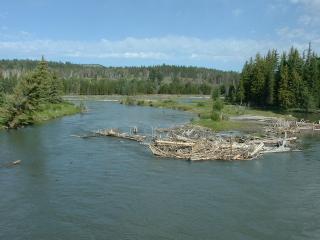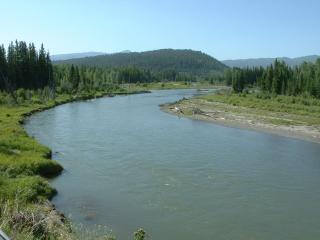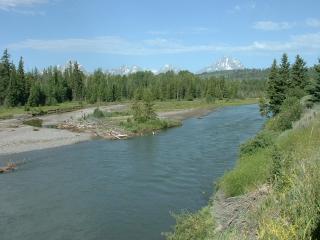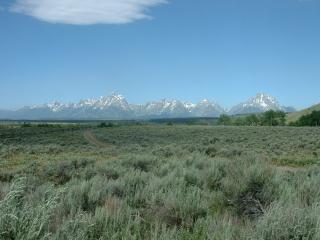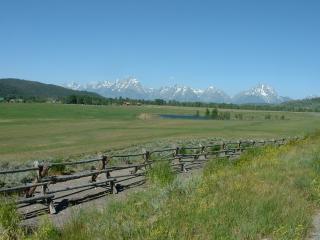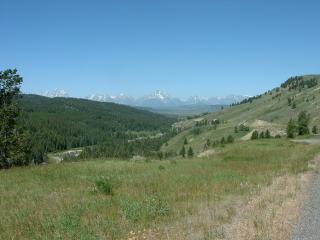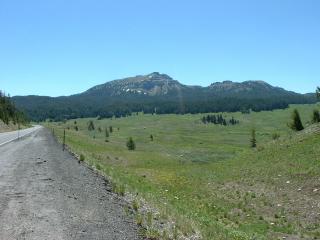 At 24 miles we entered a small valley and picked up a tail wind. I increased my speed and cruised along at 28 - 30 mph for about 4 miles. As I continued on, the snow capped Tetons continued to show off their majesty at almost every turn in the road. I could see them behind me in my helmet mirror, so stopped and took more photos. We aren't following the Snake River any more but meandering rivers keep popping up, and I keep taking photos.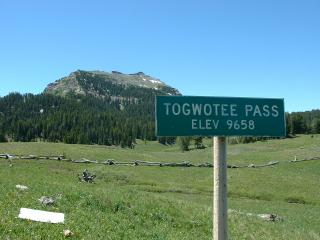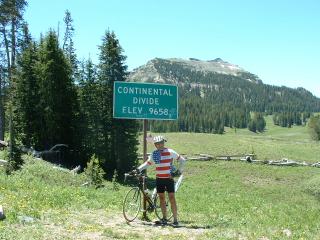 We started to climb at 5 - 6% grade up to 57 miles when we reached Togwotee Pass at 9,658 feet amd the Continental Divide. During the climb the air got thinner and breathing became difficult. I was huffing and puffing. The Continental Divide is kinda like a high north to south dividing geographical ridge. Streams to the east of the Divide flow into the Mississippi and Missouri Rivers and streams to the west flow into the Snake and Columbia Rivers. The climb up was 2,700 feet over 15 miles. The grade was less than yesterday's 10%, but my legs still got sore. I'm not sure if the massage helped me.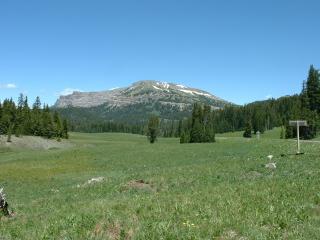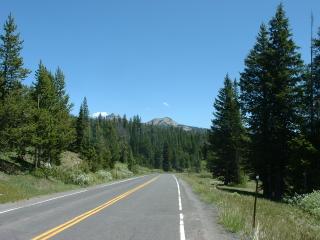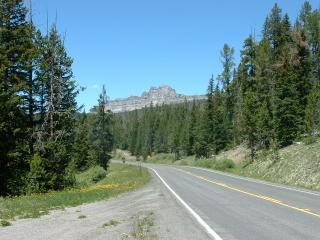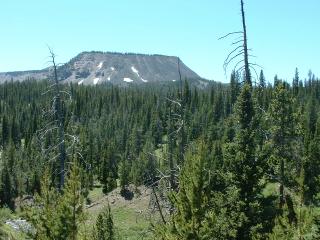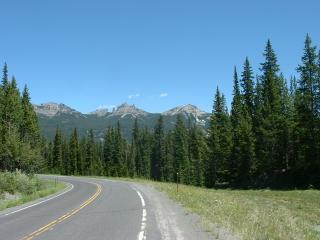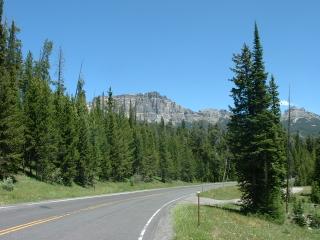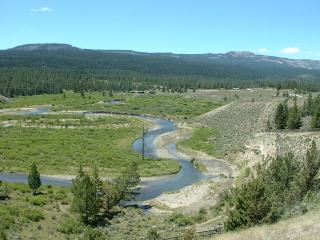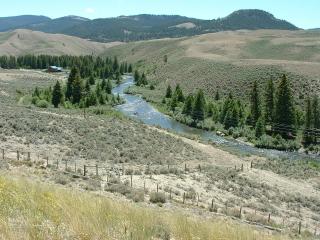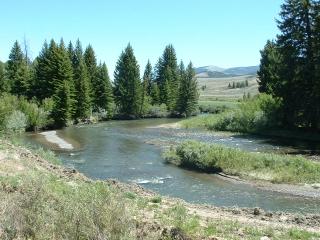 The descent from the Pass was great but we had a very strong and gusty cross wind so it was a little scary at times - going 30-35 mph downhill and have trucks and motor homes passing us on a winding road. When we reached the bottom of the descent the cross wind became a tail wind and virtually blew us the last 20 miles into town. Dubois is a small town mostly modeled after a typical old western town. Here's some local business names: Wild Bunch, Horse Creek Station, Rustic Pine Tavern, Cowboy Cafe, Homestead, Cowboy Country Real Estate, All West Real Estate, Outlaw Cafe and Saloon, Dancing Bear, Branding Iron Inn, Bear Square, Circle Up Camper Court, and we are staying at the Stage Coach Inn. I arrived at the Stage Coach at 2pm, cleaned and lubed my bike, cleaned up, started my journal. No local access AOL dial-up number here, no cell phone signal. Dubois is nestled in the middle of a lot of dirt hills, one main street and a small residential neighborhood.
Tomorrow is a 79 mile ride to Riverton WY. Now 10:00 PM, hope to get to bed by 10:45.