Day 9, July 31,
Ludington MI to Mt. Pleasant MI, 117miles, 16.7 mph, 6h 58m 8s.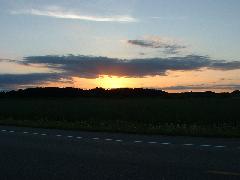 Up at 5:00, load luggage 5:45, breakfast at hotel, the usual buffet of scrambled eggs, french toast, cold cereal, danish, juice, coffee, on the road at 6:30. Forecast is for 30% chance of showers so I took my raincoat. It was rather dark at 6:30 as the sunrise picture I took on the road at 6:50 would indicate. It is clear and crisp and no sign of any rain.
The route is quite flat compared to other recent days and the road surface is relatively smooth. During the first 30 miles we passed many large fields of vegetables. I was quite surprised to see so much asparagus and carrots. Nobody that was with me knew what they were. I also saw large fields of summer squash, cucumbers, some sugar beets and of course tons of corn. I was disappointed that the vegetable fields didn't continue. From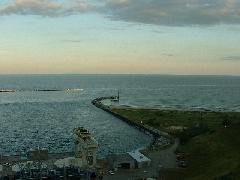 30 miles on we rode through rural country with not much interest, but the cycling was very pleasant. However, worthy of mention were the "oreo"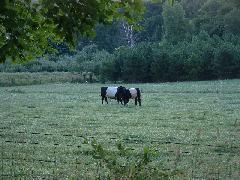 cows as I have heard of them but don't remember seeing one so I'm glad I took the picture. Also, the "outside" string bean processing was interesting. I've been told that out here beans that are grown for freezing and canning, the entire plant is cut and then put through the process that I witnessed and took pictures of. I'm not aware of a type of bean plant that would produce all the beans at the same time!? Oh well!
I arrived at the Baymont Inn at 2:45, checked in and then went out for lunch at "Bob Evans" just down the road. I was seated by the best hostess in the world, Megan Gepford and the best waitress in the world, Melinda Schumacher. Megan and Melinda, I told you I would do it! :) Back to the hotel where I did some clothes washing in the tub! and journal writing. Also, I had a cell phone interview with Jordan Schrader a reporter with the Times Herold in Port Huron. I'll be there Friday, 2 days from now.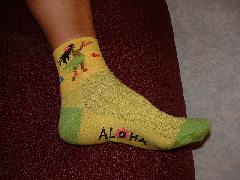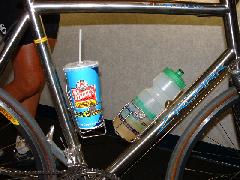 Off to dinner tonight at Ponderosa . . . ...another buffet ! ! ! ! then to route rap. Tomorrow we have a 75 mile ride to Birch Run.