Day 8, July 30,
REST DAY, Ferry ride from Manitowoc WI to Ludington MI on the USS Badger
No wake up call today, up at 6:00 anyway, had breakfast at Super 8, very nice continental breakfast, cold cereal, make your own waffles, donuts, bagels, toast, juice, coffee.
Wrote yesterdays journal and sent it to Julia, packed, loaded luggage at 9:00. Then I sat in hotel room making phone calls to Alzheimer's contacts in Michigan. I left about 10:30 to casually explore Manitowoc a bit and be at Ferry at noon. Boarded ferry at 12:15, underway at 1:15. The Badger is the only ferry that operates across Lake Michigan. The trip takes 4 hours to travel 60 miles.
It is a calm, sunny day and the ferry is at full capacity. People are everywhere on deck, playing bingo, watching CNN, watching movies, playing cards, hanging out, sleeping, eating, and getting a sun tan.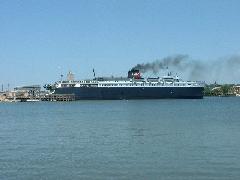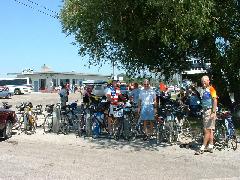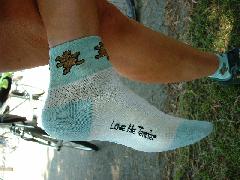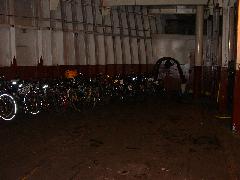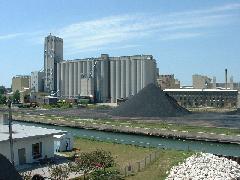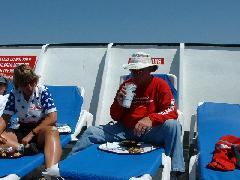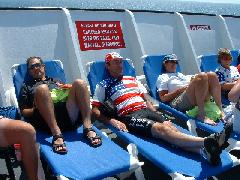 When we arrived at Ludington a committee of caring people met me with a "welcome John Clark" sign. Liz Vos director of the local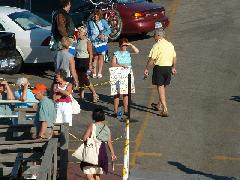 Alzheimer's Association, Linda Ochs, Memory Walk Committee and her husband John, Vickie McCabe, Admissions Coordinator for the Grand Rapids Home for Veterans, Sarah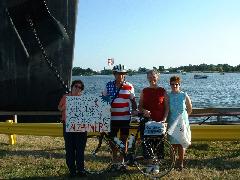 Jensen, a staff writter for the Ludington Daily News and a newspaper photographer. An article will be in tomorrows edition covering my Alzheimer cycling effort and the upcoming local Memory Walk this fall. They put my bike in their Van, took me out to dinner and we talked a lot about Alzheimer issues. Then they took me to my hotel, Lands End. I enjoyed the evening very much with these caring people. I then spent the rest of my evening writing today's journal and sent it to Julia. Lights out at 12:15 AM. BIG ride tomorrow, 117 miles to Mt. Pleasant.