Day 10, Aug.1,
Mt. Pleasant MI to Birch Run MI, 78 miles, 15.4 mph, 5h 4m 1s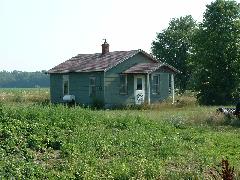 Up at 5:30, load luggage 6:15, continental breakfast here at hotel 6:30, cold cereal, waffles (make your own ), juice, pastries, coffee,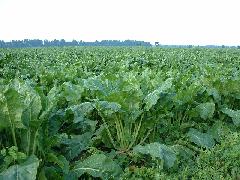 on the road at 6:45. Today's forecast again calls for scattered showers so I took my raincoat, but it didn't rain at all. Many of the roads today were in poor condition, bumpy and rough but weather wise it was a great cycling day.
I passed many fields of sugar beets, bush beans, and pickling cucumbers.
My roommate Frank (roommate change four days ago, Dick's wife arrived and he stayed with her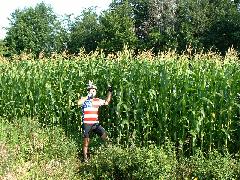 naturally) took a picture of me and the "tall" cow corn that is grown in Wisconsin and Michigan. As I said in an earlier journal, pig corn is short because all that is used is the kernels. Cow corn is quite tall because the whole plant is chopped up and used for cow feed.
I arrived at Comfort Inn at 2 PM, checked in, took a 1/2 hour nap and then went outside to clean my bike.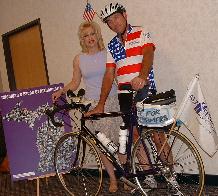 Ruth Smith, Program Coordinator for the Greater Michigan Chapter, East Central Region arrived at 3:30. I met her last year when I came to Birch Run. She is a very gracious, sensitive lady and the Alzheimer's Association is lucky to have such a dedicated and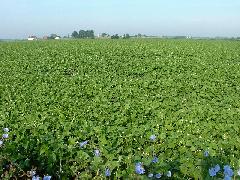 knowledgeable ambassador.
Alex Attwell, photojournalist from ABC TV 12 also arrived and did an awesome interview. He did the usual personal interview and also a riding video. Ruth drove, Alex sat in the front passenger seat and took a video of me riding beside them. He also took a clip of me through the side view mirror of me riding behind them. It will be on TV tonight at 11:00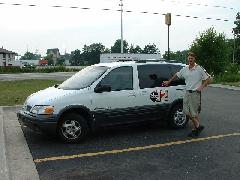 and he will send me a copy.
The whole encounter was quite a thrill for me definitely a high point of my ride this year. Then I went back to my room, called Donna and wrote my journal.