Day 7, July 29,
Fond du Lac WI to Manitowoc WI, 58.5 miles, 16.3 mph, 3h 35m 27s,
Up at 5:45, 6:00 breakfast at hotel, nice buffet of cold cereal, scrambled eggs, home fries, bagels , juice and coffee, on the road at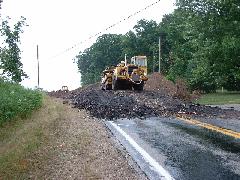 7:15.
Showers and scattered thunder storms predicted. Rainy now and for the first 30 miles up to the SAG. Only 1 SAG today because the distance is only 58 miles.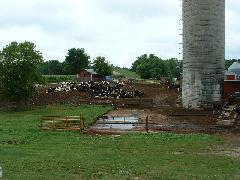 The Wisconsin countryside continues to be rolling hills with well manicured dairy farms. I stopped at a farm I stopped at last year but they were out in the fields working. I continued my quest to find the "Little House On The Prairie". I found a cute one today.
Today was mostly a riding day with not to much to stop for. This is the second day I've been in early enough to help unload luggage. I arrived at Super 8 hotel at 11:30 AM, checked in, cleaned my bike and went for lunch at Four Seasons Restaurant next to the hotel. I had the Bratwurst Special of 2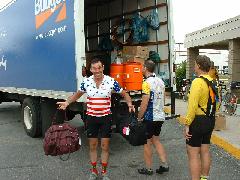 Brats, delicious sauerkraut, red skinned potato, mixed vegetables and 2 glasses of coke. A "brat" is the Wisconsin equivalent of Kielbasa. Then I rode my bike to a local laundromat to wash some clothes.
Then back to the hotel to write journals and have a 4:30 appointment with Judy Rank of the Greater Wisconsin Chapter and Cindy Stone, the Lake Shore Chronicle reporter. We talked a long time and Cindy will be writing an article covering my Alzheimer's effort and Judy's fall Alzheimer's Memory Walk effort. Judy gave me a ride to dinner at Bonanza and then I came back to hotel for route rap and more journal writing. I was up until 12:30 writing and sending stuff to Ed and Julia to update my website.