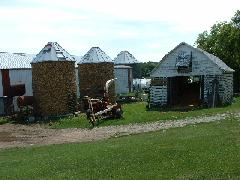 Day 6, July 28,
Wisconsin Dells WI to Fond du Lac WI, 86.7 miles, 16.3 mph, 5h 19m 12s
Up at 5:00, applied lots of sun block, 6:00 load luggage, 6:15 breakfast at Perkins Restaurant, pancakes, scrambled eggs, hash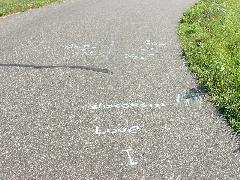 browns, sausage, juice, coffee. On the road at 7:00.
This is a pleasantly cool, crisp, calm and sunny morning but the forecast is for temperature to go to 102F.
The ride out of the Dells was short and we were on country roads after 2 miles. The terrain was mostly flat with smooth road surface.
Two days ago I was having a lot of soreness in my left Achilles tendon and a little in the right. This morning I lowered my bike seat about 1/2 inch and the soreness is going away.
The countryside continues to be gorgeous. It would be so nice if everyone could see our country the way I am and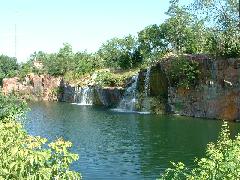 travel with such interesting and caring cyclists. ABB also is doing an excellent job trying to support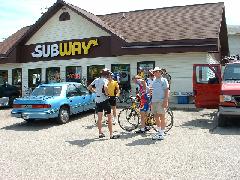 everyone and solve all unexpected problems. The staff is friendly and caring people.
I arrived at the first SAG at 9:00 in Montello. It was in a convience store parking lot with a picturesque water fall. It started to get hotter fast, so I applied more sun block.
The second SAG was at a Subway so I had a 12 in. cold cut trio (my favorite) and 2 16 oz cokes. Back on the road on RT 23, I picked up a tail wind so cranked it up to 25 mph. It was fun but there was only a 3 ft wide breakdown lane to travel in.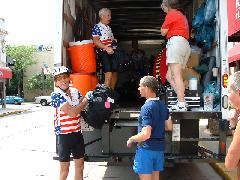 I arrived at the Ramada Inn at 1:30. It felt good to relax and call Donna on my cell phone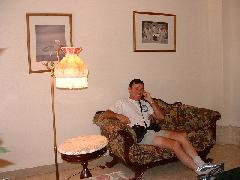 from the hotel lobby. This is the earliest I've got in so I was able to help unload luggage. This hotel is downtown, has recently been remodeled and is very nice. I am on the 6th floor, there's 2 elevators and a pool. We had a buffet there tonight

I'm still having a terrible time sending stuff to Ed. Another late night. Lights out 10:45.