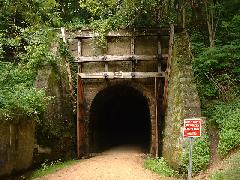 Day 5, July 27,
LaCrosse WI to Wisconsin Dells WI, 95 miles, 13.8 mph, 6h 51m 14s
Up at 5:30, 6:15 load luggage, 6:30 I had a continental breakfast at hotel, on the road at 7:00. It rained for the first 10 miles.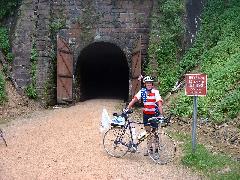 Today's highlight is the Elroy to Sparta rail trail that includes 3 "walk" through tunnels. Rail trails are bicycle paths that are made from old abandoned railroad track beds. This particular trail has 3 tunnels that were dug by hand using chisels and dynamite. Tunnel 3 is 3/4 mile long ( 3,960 ft), cost $247,000 ($65 per ft) dug in 1863, and took 3 years to dig. Tunnel 2 is 1/4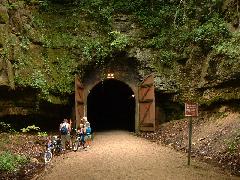 mile long (1,694 ft) , cost $75,577 ( $44 per ft), dug in 1873, and took 1 1/2 years to dig. Tunnel 1 is also 1/4 mile long, cost $98,971 ($58 per ft), dug in 1873, and took 1 1/2 years to dig.
I had lunch at the Trailblazer Cafe in Elroy with 7 other cyclists. The last 30 miles today continued to be typical WI country of rolling hills and gorgeous farms.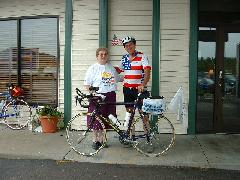 Sylvia Kriegl met me at the hotel. She is outreach coordinator for Sauk County Commission on Aging and is currently working on Sauk County's Memory Walk. We had a nice chat and she will be giving the media information about my Alzheimer's effort and her memory walk that is planned for late September.
I cleaned my bike, went to dinner at Paul Bunyans Family Restaurant and I met "Bully".
Tomorrow is an 83 mile ride to Fond du Lac. Forecast is very hot 105F. Lights out at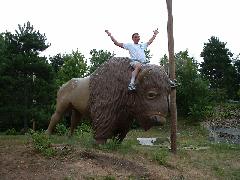 midnight - doing journals and trying to send to Ed. I've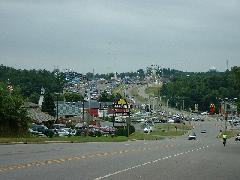 been having a great deal of trouble with hotels upload speed and AOL. I'm trying to keep up to date on a daily basis.