Day 2, July 24,
Worthington MN to Mankato MN, 104.7 mi, 15.3 mph, 6hr 51 min 3s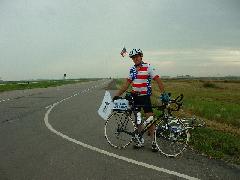 Up at 4:45, pack, load luggage 5:45, breakfast 6:00, 61 F, on the road at 6:45, very overcast scattered showers forecast all day. Morning at the hotel is very interesting, cyclists are everywhere doing their things to get ready, kinda like a bunch of bees, checking out, loading luggage, eating breakfast, doing mechanical checks and adjustments to their bikes, connecting with friends to ride with . . . . quite a busy scene. I started out riding with 14 cyclists and after about 6 miles we broke into smaller groups according to the intensity they want to ride.
First shower was at about 10 miles and continued to the first SAG in Windom. Two miles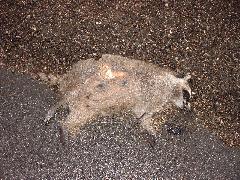 prior to the first SAG at 30 miles I stopped to cover my bike rack bag with a plastic bag as it was raining very hard. My helmet mirror fell off my helmet and I didn't know it until I had ridden 60 yards down the road. I went back to look but didn't find it. This was the "identical" place where last year I lost my heart rate monitor off my handle bars. STRANGE !!! : (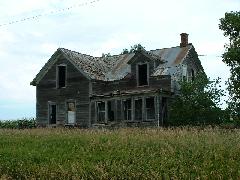 By now we were quite soggy and cycling in this weather is not very much fun. The second SAG was at Casey's General Store in St. James and I had lunch at the Home Town Cafe. On the road again I took several pictures of "road" animals and a (famous?) house. The corn field picture shows Pig corn. It is bred to only grow 6 ft tall and have exactly 2 ears of corn. Farmers only use the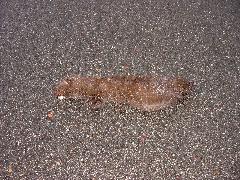 kernels for pig feed and none of the plant. Cow corn is bred to grow taller because the whole plant is used for cow feed. Lots of cow corn is grown in Wisconsin and I when I get there I will post pictures. We encountered some heavy rain and some small hail at 50 miles on county road 3 ( CR 3 ).
Today was a very difficult day. I got to the Holiday Inn in Mankato at 3:30, checked in, showered and started writing my journal. Tomorrow will be another long ride, 100.4 miles t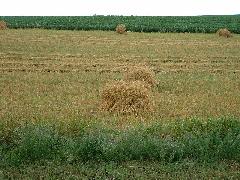 o Rochester and thunder storms are forecast.
We went to Old Country Buffet for dinner!!!!!! I ate with Patti Tunafish (real name) and Karen Ide.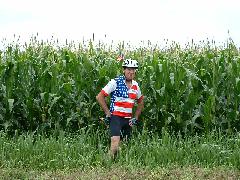 Here's what I ate: Tossed salad, caesar salad, seafood salad, carrot and raisin salad, rice and raisin fluff, meat loaf, french fries, baked white fish, teriyaki chicken, baked chicken, mashed potato and gravy, stuffing, steamship round, cheese enchiladas, macaroni and cheese, mexican rice, sliced turkey breast, carrot cake, cheese cake, soft serve ice cream and 2 glasses of coke. I would have had more dessert but I had to catch the shuttle van.
Lights out tonight at 11:15, gotta get up at 5AM.