Day 1, July 23,
Sioux Falls SD to Worthington MN, 65.5 miles, 13.9 mph avg, 4h 46m 13s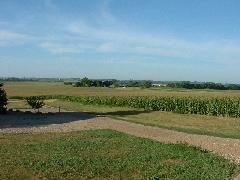 Up at 5:15, packed, loaded luggage truck 6:15, 6:30 breakfast at Brimark, cold cereal, pancakes, juices, 7:45 on the road, 52 F chilly but a beautiful day to ride. Rode by a stock yard in Sioux Falls and 6 miles of dusty road construction. There are a lot of large farm and construction trucks here on the road but the drivers are very courteous to cyclists.
Once I was past the construction I began to travel past crop farms of soy beans and corn. The countryside became peaceful and beautiful as I cycled thru the great state of Minnesota. I rode the last 40 miles with Gene Wengert. We rode together in 2001 and he is on ABB staff for this ride. Gene is a really nice guy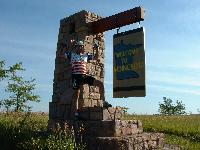 and knows a lot about lots of interesting stuff.
We stopped at a radio broadcast station - actually it turned out to be 3 stations, KWOA, KO95, KITN. We spoke to Taylor Stone, the operations mananger, and we told her who we were, our ride, ABB and my Alzheimer fund raising effort. She said "our" story would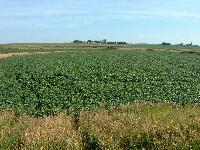 be on the 3 stations news broadcasts for the rest of the day. We stopped at a Subway for lunch just before getting to Travelodge in Worthington. My first day of riding was extremely enjoyable.

Here's some interesting information. The mayor of Worthington was a guest speaker at tonight's route rap and one of the things he told us was that 1000 hogs per hr are slaughtered at a local plant.

I saw a windmill farm, this is an effort of a small group farmers to generate some electricity to supplement and lower their bill.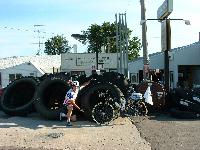 I entered a local "Pig Rodeo" and won first place! I rode the cutest Poland China Pig and I guess I should add that I was the only one brave enough to participate.

Even though I only rode 66 miles today, I felt the need to soak in the hotel hot tub. I'll probably need it more tomorrow after a 105 mile ride to Mankato.
[We appear to have lost a few pictures, but we'll find them soon!]