Day 0, July 22
Up at 2 AM, breakfast, pack car, 3:15 Donna and "Foxy Lady" our dog drove me to Green Airport in Providence RI, Very little traffic, check in took 29 min. , went through security check, everything OK, Flight 1451 departure at 6 AM, Boeing 757.
Yesterday was very hectic, so much to do. I packed, mowed lawn, thinned carrots, planted some more summer squash and beans, mulched some new cucumber plants, watered everything ( tomatoes, carrots, beats, squash, beans, cucumbers, onions, corn, pumpkins and potatoes ). I installed some soaker hose stations so it would be easier for Donna to water. I did some last minute shopping at Mystic Cycle Shop. We had a very nice steak dinner at home and I even had an afternoon nap. Was I relaxed? NO. not really.
This will be Alzheimer ride #4. At this moment I have received $8, 250 in donations (goal $14.000 ) and am pleased to know that so many of my friends and neighbors are supporting my effort.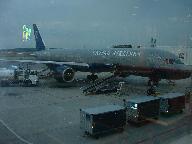 I boarded the plane at 5:45, 3 seats on each side of a center isle and nobody sitting beside me. I'm starting to get nervous. Taxied to the runway at 6:22 and took off at 6:16. Runway is quite bumpy. Flying at 35,000 ft, occasional turbulence, but mostly smooth, was served breakfast snack of egg burrito, banana and juice. Just had a nice chat with stewardess Dariece and she was very interested in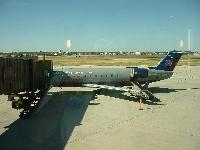 my Alzheimer ride. As we prepared to land I dozed of and woke up abruptly when the wheels slammed the runway, 7:20 and 65F at O'Hare, I was here last year but WOW!! , what a huge airport, moving concourse, flashing lights, shops and hundreds of people everywhere. It took me 20min to get to the my next terminal and sat with Stephanie who had just graduated from High School and was returning home to Sioux Falls. She had just completed a 4 week National Youth Science Camp in Bartow W.V.
Take off at 9:35, Canadair Jet, 48 seats, 80% occupied, very smooth flight, soda and a granola bar.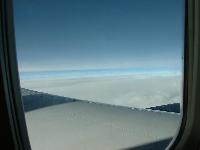 Very geometric patterns of shades of green and brown countryside down below. Landed at Sioux Falls, Oh! Oh! my luggage and 15 others was not on the plane. : ( United expects it to be on the next flight, called Brimark, they picked me up, United will send bags to hotel when they arrive, I hope it is today or I will have a big problem. It is a beautiful day here, sunny, cool breeze, very flat, 75F and very few trees. Oh! Oh! I lost my glasses case! Rode back to airport to look but found it on floor in back seat of hotel van. Phew!!! I met Ahmad Ardani on the hotel van. He work for the state of Colorado doing research for the Dept. of Transportation. He is here for a 2 day conference - one of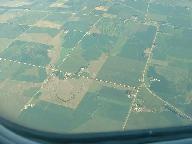 the things he was recently involved in was the development of bicycle friendly rumble strips . He was 1 of 25 riders who developed and rode on 9 different designs. I went back to airport again to check on my lost luggage and this time I met Ron Wright a Transportation Chemist Supervisor for the state of Colorado. Ron was here because of "magnesium chloride and its effects on Portland Cement". He writes chemical specs. for de-icing compounds in order to make them more environmentally safe. This is a conference for engineers and chemists from 9 western states. Note: My luggage was delivered to the hotel at 3:30 PM.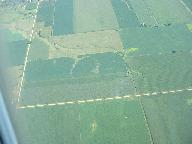 I went to new rider orientation, got my bike assembled, front rim was bent a bit but fixable fortunately, went to dinner and continued to meet such friendly and polite cyclists and non cyclists. I met my roommate Dick Wood a financial investor from California.
This has turned out to be a busy but very interesting first day.