Day 14 August 5, Brantford, Ontario, Canada to Niagara Falls, NY
Up at 5:30 a.m., load luggage 6:15, breakfast 6:30, on the road at 7:15. This was another perfect day, partly cloudy, 68F, mostly smooth roads, just a few hills. Most cyclists wore their red, white and blue flag shirts. Everyone was anxiously looking forward to arriving at Niagara Falls. Here we would have a day of rest and a chance to see many of the wonderful geographical sights that the area offers. I had the additional anticipation of meeting my wife, Donna, and spending three days there. All riders were riding faster today.

Only one SAG today (see pic), distance less than 70 miles, notice the assortment of fruit, crackers, cookies, corn chips and salsa, fruit bars and water in the van. I took several pictures of Frank Reidy, Roommate #2, while we were both riding down the road. I was so pleased with the crisp resolution. I had purchased the Fuji 2800 Zoom FinePix digital camera over the Internet with the help of my stepson Ed (the creator of my web site). I am very happy with the quality of the pictures.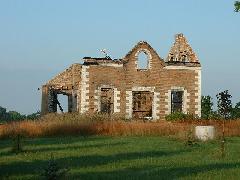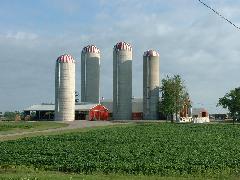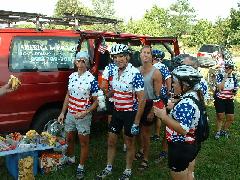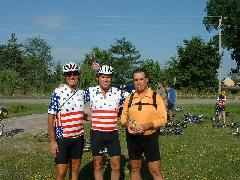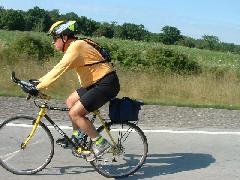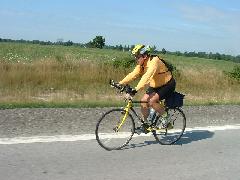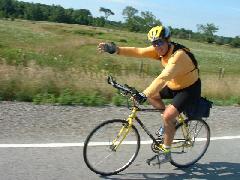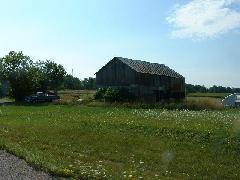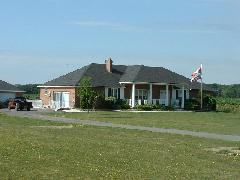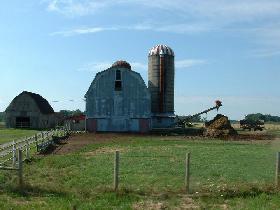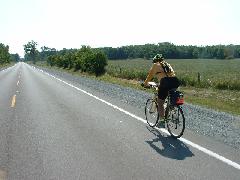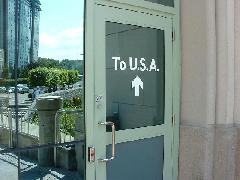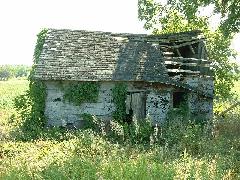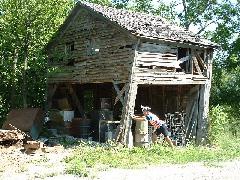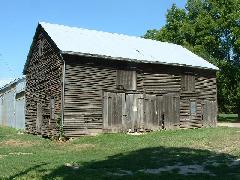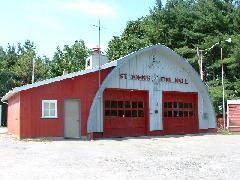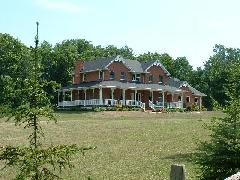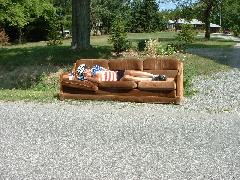 At about 50 miles we came to the Weland Canal and a vertical rising bridge. This canal connects Lake Erie to Lake Ontario and bypasses Niagara Falls. There are four locks close to Lake Erie and one lock close to Lake Ontario. This canal and locks make up for the 180 foot difference at Niagara Falls. It is still in operation as you can see from the barge picture.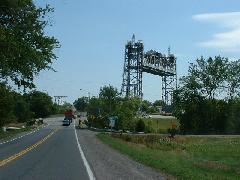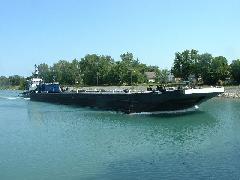 Frank and I arrived at the Falls about 1:30 p.m. and had lunch at Victoria Park Restaurant. I immediately knew this was where I would bring Donna for lunch the next day, the 2 Falls, Goat Island and hundreds of floral displays and plantings. As we were leaving, Frank and I took a quick look at the buffet that was offered. A waitress noticed Frank eyeing the desserts and walked over and asked him if he would like one, and he said "Sure!". The same waitress noticed Frank looking at the blueberries, and made the same offer, and Frank said "Sure!". This was an interesting way to end our lunch.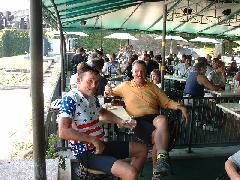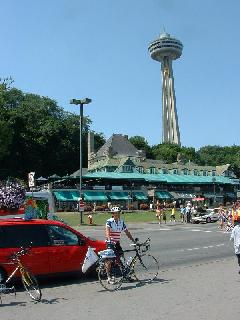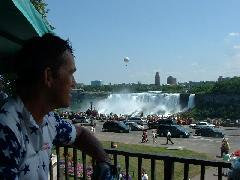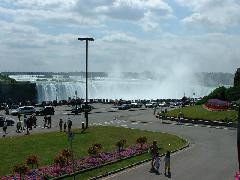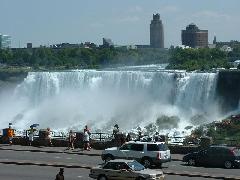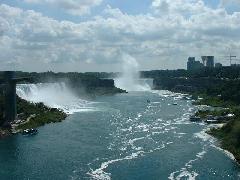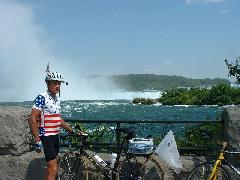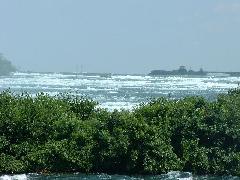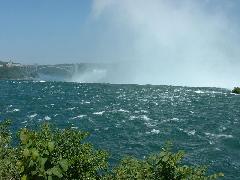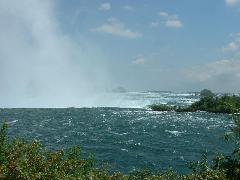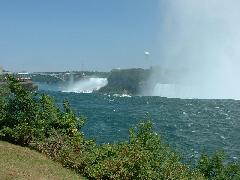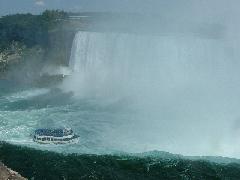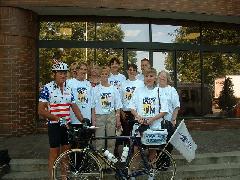 I was greeted at the Holiday Inn Select by my wife, Donna with a cheering group of staff and volunteers from the Western New York Alzheimer's Chapter: Cindy Loomis, Neil Dengler, Linda Sabo, Helen Wright, Leilani Pelletier, Trista Barry, Linda Weir and Lisa Jerebko. Also present were Sue Campbell, reporter and Dan Cappellazzo, photographer from the Niagara Gazette; and Diane E. Hughes, reporter and Charles Lewis, photographer from the Buffalo News. Both newspapers published great Alzheimer's awareness articles with photos the next day. I also had a cell phone interview with a reporter from the local newspaper for an article in their weekly paper. I was thrilled to see them all cheering and clapping as I rode in. What an inspiring reception!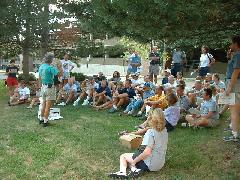 Donna joined the ABB riders for "route rap" (see pic) a discussion of the day, pertinent information and the next day's ride. I passed out Clif Bars to all. The bars were a sponsorship of my Ride For Alzheimer's provided by Clif Bar, In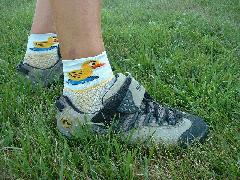 c., a producer of energy snack bars for cyclists. Donna then joined us for an interesting (cozy) ABB van ride to dinner at Ponderosa.

This day had it all! Perfect cycling, weather, fun, great photo opportunities, great companionship, appreciative Alzheimer's supporters and a reunion with my wife!