Day 15, Aug 6, Vacation Day 1, Niagara Falls N.Y.

No wake up call or alarm! New roommate now - my wife!! Up around 8:00. I walked to a convenience store to see if any articles had made it into the local papers and was a bit shocked to see a front page article and color picture in the Niagara Gazette! I then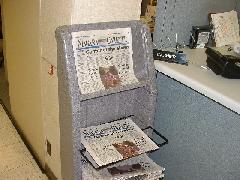 checked the Buffalo News and there was an article and picture on the back page of the second section. I was just thrilled to see the exposure for the local Alzheimer's Association. The office of the Niagara Gazette was next to the ABB hotel, so we stopped to thank the reporter, Sue Campbell, for such a nice job.

Before we headed to Canada we booked a bus tour for tomorrow that included the Horseshoe Falls portals, a tour of the Canadian side scenic spots, the Skylon Tower, the Lower Niagara River, two power plants, Dufferin Islands Park, the Floral Clock and a cruise on the Maid of the Mist. After booking the tour, we walked to Canada over the Rainbow Bridge and stopped to take some great pictures from the bridge.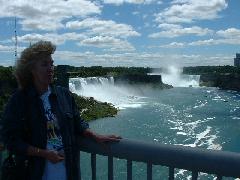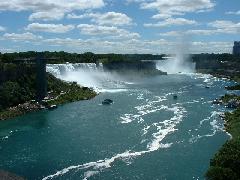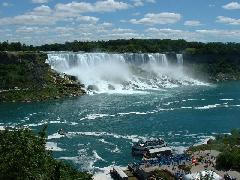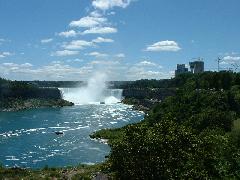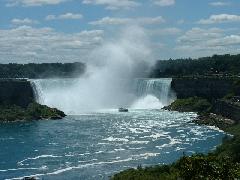 While hanging out and taking pictures, we met Kathy and Drew Kaptain and their daughter Sierra. Kathy is an RN and volunteers for the Alzheimer's Association back in Hamden, CT. She recognized me and my "Ride For Alzheimer's" T-shirt from a CT Alzheimer's Association function we had attended. "Small world". We then went to the Victoria Park Restaurant for lunch and sat at the same table as Frank and I did yesterday. Just great! We then continued to leisurely spend the day seeing and absorbing the fantastic beauty of this superb wonder of nature.
We came back to the US and had dinner at the Red Coach Inn. It was an elegant restaurant, and we met about 18 ABB cyclists who apparently felt the same as we did. The last three pictures I took were of the Upper Niagara River rapids across the street from the Inn.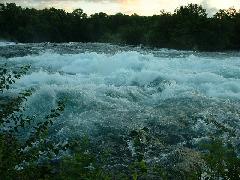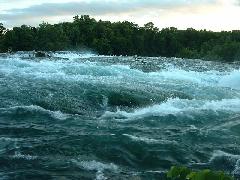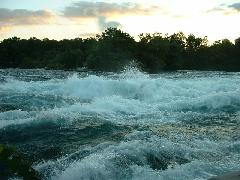 This was a fun, relaxing exposure type of day and was the "frosting on the cake".