Day 12, Aug 3,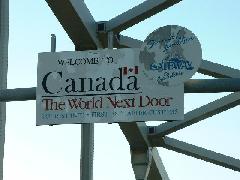 Port Huron MI to London,Ontario Canada, 76.5 miles, 14.6 mph, 5h 14m 20s
Up at 5:15, with no wake up call, the call came at 6:00 (on our room clock), so we actually got up at 4AM,and we were ready to ride, but we went back to bed and tried to get another 1 hour sleep. Breakfast at hotel Holliday Inn Express at 6:00, on the road at 7:10.
We all wore our ABB cycling shirts and traveled in 2 by 2 line to the entrance of the bridge. There is 3 lanes, one way on each of 2 bridges. One van in front, the other van in back and the luggage truck last. The US customs people didn't check any of us, closed the bridge to all other traffic for 15 minutes, and gave us an escort over the bridge. There were 2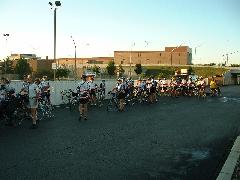 places where we had to walk our bikes due to very wide expansion joints. This was quite a sight, 60 cyclist all dressed in patriotic red, white and blue shirts strung out a distance of the length of a football field. The Canadian customs people checked all of us out for a photo ID. So then our Canadian journey began.

The countryside is no different in Canada then it is in the US. Many crops of corn and soy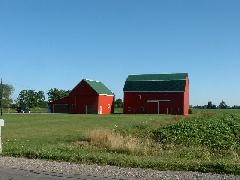 beans, good and bad roads but the people here are very friendly and often (so far) have gone out of their way to help us if it looked like we needed it.
I took several pictures of scenic structures. The wheat cutting I observed was very interesting. Two machines travel next to each other; one cuts, separates, chops up the waste and deposits wheat into the other tractor drawn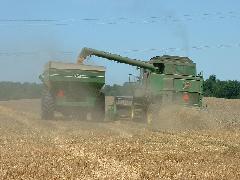 collector. When the collector is full, it travels across the field and deposits the wheat into a road transportation truck. These are very large machines and do a lot of work in a very short time.
The road picture I took is intended to show the difficulty cyclists have sometimes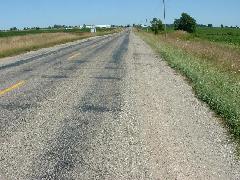 recognizing where the edge of the road is. The road and the shoulder are the same color. You can't tell unless you look down the road and see discolored drainage pot holes in the shoulder. It is very important NOT to take your eyes of the road for very long.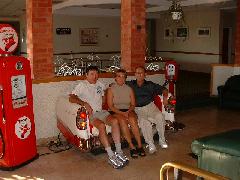 Renee Copeland, Development Assistant for fund raising and planned living, and her dad met me just before ABB was shuttling cyclists to dinner. She works for the Canadian Alzheimer's Society for London and surrounding towns in Middlesex county. They took me out to dinner at the "Keg Steak House and Bar". This is a very nice restaurant in London. We talked about lots of Alzheimer stuff. She is going to put me in touch with a cyclist in Ontario who is presently doing an Alzheimer fund raising ride. She also presented me with a very generous donation toward my effort. I got a bit emotional. I enjoyed the evening very much and am so glad that I had a chance to meet them.
There is some type of "57 Chevy" rally going on here. There are at least fifteen 57 Chevys in the parking lot. I'll take some pics in the morning. Short 64 mile ride to Brantford, Ontario tomorrow.