Day 11, Aug 2,
Birch Run MI to Port Huron MI, 91.4 miles, 15.5 mph, 5h 54m 24s
Up at 5:15, 6:00 continental breakfast at Comfort In, cold cereal, danish, juice, load luggage at 6:15, on the road at 6:40. Last night tornado watches were up for all of southern Michigan. As it turned out very little rain or bad weather occurred around us.
Today was another beautiful cycling day. Very flat, mostly smooth roads but check out the "bad" road picture. We ride on a lot of these and sometimes worse. I arrived at SAG 1 after 26 miles at 8:20. There was an Artesian well there....excellent tasting water.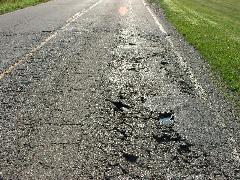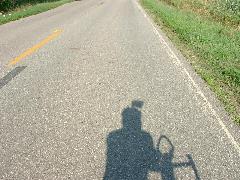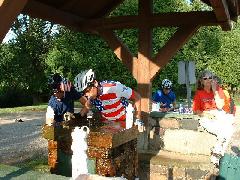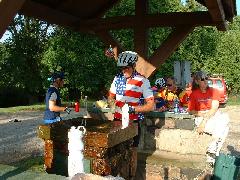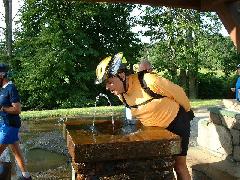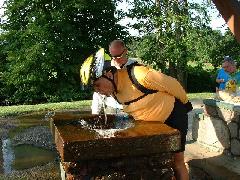 Occasionally, I take a picture of a barn - they have a character all their own and reflect a wonderful image of hard working American farmers. We passed through an Amish farm community and I couldn't resist the picture of the "buggy" and the incredible, rich black soil that exists on these farms. I included a picture of tent shaped bales of hay. I don 't know why they bale like this.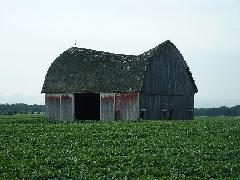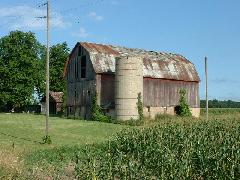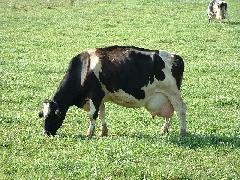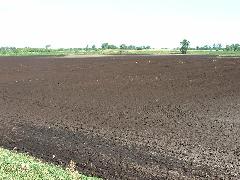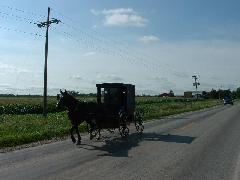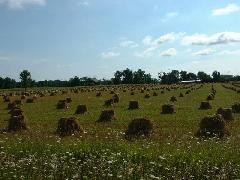 I found 2 candidates for "Little House On The Prairie". The baseball field is for Keith Kobelski at Ledyard Middle School. He is a good friend and a great baseball player. This baseball field is where the local Yale H.S. baseball and football teams practice. I also had lunch in the town of Yale at a small restaurant.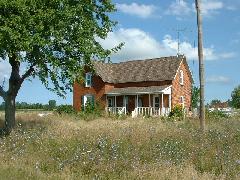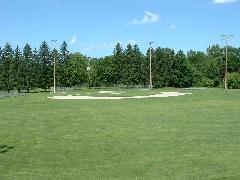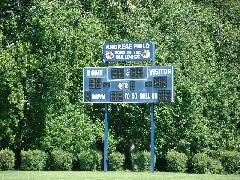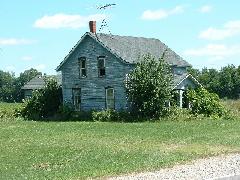 I arrived at Port Huron at 12:30 and wasn't meeting my Alzheimer friends until l so I stopped at the public beach at Lakeside Park. Lake Huron is just so beautiful, such nice rich shades of blue and very clean. It made me think of the waters of the Caribbean. I couldn't resist, so I asked a life guard to take a picture of me in the water with my bike. I know, I'm silly and a goof. Port Huron is also the boyhood home of Thomas Edison. The bridge connects the U.S. with Canada and goes over the St. Clair river. We'll be crossing this bridge tomorrow walking our bikes at 7 AM all together with our American flag shirts on. This should be quite a sight.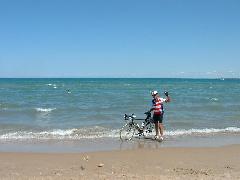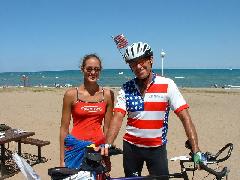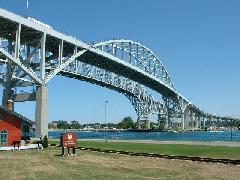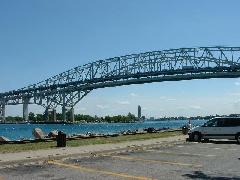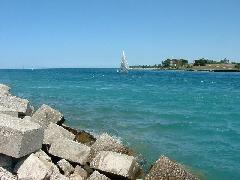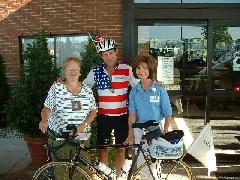 Back at the hotel "Holiday Inn Express" I met with Sue Allen, an RN, and Luann Klettner Black, a social worker, who co-facilitate the Alzheimer's support group in Port Huron. With them was Mary Pochodylo, a care giver for her sister. There was an article in the local Times Herald about my ride effort and some local Alzheimer's issues dealing with caregivers. It was written by the reporter that I had a cell phone interview with 2 days ago.
Dinner tonight was a "buffet" HUM! at a Chinese restaurant. Tomorrow is a 74 ride to London, Ontario Canada. Lights out at 11:45