Travel Day, arrived in Sioux Falls, SD
July 14, 2001, Sat. Day 0, rest day, Brimark Inn, Sioux Falls, South Dakota
Up at 2:45, finished packing, loaded car (including Foxy, our dog). At 3:45, we're on our way to Bradley Airport. 3 miles down the road I realized that I forgot the small seat bag that attaches to my bike seat. It is used to carry a spare tube and tube patching items, I left it on my old bike that I was riding this past week, since I already shipped my new bike to Sioux Falls last Fri.
Yesterday I used my new cell phone to verify that it had indeed arrived in Sioux Falls and was waiting in the lobby of the Brimark Hotel. It is!
I boarded my plane, a United Airlines 757. Center asile, 3 seats on each side, only 43 of 182 seats are occupied. 6:00 taxied to runway, I'm getting anxious and a bit nervous. Many of my friends know that two of the things that I find most difficult is flying and being away from home, however here I am!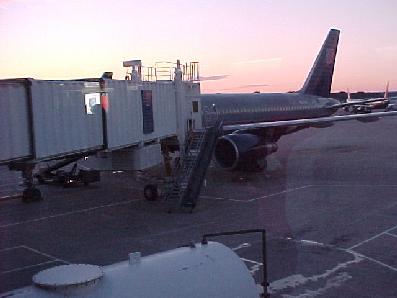 757 at Bradley airport, Hartford to Chicago
6:15 take off, very smooth, I'm on my way! 1hr, 49min flight, and me with sweaty palms. Mostly sunny, a few clouds, flying at 39,000 ft. Nice breakfast on the plane, with OJ, strawberry yogurt, banana, french vanilla granola and a cheese omelet. A lot of people say they don't like airplane food but I'm easy to please.
I'm feeling quite strange - flying at 39,000 ft to Chicago and on to Sioux Falls - The ride I've been training for is finally here but I feel kinda lonely right now.
I took a 30 min nap! We landed at O'Hare. Different time zone so the clocks go back 1 hour. O'Hare is huge, it's like a giant spider. Thousands of people, I think I walked 2 miles to get to my connecting flight.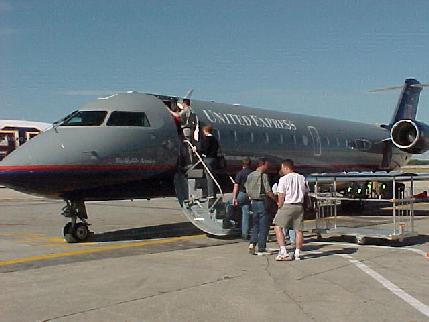 Canadair Regional Jet, Chicago to Sioux Falls
I have almost a 2 hr wait. Finally boarded at 9:15, took of at 9:30. Canadair Regional Jet, 29 of 52 seats occupied, flying at 31,000 ft. I can just barely see moving cars down below.
Very interesting landscape below, the roads are configured such that squares and rectangles are formed in rural areas with some triangles and trapezoids. I had to take the opportunity to talk math (I LOVE MATH)

Scenic views over the lovely Midwest. Click here for more.
I hope all my students read this, I wonder if they all LOVE MATH?
Other more creative patterns are formed around lakes, ponds and rivers, with beautiful shades of green and brown. I called Donna, my wife to tell her we landed at 10:45. Beautiful weather, sunny 72F. Called the Brimark on my cell phone and they were here to pick me up in 15 min. I just bought this phone yesterday, haven't used one before but I'm having fun with it.
Checked into the Brimark and have a single tonight but will switch to a triple tomorrow, it's nicer to have roommates and someone to talk to. I met Burt and Gale Ward from Orange county CA. Burt is an 'honest' lawyer and Gale is a professional grandmother. They are the only tandem riders on this ride and remembered me from the cross country ride 2 years ago when I rode from Erie, PA to Portsmouth, NH. I also met Mona Sterns who owns a gym in Rockland, Maine and Bob Hoffman (retired) from Pleasant Valley, NY.
I'm in my room writing this journal, and the other cyclists have been saying how strong the headwinds have been, but Doug Torosian, President of America By Bicycle and tour director for this ride told me at my orientation that this is what the plains are like. I am meeting the tour mechanic, Todd at 5:00 PM to assemble my bike.
We got the bike together, all is ok. Went to dinner with Dave and Cathy Levy from Columbus, OH. They both manage a dept. of computer programmers. Dave works for WorldCom, a telecommunications giant, Cathy works for Chemical Abstract Service and manages a chemical database and Pfizer is a customer.
This has been an interesting day. It's now 9PM, and I'm going to try to send this home. If I have trouble (this is my first day) I will get help and send it tomorrow. (Editor's note, for those of you keeping track, this all arrived very late Sunday night, Eastern time.)
---
ATTENTION LMS STUDENTS: Math Problem Of The Day, (day 0 to 14) copy and solve each problem, show work, draw a picture etc.,turn in all problems to me on the first day of school and you will receive a reward! The answers must be correct.
Day 0 Problem of the Day: If the area of a square is 36 sq. in., what is the perimeter?

---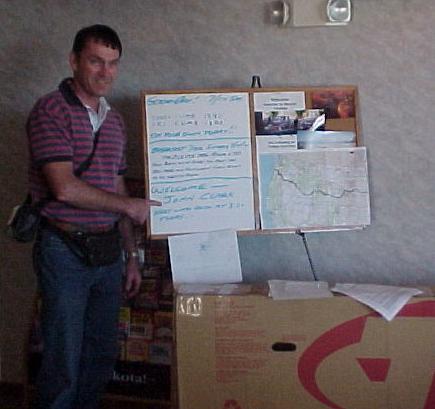 Me in the Brimark Inn lobby next to their message board that says 'Welcome John Clark'. The large cardboard box is my bike.
---

This page written and maintained by
Web Services