Day 0 Sat., June 4, 2005 Orientation Day
Up at 6 AM with no alarm. I got a good 9 hours sleep and needed it. Today is the day most riders check in. There are 24 registered and 15 will be going all the way to Portsmouth N.H. I will only be going 2,116 miles to St. Joseph M.O. In 2000 I rode from St. Joseph to Erie, PA and in 1999 I rode from Erie to Portsmouth. My roommate is Gene Teaney from Charleston, W.V. We have met before as cyclists on my 2002 ride from Sioux Falls, S.D. to Niagara Falls, N.Y.
I have had a lot of difficulty navigating this hotels wireless network and internet explorer email access. I managed to access my website and email but it wasn't user friendly for me and there was no option to attach pics to email. After some frustration and a few calls to Ed, I used (with Ed's insistence) my regular AOL account through the wireless connection. It was really fast and familiar . (11 pics uploaded in 1 minute).
I had the continental breakfast here at hotel, organized my stuff, met a few people and got familiar with my laptop. I had lunch with Gene and two sisters Kathryn (San Diego) and Kristina Reid (San Francisco) at Max's again. I had another Reuben. We had a 'flat tire clinic' done by our ride leader Andy Hiroshima at 1 PM and our ride orientation meeting was at 3:30. This was a long meeting as it was our first one and a lot had to be discussed. We went to dinner at the 'Sizzler' at 6:30. I had a salad, steak, potato, 2 large pepsi and a dish of ice cream. We continued the route rap after dinner and broke up at 8PM.
I went back to our room to finish todays journal and email it back to Ed. Day 1, our first riding is tomorrow. We will ride 17 miles to Ocean Beach to do a ceremonial tire dip in the Pacific Ocean. (there is a similar tire dip in the Atlantic when we get there) After 'the dip', we will head to the Golden Gate Bridge and on to Fairfield (82 mile ride).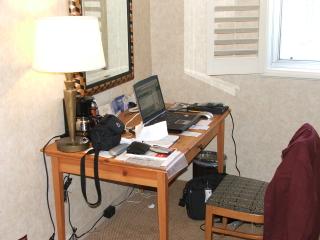 My computer work area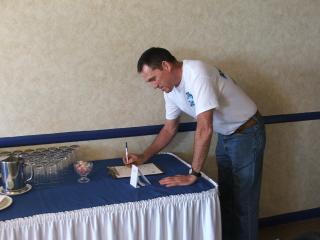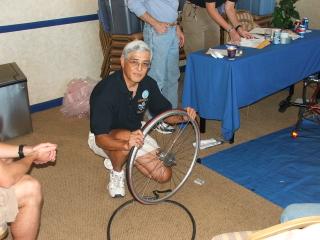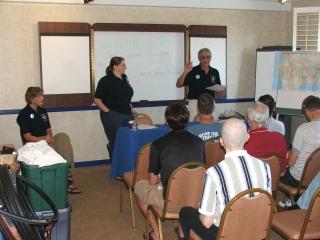 Signing in, the flat tire clinic, and our first Route Rap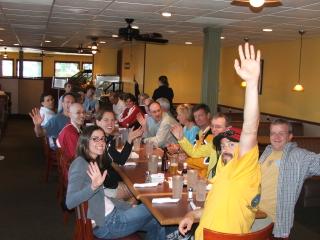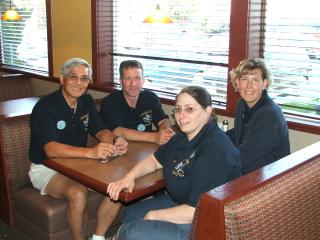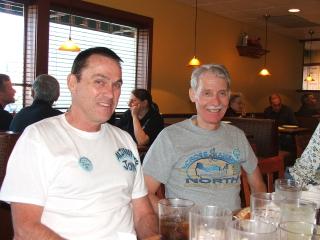 Dinner at the Sizzler, and our ABB Staff: Andy Hiroshima, Jim Bensen, Michelle Sahli, Christine Leininger, Me and Gene Teaney